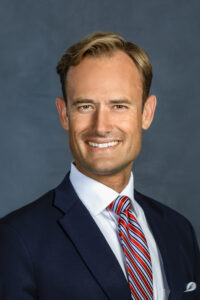 Long Beach's Economic Development Director John Keisler is leaving City Hall to serve as the CEO of the local investment firm Sunstone Management, the city and company announced today.
"Sunstone is thrilled to welcome John Keisler as our new CEO," Sunstone's founder John Shen said in a statement. "His long list of achievements with the city of Long Beach and investing in the local community is invaluable. We look forward to growing together as we continue to build the venture capital and innovation community into a more dynamic, inclusive environment in Southern California and beyond."
Keisler has worked for the city of Long Beach since 2005 and has led the Economic Development Department since 2017. His last day with the city will be March 31.
City Manager Tom Modica will assign an interim director while the city conducts a national search for a permanent successor.
"John has transformed economic development in the City and has set a precedent for innovative, equitable and sustainable growth that our city will continue to benefit from for many years to come," Modica said in a statement. "He is the true definition of a public servant, dedicated to improving his community and has built an amazing team and network of supporting organizations to help grow Long Beach's economy."
During his time with Long Beach, Keisler has led or supported several initiatives to grow the local economy, and some efforts have been more successful than others. The 10-year Economic Development Blueprint, for example, helped spur a significant amount of private sector investment in the city. A series of programs that Keisler helped put into place to buoy the local economy amid the coronavirus pandemic also helped Long Beach businesses survive the shutdowns that COVID-19 necessitated.
But under Keisler's watch, city partnerships with private companies that were intended to rehabilitate historic assets like the Queen Mary and Community Hospital also ended in significant financial losses for Long Beach.
Sunstone, though, hopes Keisler will be able to leverage his experience "to dramatically increase the company's profile and expand investment opportunities for the local community," the company's announcement said.
Keisler, for his part, is looking forward to the new challenge.
"We need to make success more accessible to more entrepreneurs of all demographics. We can change the game, not just for the venture capital world but also for the state of California, and create a more comprehensive and inclusive marketplace for innovators," he said in a statement. "I'm excited to work upstream with early-stage entrepreneurs coming out of our universities, especially our publicly funded CSUs, as well as partner with cities and counties on a new vision of economic development."
"Sunstone has long been at the forefront of expanding the innovation community beyond traditional Silicon Valley audiences," Keisler added, "and I look forward to building on that strong foundation."