The economy of the City of Long Beach is driven by a diversity of industries, some with roots to the earliest days of the city's history and others that have blossomed more recently. The city's economic strength and viability has been bolstered by the variety of its industries; when one slows, another is there to pick up the slack.
Major employers in the City of Long Beach include businesses and organizations in the hospitality and tourism, health care, aviation and aerospace, financial services, technology and oil sectors.
Perhaps the greatest single driver of economic activity in the city and greater region is the Port of Long Beach, which, combined with its neighboring Port of Los Angeles, is responsible for processing about 39% of the country's maritime international trade. The port supports businesses in the trade, logistics and real estate sectors, including trucking firms, customs brokers and freight forwarders, shipping lines, warehouses and other enterprises.
Following is a more detailed glimpse into Long Beach's industries.
Aviation And Aerospace
The history of aviation and aerospace runs strong in Long Beach, where, despite the end of its era of commercial and military airplane manufacturing, the industry continues to thrive in other ways.
Long Beach's deep roots in aviation and aerospace manufacturing began with the opening of Douglas Aircraft Co.'s World War II manufacturing plant, which played a major role in delivering aircraft such as the C-47 Skytrains, SBD dive bombers, C-54 transports, A-20 and A-26 attack bombers and other military planes. Peak wartime employment was 160,000.
In 1967, Douglas Aircraft merged with McDonnell Aircraft Corp to become McDonnell Douglas, a company that continued to expand its footprint adjacent to the Long Beach Airport, shifting its focus to the development of commercial airliners. Boeing merged with the firm in 1997 and, in the intervening years, has ceased manufacturing aircraft in Long Beach. The last aircraft to be manufactured in Long Beach was the C-17 Globemaster III, which stopped production in 2015.
Much of the land formerly occupied by Boeing – which still maintains commercial airplane engineering and C-17 support services in Long Beach – and its predecessors now makes up Douglas Park, a more-than-200-acre business park. Some of the largest firms located in Douglas Park continue the legacy of aerospace and aviation in the city.
Virgin Orbit, a firm within the Virgin Group of companies, recently expanded its headquarters at Douglas Park by taking up a second building. The aerospace firm has developed a system in which small satellites are launched from a rocket attached to a Boeing 747. The Long Beach facility houses the majority of operations affiliated with the program, including the design, manufacturing and testing of the rocket system. Some testing also occurs in the Mojave Desert. About 400 people are employed at the Douglas Park plant.
Other aviation and aerospace firms at Douglas Park include Rubbercraft, a manufacturer of elastomeric parts for commercial and military aerospace and defense purposes, and Shimadzu Precision Instruments, an aircraft equipment manufacturer and parts supplier.
Gulfstream Aerospace Corporation employs more than 800 people at the firm's Long Beach Airport facilities, which are mainly dedicated to outfitting the new Gulfstream G650 and G650ER jets. The firm is also hoping to expand its presence with new development at the airport and has submitted a proposal to the City of Long Beach to do just that. Both Gulfstream and Ross Aviation, a corporate aviation company with operations at the airport, have submitted proposals to expand into the former manufacturing site for the C-17. An airport spokesperson said that a notice of intent to award contracts for both expansions has been issued, and that Ross's proposal will likely go to the city council for consideration this summer.
Among the aerospace companies located adjacent to the Long Beach Airport is Dasco Engineering Manufacturing, which opened a facility just south of the airport in 2013. The company, which manufactures parts for commercial and military aircraft as well as spacecraft, recently purchased another building in Long Beach and plans to hire more employees, according to Terry Rogers, Dasco's vice president of operations.
The Long Beach Airport continues to provide daily commercial airline service to various destinations throughout the U.S. on major airlines such as JetBlue Airways, Southwest Airlines, Alaska Airlines and Hawaiian Airlines, the airport's newest commercial addition. Total passenger traffic increased by 9.5% in the first four months of 2018 compared to the same period last year.
The airport continues to rack up accolades for its passenger terminal and service, but management is not resting on the airport's laurels. Major improvements to the arrival terminal are slated to begin this year, including to the baggage claim and inspection facilities and the ticketing lobby. Subsequent work will include rehabilitation of the historic terminal, relocation of the rental car service area and more.
Many general and corporate aviation companies and flying schools also operate at the Long Beach Airport, including Aeroplex/Aerolease Corporation, JFI Jet Center, Flight Safety International, Long Beach Flying Club & Academy and others.
Financial Services
Long Beach is home to an abundance of financial services institutions, some with a long history in the city. City residents, visitors and business owners have access to nearly every major and mid-sized bank in the Western United States, as well as a wide range of accounting, insurance, wealth management planning and other types of financial firms.
Two banks were founded and remain headquartered in Long Beach: International City Bank (ICB) and Farmers & Merchants Bank. ICB, established in 1984, is focused on financial products and services for businesses. The bank employs 31 people at its Long Beach headquarters and also operates a branch in Irvine. It has been ranked among the Top 100 U.S. banks with less than $1 billion in assets for the past two years.
Farmers & Merchants Bank was founded in Long Beach in 1907 by C.J. Walker. Its corporate offices remain in the historic building on Pine Avenue that has served as the bank's headquarters since the structure was completed in 1923. F&M has remained within the Walker family for more than a century and has become known as one of the strongest banks in California, with more than 24 branches throughout Los Angeles and Orange Counties, including six in Long Beach, and with more than $7 billion in assets.
F&M has an A+ rating with the Better Business Bureau and has received five-star ratings from Bankrate and BauerFinancial for strong compliance, consistent quality financial management, and safety and soundness. The bank employs 253 people in Long Beach.
Beyond these Long Beach-based institutions, there is no shortage of banking opportunities in the area. Wells Fargo has perhaps the largest presence in the city with 10 branches, a downtown office and 412 employees. The company's offices at 111 W. Ocean Blvd. include wholesale banking, wealth management, treasury management, corporate finance and risk, community banking, mortgage and human resources operations. There are also Wells Fargo-affiliated financial firms in the area, including a Wells Fargo Advisors office located on Pacific Coast Highway.
Other banks and credit unions in the city include: First Bank, Chase Bank, Comerica Bank, City National Bank, Bank of America, OneWest Bank, Bank of the West, Citibank, U.S. Bank, Banc of California, United Business Bank, Union Bank, Luther Burbank Savings, California Bank & Trust, VA Desert Pacific Credit Union, LBS Financial Credit Union and others.
Long Beach is also home to a spectrum of financial services companies, including certified public accountants, stock brokers, retirement planners, life insurance brokers, small business advisors, and more. Many of these are small independent operators are linked to major firms with national and international presences, while others are offices of major national firms, such as HCVT Certified Public Accountants.
Several financial institutions were founded in Long Beach decades or longer ago, including the city's oldest financial firm, Kelly Williams Insurance Agency, founded in 1895. Others include Windes, an accounting, tax and business consulting firm founded in 1926, and Halbert Hargrove, a fiduciary investment management firm founded in 1933.
Health Care
With multiple hospitals, two major health plan providers, a Veterans Affairs medical center and a support network of medical providers throughout the city, the health care industry is one of the largest employers in the City of Long Beach.
Of these operations, MemorialCare Health System has the largest footprint in the city, with three hospitals, multiple outpatient and imaging centers, as well as affiliated medical groups. Seaside Health Plan, an affiliate health plan of MemorialCare, is also based in Long Beach.
Exactly 8,635 Long Beach jobs are supported by MemorialCare's hospitals, outpatient facilities and its Seaside Health Plan, according to a health system spokesperson. These include staff employed directly by MemorialCare as well as affiliated physicians, physician residents and fellows, nursing students and contracted food service employees.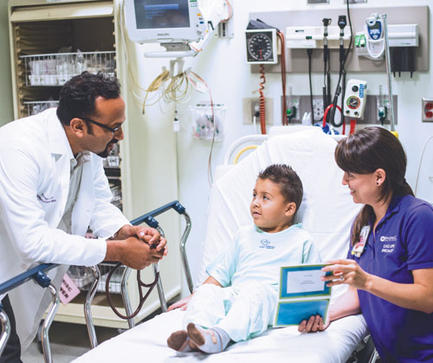 A doctor at MemorialCare Miller Children's & Women's Hospital consults with a nurse about a young patient. According to Nick Schultz, the executive director of the Pacific Gateway Workforce Innovation and Opportunity Network, health care is an expanding industry in Long Beach. He commented that many employers are having difficulty finding a qualified talent pool. (Photograph courtesy of MemorialCare Health System)
MemorialCare Long Beach Medical Center (LBMC) houses nine institutes of health, including programs focused on heart and vascular care, breast health, joint replacement, strokes, cancer and more. The medical center, which was founded as Seaside Hospital in 1907, also houses an imaging center.
MemorialCare Miller Children's & Women's Hospital Long Beach is located adjacent to LBMC. It provides special and primary care for children and expectant mothers. About 5,500 babies are born at the hospital each year.
Community Medical Center Long Beach, also operated by MemorialCare, is scheduled to close July 1 due to noncompliance with state seismic requirements. The hospital is on an active fault, and the health system is unable to retrofit it. Many of the hospital's services and employees are being transferred to MemorialCare Long Beach Medical Center, according to a MemorialCare spokesperson.
The City of Long Beach is actively seeking solutions to retrofit the facility so that it can reopen as a hospital and the emergency room can be maintained for the communities it serves. City management staff are currently engaged with prospective operators.
Located on the outskirts of Downtown Long Beach is another of the city's major hospitals, St. Mary Medical Center, which employs 1,472 people. The hospital was founded in 1923 by the Sisters of Charity of the Incarnate Word, and it is now run by Dignity Health. The 389-room hospital offers a variety of specialized services, including pediatric and maternal medicine, an HIV/AIDs program, diabetes education, heart care, orthopedic surgery and more. The hospital is in the process of raising funds to expand its emergency room.
A new CAT scan machine with reduced noise and improved detail was recently introduced to the hospital. The scanner, manufactured by Siemens, is "incredibly fast" and will improve the wait times between ER patients, according to a hospital spokesperson. The machine is also capable of scanning bariatric patients who weigh up to 500 pounds.
Molina Healthcare, a provider of Medicaid, Medicare and other government health plans in 15 states, is headquartered in Downtown Long Beach. The firm was founded in 1980 as an affordable health clinic. Molina Healthcare employs more than 3,400 people in Long Beach, where it retains multiple offices.
SCAN Health Plan, a Medicare Advantage Plan, was founded in Long Beach in 1977 and remains headquartered within the city, where it employs 1,080 people. In addition to its health plan, SCAN provides services and support to seniors, disabled adults and their caregivers through its Independence at Home program. It also offers community services in the forms of activity groups for seniors and sensitivity training for senior caregivers. The nonprofit health organization serves more than 195,000 members in 11 California counties, the majority of whom live in Los Angeles County.
Long Beach is also home to a large Veterans Affairs medical facility, the Tibor Rubin VA Medical Center, named after a Korean War veteran and Congressional Medal of Honor recipient. The system employs about 2,200 people and serves more than 50,000 veterans with an array of health care programs. The site, located adjacent to California State University Long Beach, is also home to the Fisher House, a home away from home for family members of veterans undergoing care at the medical facility.
A number of other health care organizations retain offices and operations within the city, including network providers such as HealthCare Partners and Kaiser Permanente, as well as independent medical offices and physician groups.
Hospitality And Tourism
The hospitality and tourism industry continues to be one of the strongest drivers of employment and revenue for the City of Long Beach. Last year turned out to be the best ever for tourism in Long Beach, with 7.2 million visitors coming for conventions, meetings, major attractions, festivals and special events, according to the Long Beach Area Convention & Visitors Bureau.
The city's largest waterfront tourist attractions – the Aquarium of the Pacific and the Queen Mary – are both undergoing major improvements slated to bring even more people through their doors. The Aquarium's new wing, which will include a 300-seat immersive experience theater as well as an exhibit space, art gallery and orientation area, is well underway with an expected completion in spring 2019. The addition is expected to bump up annual attendance from 1.7 million to about 2 million people.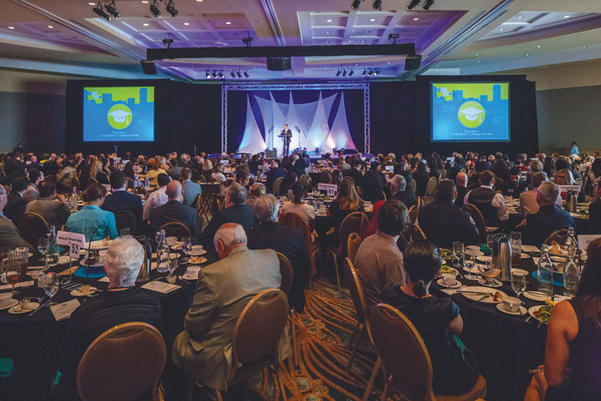 A speaker addresses a crowd of meeting attendees at the Long Beach Convention & Entertainment Center's Grand Ballroom. (Photograph courtesy of the Long Beach Area Convention & Visitors Bureau)
Across the water, the historic Queen Mary is undergoing extensive rehabilitation work, including a new paint job, restoration of teak decking, and repairs to infrastructure. Once this work is complete, leaseholder Urban Commons intends to upgrade the ship's hotel rooms and common spaces with an aesthetic that will hearken back to the ship's Art Deco origins. In the meantime, the firm has partnered with Golden Voice to bring a series of concerts and events to the property, such as this summer's planned "Summertime in the LBC" concert with headliners Snoop Dogg, Ice Cube, The Game and more.
Carnival Cruise Line recently completed a buildout of the dome adjacent to the Queen Mary, which serves as its terminal. The expanded facility now allows embarkation and debarkation operations to occur simultaneously, an improvement that has enabled the company to replace one of its three Long Beach-based vessels with a larger ship. In late 2019, the firm plans to bring in a brand new cruise ship, the Carnival Panorama, to operate from Long Beach. About 670,000 people are expected to embark on Carnival cruises from Long Beach this year. The Panorama is expected to bring that figure up to about 750,000 visitors next year.
Annual events also continue to bolster the hospitality and tourism industry with a steady, stable stream of attendees each year. Such events include the annual Toyota Grand Prix of Long Beach, the Long Beach Lesbian & Gay Pride Festival and Parade, the JetBlue Long Beach Marathon, the ASICS World Series of Volleyball, the Dew Tour (a skateboarding competition), the Music Tastes Good festival and other annual happenings.
Downtown hotels have been benefiting from strong convention and event business in the city, with most reporting increased average daily room rates and higher-than-ever occupancy rates. Hotels located closer to the airport report that they are benefiting from growing economic activity at Douglas Park, where businesses such as Mercedes-Benz USA, Virgin Orbit and many others regularly bring in business travelers.
There are many lodging options in the city, from small boutique hotels like downtown's The Varden, to mid-sized hotels like The Hotel Maya, to long-term stay concepts such as the Hampton Inn & Homewood Suites by Hilton Long Beach Airport, to larger top-tier hotels like the Westin Long Beach and Hyatt Regency Long Beach.
Oil
The discovery of oil in Long Beach in 1921 led to a proliferation of oil derricks and industry in the area, memorialized in "Oil!," a period novel set in Long Beach and Signal Hill by Upton Sinclair, famed author of "The Jungle." The novel was later adapted to film in 2010's "There Will Be Blood."
Although the landscapes of Long Beach and neighboring Signal Hill are no longer covered with these derricks, the oil industry maintains a strong presence in the area with continuing production. Oil revenues continue to fund many city projects through the Uplands and Tidelands oil funds, which contribute to infrastructure projects, beach maintenance and public safety services.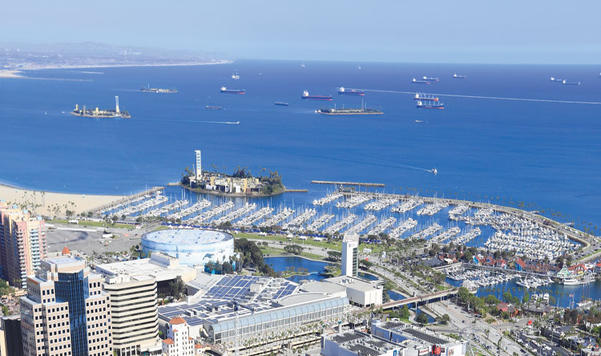 Along the Long Beach shoreline near downtown are four manmade oil production islands that were built in 1965 to tap into the large East Wilmington Oil Field. The THUMS islands – operated by California Resources Corporation for the City of Long Beach – were named after four astronauts who died in the line of duty in the early years of the U.S. space program. Pictured are islands Grissom (A), White (B), Chaffee (C) and Freeman (D). Each island has award-winning habitat conservation programs and has been certified by the Wildlife Habitat Council (WHC). Since 2004, the environmental team at THUMS has worked with WHC and community groups to establish and maintain California plant habitats on the islands. (Business Journal photograph by John Robinson, May 2018)
California Resources Corporation (CRC), the state's largest oil and natural gas producer, manages oil properties for the city government and retains an office in Long Beach. Two CRC contractors operate the Wilmington oil field, which is partially in Long Beach. Tidelands Oil Production Co. oversees onshore operations, while THUMS Long Beach Co. handles offshore drilling on four artificial islands along the city's coastline. CRC and its two affiliates have a Long Beach workforce of approximately 369 employees and 550 contractors, according to a company spokesperson.
Rigs on the THUMS islands are camouflaged by faux buildings meant to resemble high-rise apartments. They are lit up with a variety of colors at night and surrounded by lush landscaping. THUMS was named for Texaco, Humble, Union, Mobil and Shell, the original oil contractors in the area. The islands were named for the first four American astronauts to lose their lives in service: Islands Grissom, White and Chaffee are named after the crew of the Apollo 1, and Island Freeman for the astronaut who died piloting a T-38 Talon jet.
Other private companies maintain operations in the area, principal among them Signal Hill Petroleum, which extracts oil within Signal Hill and along the city's border with Long Beach. In addition to the high-paying jobs afforded by oil extraction companies in the area, oil service firms clustered in Signal Hill and in Long Beach's westside industrial area also provide a variety of employment opportunities.
Real Estate
All sectors of Long Beach's real estate market remain in high demand as the city's properties continue to represent affordable investment opportunities compared to other areas in the region. The local real estate market includes an array of industrial, office and retail space, as well as a wide selection of residential homes, apartments and condominiums.
Although the prices of single-family homes and rental rates continue to rise in Long Beach and throughout the region, the city remains of the more affordable beach communities in Los Angeles and Orange counties. Long Beach is home to a patchwork of neighborhoods, each with their own hallmark vibe. From the tract homes of the East Side to the abundance of arts and craft-style bungalows found throughout the city's older neighborhoods, to lofts in downtown, to large estates in Virginia Country Club and upscale waterfront living in Naples, the city has homes to fit every need and lifestyle.
Apartment living is popular in Long Beach, where more than half of city residents are renters. Apartment units mostly ranging in size from studios to two-bedrooms are found in buildings of varying size throughout the city, from duplexes in Belmont Shore to multi-level developments with an array of amenities in Downtown Long Beach. The city is undergoing a development boom in the apartment sector, with thousands of units planned or currently under construction, primarily in the downtown area.
Douglas Park has represented the largest concentration of commercial real estate development within the City of Long Beach for the past several years. The business park adjacent to the Long Beach Airport is now nearly completely developed, save for a few parcels. The nearly 220-acre business park is home to two hotels, several national and international headquarters for major companies, a new retail center and offices for a variety of local businesses.
To the south of the airport are Kilroy Airport Center and the Long Beach Airport Business Park, office complexes with space for large and small businesses. The business parks are conveniently located next to the 405 Freeway with central access to markets in Los Angeles and Orange counties.
Downtown Long Beach boasts several Class A office towers, including the World Trade Center, Landmark Square, Shoreline Square, the newly refurbished 211 Ocean and others. There are also a number of historic buildings that serve as offices, including a brick tower at the corner of Broadway and Long Beach Boulevard and another at the corner of Broadway and the Promenade.
There are a number of suburban office markets located throughout the City of Long Beach, including in Bixby Knolls, near Belmont Shore, and off of Hughes Way where the 405 meets the 710 Freeway.
Outside of downtown, industrial space in Long Beach is largely concentrated in the city's Westside due to its proximity to the ports of Long Beach and Los Angeles as well as rail infrastructure. Some industrial real estate is also found in North Long Beach. Availability of industrial space is tight in the area due to swelling trade through the ports and a strong economy.
Retailers large and small have options throughout the city for any size space, from large shopping centers to ground-floor locations in residential complexes. Highly trafficked shopping and dining corridors include Belmont Shore, 4th Street's Retro Row, Bixby Knolls and downtown's East Village Arts District, Pine Avenue core and Promenade walk. Major shopping centers are spread throughout the city, include the Pike Outlets and The Streets in downtown, Marina Pacifica Mall and The Marketplace in Belmont Shore, Long Beach Towne Center in the East Side area, and others.
The Long Beach Exchange at Douglas Park is adding 266,000 square feet of retail space to the Long Beach retail market. Located near the Liberal Arts Campus of Long Beach City College and the neighborhood of Lakewood Village, tenants are in the process of moving into the shopping and dining center. Businesses that have already opened their doors include Orchard Supply Hardware, Whole Foods 365, PetSmart, ULTA Beauty, Nordstrom Rack, MOD Pizza, Dunkin' Donuts and others.
There are plenty of real estate firms to help residents searching for a new home or businesses looking for a brick and mortar location. Some of the largest commercial real estate firms in the area include Lee & Associates, Coldwell Bank Commercial BLAIR WESTMAC, Marcus & Millichap, Cushman & Wakefield, INCO Commercial and Centennial Advisers.
Technology
Several major technology firms maintain a significant presence in Long Beach, the largest being Epson America, Inc., which has been headquartered at the Kilroy Airport Center for nearly two decades. The tech company is responsible for the sales, logistics, financing and marketing of all Epson products in North and South America. About 600 people are employed at the firm's Long Beach headquarters. Epson is currently evaluating options to expand its headquarters when its lease expires in 2019.
Laserfiche, an international documents and digital data management software provider, perhaps has the most significant growth potential of technology firms in the city. The company is headquartered in Bixby Knolls, where it employs approximately 300 people, about one-third of whom are Long Beach residents, according to CEO Chris Wacker. The firm's offerings are primarily geared toward enabling paperless offices and converting processes from analog to digital.
Laserfiche has six full-time recruiters on staff to help the company hire an additional 500 people by 2025, Wacker said.
The company has plans to expand by constructing a new, second 100,000-square-foot office building at the corner of 35th Street and Long Beach Boulevard across the street from its current location. Wacker told the Business Journal that he hopes to complete the project in two years, but noted that the process could be complicated by the presence of abandoned oil wells on the property.
When the new building is completed, Wacker plans to open up the existing office building to other technology companies as an incubator environment. Laserfiche would mutually benefit by being able to study the companies and determine how to create service offerings for them. The company is also in talks with medical clinics to participate in the incubator to help them develop software for the medical field. Additionally, he said, "We're talking with the city prosecutor's office about housing a justice lab."
DENSO Products and Services Americas, Inc. is located in the city's Westside, where it employs 385 people. The firm is a supplier of heavy-duty and automotive parts such as alternators and starters, air filters, spark plugs, oxygen sensors and more. The company is both an automotive and technology-based enterprise, and is innovating to accommodate industry trends such as automated driving and vehicle electrification.
Since the Technology & Innovation Department was formed in 2015, the City of Long Beach has made a push to pioneer new technologies and increase Internet access for the benefit of residents. In the past two years, the city has rolled out a number of online portals to benefit residents and businesses, including DataLB, a website that provides city data in easy-to-read formats such as charts and graphs. Online portals geared toward businesses include BizPort and My Sidewalk, which help entrepreneurs through the process of starting a business, including providing demographic data to help them figure out where to locate their enterprise.
After a group of local journalists from the city's four major print news sources teamed up last year to form the Long Beach Media Collaborative, the initiative resulted in a series of articles detailing the digital divide in Long Beach, highlighting communities where Internet access is scarce, and the related effects. Since then, the city has stepped up to find ways to address the issue, with the Technology & Innovation Commission recently moving to survey residents about the digital divide.