This article is part of "The Housing Divide: Making it in Long Beach," a series of stories from the Long Beach Media Collaborative examining the impacts of the statewide housing crisis on our city. The Collaborative was initiated by the Long Beach Community Foundation and is funded by the Knight Foundation. Visit www.longbeachmc.org for more articles in this series and the award-winning previous series "The Digital Divide: Strengthening the Signal." 
You can talk about a national housing shortage, but in Southern California it can easily be called a housing crisis. The lack of affordable housing grows worse and more apparent every year, with fewer than 30% of Los Angeles County residents able to afford a median priced home, according to figures from the California Association of Realtors.
This year, some 200 pieces of state legislation were introduced to address housing issues in some form. One idea being pushed across the nation stands to be among the most controversial. Speak the phrase "inclusionary housing," and it will stoke passion among affordable housing advocates, and draw words of caution from the development community.
Inclusionary housing policies have been adopted in more than 500 jurisdictions in 28 states, according to the National Housing Conference, a Washington, D.C.-based nonprofit that pushes for building more affordable housing. The Building Industry Association of California (BIA) reports that roughly 200 cities in California have adopted inclusionary zoning ordinances. These ordinances require developers of market-rate housing to include affordable units – the number of units are typically determined based on the area median income (AMI), with income requirements often ranging from 50-120% of AMI – or to pay a fee in-lieu that goes to an affordable housing fund.
Most (80%) rental programs require units to remain affordable for at least 30 years, while one-third of inclusionary housing programs require 99-year or perpetual affordability for rental and/or for-sale housing, data from the BIA shows.
Long Beach has over 176,000 housing units, including single-family homes, apartments, town homes and condominiums. Despite this range of housing opportunities, the city faces numerous challenges in ensuring that people at all economic levels have access to safe and affordable housing near jobs and transit, according to a webpage devoted to the city's Inclusionary Housing Study, which is still in the works.
That study, along with some options to implement policies, is expected to be presented to the Long Beach City Council by the end of the year. Policy suggestions could include a mandate that developers of market-rate housing either designate 15% of units in their projects as affordable or that they  pay into a fund for affordable housing, according to Christopher Koontz, manager of the Long Beach Development Services Planning Bureau.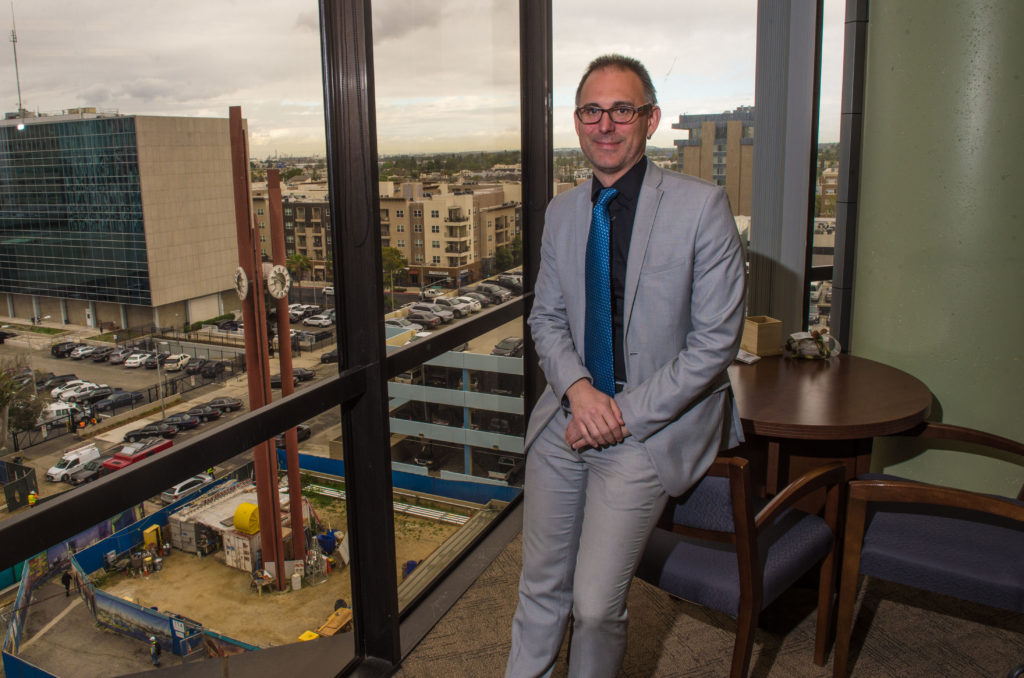 Koontz sees the 15% requirement as a middle-ground in cities up and down California – some cities require roughly a quarter of units built in new developments to be considered affordable, while other cities require a little as 5% of units to be affordable.
"Obviously when you get 15% of the units affordable, that's a lot more affordable [housing] than what you have before," Koontz said. "It does depress the total amount of development done, and increases costs to the builder, so you have to find the correct balance of those tradeoffs, and what's right for the cities. So that's the kind of economic analysis and hard work that we're doing, but we're also talking at community meetings about what they'd like to see, so we hope to wrap that up this calendar year."
Santa Ana is one city that has a 15% inclusionary zoning requirement. It applies to new residential projects located within the city, including new construction and condominium conversions. For-sale units and rental units are restricted to a target income level group at the applicable affordable housing cost for a minimum of 55 years.
Brian Hendricks, founder of Magis Realty LLC, a boutique real estate development and services firm focused on Santa Ana and its downtown area, thinks the requirement is a disincentive because it makes it difficult for developers to turn a profit on their projects. "It's brutal," Hendricks said.
The idea behind inclusionary housing, he explained, is the higher you make the requirement – 15%, 20%, more – the more affordable units will be built. But developers shy away from areas with high percentage inclusionary zoning requirements, or they reduce the size of their planned developments to save money – either way, it yields fewer affordable units, Hendricks said. "It doesn't pencil at all," he said. "A lot of projects actually never happen because the inclusionary fee or requirement is so high. A practicality is it can actually reduce the overall number of affordable units that are developed. It goes to the point of making no sense at all."
However, Hendricks is not entirely against affordable requirements for market-rate developments. "I'm a huge advocate of affordable housing. I'm all for it," he said. He believes a 7% requirement would be reasonable, would enable developers to build and make a profit, and would better serve the goal of getting more housing built.
"You will get three times as many projects going, and you actually end up winning," Hendricks said.
Angel's In The Details
Ninth District Councilmember Rex Richardson is one member of local government who has expressed a strong interest in bringing more affordable housing to the city. One proposal he supports is to get more accessory dwelling units, also known as granny flats, built. A series of state statutes have made building an ADU much easier. Long Beach, which adopted an ordinance on ADUs in 2017, has seen a spike in ADU developments, which can be either 800 square feet or half the size of the main residence, whichever is the smaller of the two.
More than 100 ADU projects have been built and about 231 applications have been filed with the city, according to Long Beach Development Services. Most of the permitted ADUs are garage conversions or other changes to an existing structure.
Richardson said cities can no longer wait for help, or guidance, from the federal government. "We're no longer simply administers of federal policy," Richardson said. "A lot of the social issues that plague our cities, the innovation and the advocacy and putting a focus on those things, really comes from cities. There is a lot that cities can do that can have a direct [impact] on that."
Richardson believes there is a need to create more housing for all income levels: affordable housing, supportive housing, student housing, senior housing.
Richardson likes to use the phrase "the angel's in the details" to make his point that affordable housing is a blessing to those who need it. "Mixed income housing is a smart way to develop affordable housing," he said. He believes developers ought to leverage increasing demand for market rate housing to offset the costs of building more affordable units.
Richardson believes there is already one significant incentive in place for developers of market-rate housing in Downtown Long Beach, where so many units are slated to go up with the promise of premium pricing. The city commissioned and footed the bill for an environmental impact report for the entire area, so any developer coming into downtown is able to forego the often costly and time-consuming EIR process.
Small Parcels
There has been a 60% increase in adults ages 45 and up renting in the last decade, and there are 75 million adults ages 18 to 34 entering the rental market, according to the multi-family industry group WeAreApartments.org.
The group says that between now and 2030, the nation will need 328,000 new apartment units to be built every year to accommodate household growth and losses to the housing stock.
In Long Beach, there isn't much empty space left to build on. Most developments are tear-down and rebuild projects, or must be built in spaces with tight constraints. "The days are long gone of building these thousands of units of affordable developments," Richardson said. "Now it's mixed income. It's more balanced." He added: "Long Beach is growing and developing, and we need to make sure some of that is affordable."
A large portion of new developments coming out of the ground are on parking lots and small parcels, according to Brian Ulaszewski, principal and executive director for City Fabrick, a nonprofit design studio.
These small parcels create a barrier to development, particularly in densely packed downtown, where a large share of the city's new housing is being built. Ulaszewski said there are numerous parking lots and vacant lots in downtown that are not yet spoken for, but noted that they are spread out around the area. "It's difficult to get two or three parcels next to each other to make a good development footprint," Ulaszewski said.
Inclusionary Cost
Tim Piasky, CEO of the Los Angeles/Ventura Chapter of the Building Industry Association of Southern California, believes inclusionary housing comes at a cost. "What one has to consider is, 'Where does that subsidy come from?'" Piasky said. Market-rate units end up subsidizing affordable units and raising the overall cost of each unit, he said.
"It pushes up the cost of the rent or the purchase price on the other units," Piasky said. "If the market can bare that increase, then the project still moves forward."
If the market cannot bare it?
"Then the project doesn't happen," he said.
A study by San Jose State University in 2012 on inclusionary zoning shows cities with inclusionary ordinances ended up with 8%  fewer homes and 9% higher prices between 1980 and 1990, and 7% fewer homes and 20% higher prices between 1990 and 2000.
A more recent analysis in 2016 by Capitol Matrix Consulting, a Sacramento-based economic and policy consultancy, estimated that a 15% inclusionary zoning requirement applied to all new housing built in California would result in a $67,000 increase to the price of remaining market-rate units.
"Most of the studies will show that there is an overall decrease in the overall housing production," said Piasky, who believes any inclusionary zoning program should be voluntary and incentive based.
There are also studies that show that inclusionary zoning policies do not lead to significant declines in overall housing production or to increases in market-rate prices. The National Housing Conference's Center for Housing Policy has published briefs looking at the impact of inclusionary zoning on the housing market. One brief, "Separating Fact from Fiction to Design Effective Inclusionary Housing Programs," found that inclusionary zoning policies have not driven housing costs up in the vast majority of cases where they exist.
The brief, published in 2016, looked at more than 500 local jurisdictions that implemented inclusionary housing policies at that time. "The most highly regarded empirical evidence suggests that inclusionary housing programs can produce affordable housing and do not lead to significant declines in overall housing production or to increases in market-rate prices," the brief states.
Dave Powers, senior vice president of multi-family development with Sares-Regis Group, which has several projects ongoing in Long Beach, is more frequently encountering inclusionary zoning and affordable requirements on developers. "We're coming across that more and more," he said. "You don't make money on affordable housing, you just don't."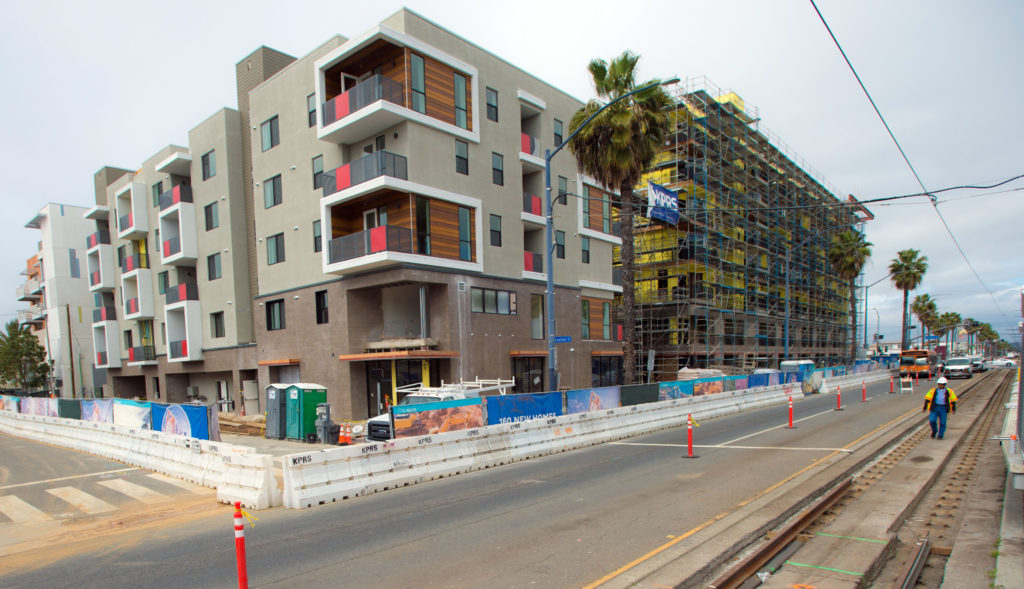 Powers said he has run into opportunities to develop in cities where inclusionary zoning is in place, and did not go ahead with a project because he couldn't make the numbers work.
Powers believes that if a 15% inclusionary housing policy were to be instituted by the city, any Sares-Regis projects in the pipeline would likely be shelved due to the added cost of including affordable units. New projects, however, could be feasible if rental rates were increased to accommodate added costs.
"There's a limit to what we're willing to do," Powers said. He cautioned that city planners thoroughly consider any new zoning requirements on market rate developments before they are enacted. "I think they need to be careful about what they're going to ask for," he said.
Derek Burnham, principal at Burnham Planning & Development and the former planning administrator for Long Beach, consults with developers and helps them through the permitting process, design review, and other steps and regulations. He has worked on numerous developments throughout the city.
Burnham noted that there is no shortage of considerations that must be taken into account before an inclusionary zoning ordinance is put in place, such as land cost, construction costs, as well as present and future rental rates or sale prices. Even with all those elements accounted for, it will come down to the scale of each project, where bigger developments, such as those Sares-Regis is working on, will be better able to better absorb an affordable mandate, he said. "I think it can work, but it's going to have an effect on the smaller margin projects," Burnham said.
The Building Industry Association, which opposes mandatory inclusionary zoning, has suggested that if an ordinance is passed, that those regulations only apply to projects greater than 50 units. "Small and medium size projects less than 50 units have a much more difficult time taking advantage of economies of scale and possible incentives," reads a position statement from the group.
Burnham said many developers, regardless of the size of their planned projects, do shy away from places with affordable housing requirements, sometimes because they don't feel they can make enough money or that they won't make any profit or could even lose money on a project. "Developers will always want to have the best return that they can earn," Burnham said. "It does place a bigger burden on whether a project's feasible."
Richardson, however, doesn't believe that developers will be turned off by requirements to include affordable units in market rate developments. "Do developers want to make money?" he asked, making note that housing prices are high and the real estate industry is a lucrative business. "I support an inclusionary housing policy. That has to be part of the mix." He added, "We need to protect, preserve and produce affordable units."
Koontz, the Planning Bureau manager, said affordable housing has been built in Long Beach. "We've actually produced a good amount of very low-income housing units," Koontz said. "Obviously not nearly enough in comparison to the demand. But we [are] very proud of the work that we have done. For the past several decades we have recognized the rising cost of housing and the housing shortage."
However, like Richardson, Koontz believes it's not just more low-income housing that the city needs. "We'd love to see some more middle-income housing, not just exclusively luxury housing, and I think we're looking at how we do that," Koontz said. "But it's also about the units themselves. So, a discussion we have day in, day out with the development community is not just building studios or one-bedrooms, but trying to get more two- and even three-bedroom units."
Richardson agreed with Koontz that simply building more affordable housing for low income residents in the city won't cut it.
"We can't lose sight of the conversation about home ownership," he said. "It's the still the No. 1 way for people to build wealth and have economic resiliency. A whole generation of people are having a hard time breaking into home ownership. That's going to have long-term effects to our long-term economy, to make sure people own homes.  We have to be more thoughtful in the policies and decisions we make because we want to make sure there's a future."
Editor's note: This story has been updated to reflect accurate commentary by Dave Powers.