Long Beach has for many years been known as one of the most diverse cities in the nation, earning it the nickname "The International City." Its makeup of business owners is a reflection of that diversity, with people from all ethnic backgrounds heading up successful ventures large and small.
These business owners have grown their operations in a variety of ways over the years. Some have expanded to multiple locations, and others have significantly grown their revenues and employee-bases. Although from different backgrounds, they hold these traits in common: a drive to succeed, a refusal to make excuses, and a commitment to their communities.
Servando Orozco, whose Long Beach business Orozco's Auto Service now has three locations, told the Business Journal that he had no skills when he came to America. But a combination of fate and determination led him to change the course of his future.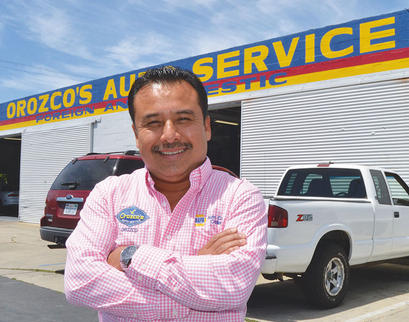 Mexican immigrant Servando Orozco came to the United States with $20 in his pocket and few skills. He now owns and operates three auto repair locations. For locations and other information about Orozco's Auto Service, visit www.orozcosautoservice.com. (Photograph by the Business Journal's Larry Duncan)
When Orozco came to the United States 30 years ago, he was only supposed to stay for three months as a roadie with a band from Mexico. During that time, he stayed with a friend in Compton who owned an auto shop.
"Two weeks before the end of the three months, I got shot in Compton," Orozco recalled. "And everything [was] because I was wearing a red collar." Because he wasn't from the area, Orozco did not know that the color red signified affiliation with a specific gang.
The police handling the investigation of the crime told Orozco he had to stay in the country for at least three months. "During that three months when I stayed on in that shop, that's when I became interested in being a mechanic," he said.
Orozco had only attended school through 8th grade. In Mexico, he had earned money by selling Chiclets, cleaning windshields and pumping gas. "I had no skills," he said.
Orozco decided to stay in America and worked at his friend's auto shop for three years. He gained experience at a few other shops before landing at a Shell station in 1989, where he worked for 10 years. "When they lost the lease for the Shell, I moved next door, which was my first shop," Orozco said. "And that's where Orozco's started in December 1999."
In 2007, Orozco purchased a second location at 3619 Atlantic Ave. "Then in 2013, I bought a business in Bellflower," Orozco said. "And then three months later, I bought the property next door, a transmission shop."
Although Orozco faced many obstacles as an immigrant and a minority entrepreneur – he arrived with no skills, did not speak English and knew nothing of running a business – he said he learned not to make excuses for any of the bumps along the road to his success. "It's easy to look for excuses and point to the other side and not point to ourselves," he said.
In 2005, Orozco hit one such roadblock when he discovered he owed the IRS nearly $10,000. Rather than throw in the towel, he accepted that he needed assistance in learning how to run a business and enrolled in classes. Now, 12 years later, he teaches those same classes to other entrepreneurs.
Renee Quarles, who has owned Shades of Afrika since 1997 when she assumed ownership from her sister and the business's founder, Vonya Quarles, has a similar attitude about overcoming obstacles as a minority business owner: she refuses to let them get in her way.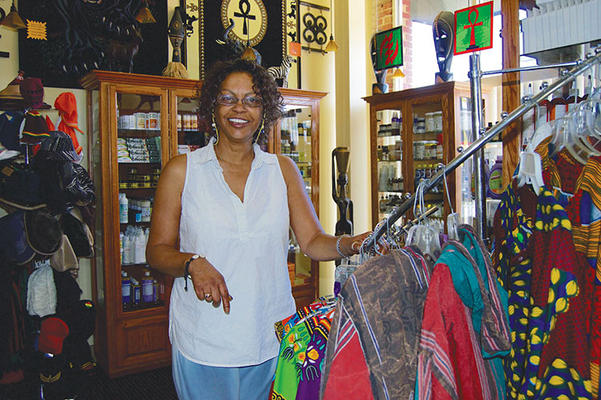 Shades of Afrika owner Renee Quarles has grown her business's revenues and offerings since taking ownership of the store in 1997. The shop specializes in African-American Books, natural body care products, handmade collectibles and more. For more information, visit www.shadesofafrika.com. (Photograph by the Business Journal's Larry Duncan)
"I do not look for excuses at all, meaning if there is a racist person that I have to go through to get where I've got to go, I will find another way to do what I've got to do," she said. "I am black, white and Indian. I have a lot of blood running through my veins, and I will not let race get in the way of my success."
Quarles said she has dealt with a number of challenges in growing her business over the years: a former location was taken by the city through eminent domain, and in recent years, she has endured various crimes against the store, including a rock recently thrown through a window. But despite these challenges, she has grown the business.
"I was fortunate enough in '07 to purchase the building we are in today. This is our building, so no one can take us out," Quarles said. In 2010, she opened a second location in Corona.
Revenues have grown from $33 a day to about $300,000 a year. "My whole approach is better products," she said, noting that she sources many of her goods from local artisans.
"I want anyone reading this article to understand clearly that the sky is the limit when you are your own boss," Quarles said.
Patricia Watts, founder and president of FCI Management, began her career as a temporary file clerk at Southern California Edison (SCE). She eventually worked her way up to manager of the firm's community relations division. After 22 years with the company, she took an early retirement but did not stay retired for long.
"I thought I really would like to start a company, and I had a passion for creating jobs," she said. Nineteen years ago, SCE began downsizing and increasingly using contractors for some of its services. Watts saw it as an opportunity and formed a company to meet some of SCE's needs.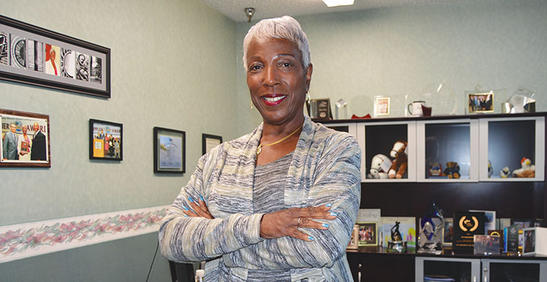 Patricia Watts founded FCI Management after a successful career with Southern California Edison (SCE). The company, which does contracted work for SCE, now has offices in New York and Atlanta. For more information, visit www.fcimgmt.com. (Photograph by the Business Journal's Larry Duncan)
"Today we are one of the premiere prime contractors with Edison and other utilities providing what we call third-party implementer services for their energy efficiency portfolio," Watts explained. This includes "lighting, retrofits, HVAC upgrades, refrigeration upgrades, improved building performance, renewable energy technology such as solar, and electric vehicle chargers," she noted.
The company has grown organically and now has offices in Atlanta and New York. Pursuing leadership in various business organizations has helped Watts continue to network, while also providing the opportunity to mentor other business owners, she noted.
"I take leadership roles in business organizations like the Minority Business Development Council, Women Business Enterprise Council, the National Association of Women Business Owners," Watts said. "I am very involved in both the trade level and community-based organizations." It is a strategy she said she would recommend to other minority business owners seeking success.
Luis Navarro, owner of Lola's Mexican Cuisine and co-owner of the Social List, said he learned his work ethic from his mother, Lola. She originally started Lola's Mexican Cuisine after saving up for many years.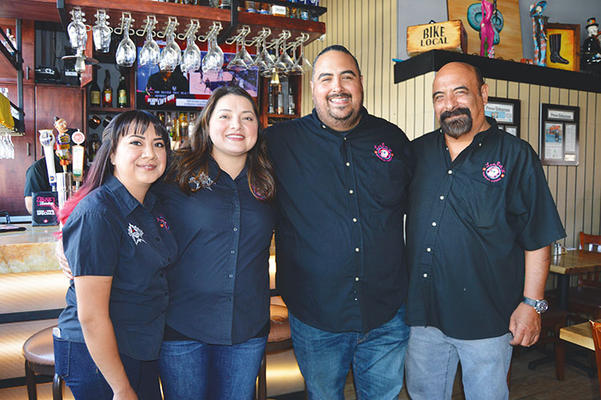 Lola's Mexican Cuisine was originally founded by the mother of current owner Luis Navarro. The 4th Street business now has a second location in Bixby Knolls. Navarro's family operates another restaurant, The Social List, as well. Pictured at the original Lola's, from left, are family members involved in the businesses: Nathalia Rivera, Brenda Rivera (wife to Luis), Luis Navarro, and Luis Navarro, Sr. For more information, visit www.lolasmexicancuisine.com and www.thesociallistlb.com. (Photograph by the Business Journal's Larry Duncan)
"She had many jobs, but for the majority of her life, she cleaned homes and was like a banquet server in a lot of the hotels here in Long Beach," Navarro said of his mother, who passed away from cancer a few years after opening Lola's on 4th Street. When he was growing up, every day his mother would take her children to school. She would then clean homes until she picked them back up from school and made dinner, and then she would go off to work again in her job as a banquet server.
Lola first arrived in the United States in 1974, speaking only Spanish and with just $50 in her pocket, Navarro noted.
"But that was how she was able to kind of get ahead, just by outworking everybody else," Navarro said. "And yeah, she was able to buy her home and save some money and follow her dream."
Navarro, who studied international business in college, became involved in Lola's from the beginning when it opened in 2008. When his mother became terminally ill, he took it upon himself to advance his culinary skills. He has taken multiple tours of Mexico, where he has learned about Mexican cuisine, and began refining Lola's menu. "I kind of learned it hands on, and it became more of a passion for me," he said. "I am now in a position where we have a really good team in place. I am more or less steering the ship instead of being the guy working on the ship."
In 2014, Navarro opened The Social List across the street with his sister, Erica Norton. Last year, he opened a second Lola's location in Bixby Knolls.
"One of the mottos we kind of run off of is we never compromise on our quality," Navarro said. "And you know, last – and I think it's the most important – thing is, we give back," he said, noting that he and his family are involved in giving to local schools and events. "As it comes in to us, we also distribute it back to the community to make us all stronger."
Julia Huang, president and CEO of interTrend Communications and startup incubator Imprint Venture Lab, has also made it a point to become involved in and invest in the community. Huang's firm is one of the co-sponsors of POW! WOW! Long Beach, which for the past two years has brought international artists to paint murals throughout the city.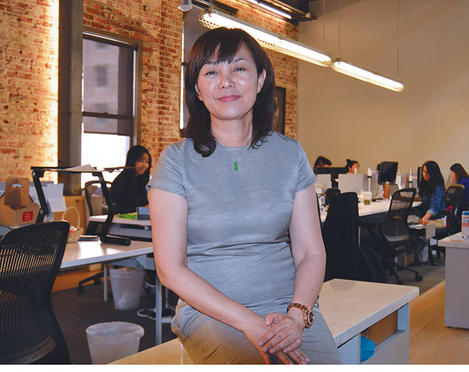 Julia Huang grew interTrend Communications from a small subsidiary into an independent advertising agency firm boasting Fortune 500 companies as clientele. She also runs Imprint Venture Lab. For more information, visit www.intertrend.com and www.imprintventurelab.com. (Photograph by the Business Journal's Larry Duncan)
"We host POW! WOW! Long Beach. We have worked with the mayor's office with his Mayor's Education Fund. We worked with Musica Angelica, which is also a local Long Beach music institution," Huang said. Her company has also physically invested in Long Beach through its purchase and rehabilitation of its headquarters at 228 E. Broadway, one of the oldest buildings in the city.
Huang, a Taiwanese-American raised in Japan, came to America for graduate school in the 1980s. Her journey to becoming a business owner was by chance. After working for a mergers and acquisitions firm for a number of years, she had the opportunity to start interTrend as an arm of that company to service the advertising needs of its client, Northwest Airlines. Despite having no background in advertising herself, she later spun off the company and has since amassed a legion of massive brands including Toyota, JP Morgan Chase, Disney, State Farm and many others.
Now, in addition to becoming involved in the community, Huang is finding ways to assist other entrepreneurs. Through Imprint Venture Lab, she helped found Built By She, a community of women entrepreneurs seeking to assist one another and network. "Because of the fact that we are in Long Beach, we started our focus on Long Beach-owned businesses," she said of Built By She.
"The great thing is this is a country that really supports small business and small business owners, and there are so many infrastructures people could reach out to [in order] to get resources that were really not available 20 or 30 years ago," Huang said.