Two years ago, the City of Long Beach adopted its Blueprint for Economic Development as a vision for increasing its standard of living and supporting new and local businesses in the area. Building on that blueprint, 9th District Councilmember Rex Richardson spearheaded an initiative dubbed "Everyone In" to promote economic inclusion for the minority community. As Richardson explained to the Business Journal, Phase 1 of the initiative was largely devoted to getting feedback from locals. This year, it enters its implementation stage.
"Phase 1 was a broader conversation, understanding what economic inclusion is and how it can be the new direction of our city," he said. "Phase 2 is taking steps in that direction."
Last year, Rebecca Kauma, the project lead for economic and digital inclusion with the city's economic development department, worked closely with consultants who hosted in-depth focus groups related to entrepreneurship, community economic wellbeing, banking and youth workforce development. Kauma said that the results of that listening tour will be discussed at the end of this month by a multi-sector team of community stakeholders and policymakers. The discussion will focus on housing and homeownership, diverse entrepreneurship, small business and procurement, and economic resiliency. "There's so many layers of economic inclusion that it can't be solved with just one project," she said.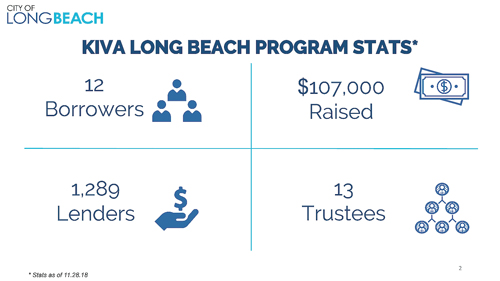 In addition to last year's community discussions, the city launched a handful of pilot programs to see how its goals could be put into practice. One such pilot was Kiva Long Beach, a zero-interest microloan platform for business owners without access to traditional commercial loans, provided by the Los Angeles Local Initiatives Support Corporation (L.A. LISC). This program filled a gap in the city's existing microloan program, which did not offer sums lower than $25,000. Long Beach Director of Economic and Property Development John Keisler told the Business Journal that a number of downtown businesses have joined the platform, with lenders raising over $100,000 in loans since January 2018.
In addition to its role bringing Kiva to Long Beach, LISC is also working with the initiative to make worker co-ops available to small business owners and their employees. "LISC, which is our lead partner on our economic inclusion work, received a grant from Citibank to bring in a nonprofit called Project Equity," Richardson explained. Project Equity works with small business founders to pursue an employee ownership model rather than selling their life's work to a company that may downsize or eliminate it. "[Project Equity] works with your employees to purchase the company from you for the employees," Richardson said. "Then the city retains those employees, [and] we retain those jobs."
Tunua Thrush-Ntuk, executive director at LISC, told the Business Journal that LISC wants to raise the profile of Project Equity in Long Beach and make workers and their employers aware that it is a viable option for keeping established locally-owned businesses within the community.
Another pilot program created in 2018 was Youth Banking and Financial Literacy, created in partnership with the city's employment arm, Pacific Gateway. The program provided access to free checking and savings accounts and financial literacy education to all youth participants in the city's workforce development programs. "We were able to partner with Pacific Gateway and deploy that option to every single young person this summer who got a job with the city," Richardson said. "That was one of the first wins of Everyone In."
A prototype currently in development involves a partnership between affordable housing developers and the telecommunications community. Keisler said the digital inclusion team is working on a program to provide the Internet in rental units like a utility. "You would have water, you would have power, [and] you would have Internet as one of those utilities as part of these affordable housing projects," Keisler explained. Construction on those units won't begin until spring, he added.
"You can't fully participate in the economy if you can't fully participate in emerging technologies," Richardson said. "That's a strategy of economic inclusion that we're committed to."
Richardson said one of his top priorities this year is to create a community development corporation. The traditional view of economic development, Richardson said, focuses on attracting big companies and developing big buildings. "Economic development now is really about better understanding how the ecosystem of our economy works, how we all play a role in it, from the small business to the low-wage worker to the college student," he said. The community development corporation he envisions would focus on job training, access to jobs, small business loans and technical assistance for small businesses.
In the next few weeks, Richardson plans on announcing a new financial partner for the economic inclusion initiative.