Judging by the numbers, the restaurant industry continues to play a significant role in the economy, both in California and nationwide. According to the National Restaurant Association, 10% of all workers both on a state and federal level, were employed in restaurant and foodservice jobs in 2018. For California, that meant 1,768,100 jos. By 2028, the association expects this share of the California workforce to grow by another 176,200 jobs.
In Long Beach, however, the past year has brought on a slew of restaurant closures. At least 17 restaurants closed their doors in the past year, including short-lived health food eatery The Organic Fork, Big Mista's Barbecue, Russo's of Naples, Seoulmate, Forbidden City and French bakery Babette's Feast.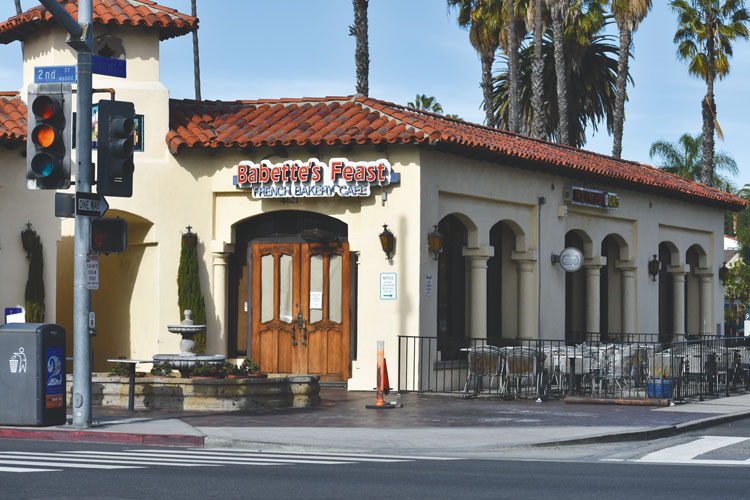 "It just came to a point where, for us, Long Beach wasn't really catering to mom-and-pop type businesses like they used to," Neil "Bigmista" Strawder told the Business Journal. Together with his wife, Phyllis, Strawder decided to close both of their Long Beach restaurants, Bigmista's Barbecue and Bigmista's Morning Wood, and move to Oregon.
Strawder said the increasing cost of living and the business environment played a role in their decision to pack up and leave. "It was just becoming way too corporate. It was like [it was] turning into San Francisco, getting to be a place where nobody could afford to live," Strawder explained. Additionally, he said he struggled to find qualified and dedicated staff. "It was rising rents, the cost of labor and just trying to find people who wanted to work was so hard," Strawder said.
A passionate grill master, Strawder said the stress of the business started to chip away at his excitement for the craft. "I was working too many hours; it took the fun out of it," he said. Unsatisfied with his revenues and distressed by the administrative work required to comply with regulations, keep the landlord happy and pay the bills, Strawder said he had enough. "The cooking part isn't the stressful part. It's the paperwork and the business and the taxes and the insurance, dealing with the landlord. That's the stressful part," he explained. "We were just doing enough to keep the doors open. Why do I need the stress if I'm not making any money?"
The challenges faced by Long Beach restaurants are as diverse as the city's food scene itself. "Our customers, our guests would give us high compliments," Dave Lazaro, The Organic Fork's marketing manager told the Business Journal. Instead, Lazaro believes it was the location that stifled the restaurant's success.
"We need to be in an area where we have enough foot traffic by the customer base [that] we need to be sustainable," he explained. "Long Beach is a very diverse area, not just of ethnicities, but of income groups. We were hoping that we could serve everybody, but in the end – unfortunately – there's a difference between serving everybody and being able to sustain yourself."
The restaurant closed after only a few months at its first location on 7th Street and Bellflower Boulevard near Cal State Long Beach. But Lazaro said the company, which also owns The Buffalo Spot chain, is hoping to relaunch the concept in a different location, preferably near similar businesses. "When you're on an island on your own, it's harder to get your customer base to go there just for your concept," Lazaro said. "Brands like that, that gear themselves towards natural and organic, have to cluster together to become successful."
Mike Mendelsohn's Baja Sonora recently reopened its storefront location on Clark Avenue after surviving a challenging period of transition as a new landlord undertook renovations that displaced all of the strip mall's previous tenants. "It ended up taking him a year to complete the building, and it took us almost seven months to re-open," Mendelsohn, who temporarily moved his business into a food truck, told the Business Journal. "No one else could last."
Some of his former neighbors re-opened in different locations, while others closed. The rent for Baja Sonora's space increased. Still, Mendelsohn said it was worth it. "It's a beautiful shopping center now, and it had been an eyesore," he said. The new development has attracted new tenants as well. In addition to a bakery specialized in Bundt cakes, Creative Cakery, a local craft beer brewery, Steady Brew Beer Co. has opened a tap room and guests are allowed to bring in food from Baja Sonora next door. "It's a very symbiotic relationship, which we really appreciate," Mendelssohn said.
Despite the challenges of rising rents, increased labor costs and regulatory requirements faced by many California businesses, The Buffalo Spot's Dave Lazaro is optimistic about the future of the local restaurant industry. "The people in Long Beach are great people and they're actually very loyal to the small businesses in the area," Lazaro pointed out.
As for "Bigmista" Strawder: He said he enjoys the uncongested streets of rural Oregon and being able to support his wife's professional aspirations as a writer and educator, while still barbecuing for private parties at his leisure. "I take a lot of naps," he said, laughing.