As city officials solicit input for a study on the potential impacts of raising the minimum wage in Long Beach, small business owners have been calculating expected cost increases and are expressing strong concerns.
The Long Beach City Council agreed unanimously on September 15 to contract with the Los Angeles County Economic Development Corporation (LAEDC) to conduct a study on the subject. The study, which costs the city $65,000, comes on the heels of the County of Los Angeles approving a $15 an hour minimum wage for unincorporated areas in July just two months after the City of Los Angeles passed a policy that raises its minimum wage to the same rate incrementally between 2016 and 2020.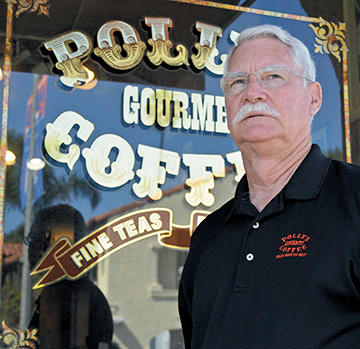 Mike Sheldrake is the owner of Polly's Gourmet Coffee on 2nd Street in Belmont Shore. He also serves as president of the Belmont Shore Business Association. He says he agrees that people are in a difficult place and need a chance at a better life, "but my position is, it's not our responsibility to give them a better life. It's our responsibility to give them an honest chance at a better life." (Photograph by the Business Journal's Larry Duncan)
While it's not clear what may or may not be proposed in Long Beach, city officials have asked residents, workers and employers to share their views at six community meetings, the first of which is today, Tuesday, September 29, at 4 p.m. at city hall during the Long Beach Economic Development Commission meeting chaired by realtor Frank Colonna, who served two terms on the city council.
Workers' rights groups backed by labor unions, meanwhile, have voiced demands for the minimum wage in Long Beach to be raised to $15 per hour while calling for protections such as stricter labor enforcement policies and adequate paid sick days for workers.
Although expressing sympathy for low-wage workers, Long Beach business owners interviewed by the Business Journal voiced worries that such a city-mandated minimum wage hike would mostly impact small businesses in sectors such as restaurants, retail, warehousing, home care and professional services, adding that such a policy would have multiple negative effects on their operations and the local economy in general.
Many business owners said that a $15 an hour minimum wage hike would create a 45 to 50 percent increase in labor costs, due to an associated increase in workers' compensation insurance and payroll taxes.
(It should be noted that numerous owners contacted by the Business Journal did not want to be quoted for fear of retribution by elected officials and the unions they support.)
Even with temporary exemptions for small businesses or "carve outs" for certain industries, business owners would still have to compete for the same pool of employees as the large corporations that would be mandated to offer higher wages, opponents argue.
"A lot of people will decide to go work at Walmart instead of go work in accounting because the margins are the same," said Yanki Greenspan, president of Westland Real Estate Group, a commercial and multi-family real estate property owner and developer based in Long Beach.
Most of all, opponents contend that a city-mandated minimum wage increase might actually hurt the very workers such a law would attempt to protect, as raising the minimum wage to such heights, overall, would result in job losses while driving up prices for products and services and increasing rents.
Some small business owners said raising the minimum wage to the level proposed by labor groups would likely result in less hiring while potentially forcing businesses to move to nearby cities that don't have such a mandate, adding that small businesses would be at a competitive disadvantage if they were to stay.
Moreover, some small business owners that aren't in a position to reduce labor, will have to raise prices or relocate in some cases, or may even be forced to close their doors altogether, some business leaders said.
"You're going to have a lot of small businesses going out of business because they're not going to be able to compete in this marketplace," said Mike Sheldrake, owner of Polly's Gourmet Coffee and president of the Belmont Shore Business Association (BSBA), who has been a vocal opponent of a citywide minimum wage increase.
Minimum Wage Debate
Supporters of the "Raise the Wage" campaign in Long Beach, meanwhile, assert that, while Long Beach remains the second largest city and economy in Los Angeles County and has many thriving industries, such international trade, healthcare and tourism, many residents live in poverty.
Campaign supporters cite statistics that 40 percent of workers in Long Beach make less than what they need in order to live, adding that productivity, prices and rents have increased while wages have stayed stagnant for years.
Rusty Hicks, executive secretary-treasurer of the Los Angeles County Federation of Labor, said the median rent in Long Beach is about $1,100 and about 32 percent of all workers in the city pay over half of their income on rent.
"You have a case where you have workers who are not able to provide the basic necessities that they need to provide for themselves and to provide for their families," he said.
Francisco Abdul Estin, who has worked as a banquet server for the Westin Hotel in Downtown Long Beach for 26 years, said Measure N, the so-called "living wage" law pushed by hotel worker unions that voters approved in 2012, has raised the minimum wage for hotels with 100 rooms or more to $13.80 as of July.
Still, Estin, 62, said he struggles to cover necessities, such as food and college expenses, for his children as costs have gone up.
"A lot of people are investing in our city so we deserve a raise for our families and for my kids' education to have a better place in the city and more opportunities," Estin said. "That's important."
Additionally, Hicks said raising the minimum wage to $15 an hour would actually benefit the local economy by funneling more money into the pockets of workers, who would then spend more at local businesses.
Sheldrake, however, argues that such a minimum wage increase would likely drive up prices, therefore, reducing workers' spending power. He added that there would also be fewer services available, as businesses would be forced to cut back.
Sheldrake, who employs 10 people, added that if such a minimum wage policy were passed in Long Beach he would likely be forced to stop providing health care benefits to his employees and cut overtime, adding that a $15 an hour wage mandate would cause his labor costs to rise 45 percent.
Sheldrake said city officials should lobby for state or federal minimum wage legislation. He added that the ultimate solution for employees seeking a higher wage is not through laws but through more educational opportunities that would make them more valuable to a business to justify a higher wage.
"I agree people are in a tough place and they got to have a better chance at a better life, but my position is, it's not our responsibility to give them a better life," he said. "It's our responsibility to give them an honest chance at a better life."
"Sheldrake is right on the money," said Business Journal Publisher George Economides, who has long advocated that education, not legislation, is the answer to providing opportunities for better paying positions. "Our elected officials don't seem to understand – or want to understand – that that's where their focus should be. They also ignore that minimum wage jobs are entry level positions, not careers. We've all been there. It's frustrating to small business people who bust their butts to get ahead to then have city councilmembers with zero business experience tell them they must give employees a 40 percent or 50 percent pay increase. And, with no increase in productivity."
The 'Step Up' Factor
Increasing wages for workers at the bottom of the pay scale, however, may have even more ripple effects, according to Greenspan, who estimates that his company, that has 280 employees, would see a $1.25 million increase in payroll if a $15 an hour minimum wage policy were to pass.
The calculation, he added, doesn't take into account the "step-up" factor in which having to raise the pay of the lowest wage earners, such as receptionists, compels having to raise wages for all other employees as well.
Greenspan added that businesses will eventually adjust to a mandated increase in labor costs, but it may take up to a decade for the market to correct itself, adding that in the meantime businesses, workers and consumers will suffer.
"What this is basically doing in my view is throwing the local economy into complete chaos for the next five to 10 years," Greenspan said "Eventually we'll stable out . . . It's going to take time to adjust. A lot of people will get hurt. A lot of people will lose their jobs. A lot of people won't get hired. A lot of people will get angry."
Higher Wages, Higher Prices
Many small business owners stated that they would have to pass on the increased labor costs to consumers by raising prices, which may reduce sales.
Bobby Bae, general manager of Circle Marina Hand Car Wash on Pacific Coast Highway in Long Beach, said the company, which pays most workers a minimum wage, will already be impacted by the state's wage increase to $10 an hour by January 2016.
"Labor is one of the largest expenses of our business, and, of course, when wages go up, your workers' comp goes up, your insurance goes up and your payroll taxes go up," he said. "That's a big impact."
Bae said the increased labor costs would likely force the company to raise prices. Higher prices may eventually discourage consumers from buying a car wash, which, he added, is still considered a "luxury."
"Of course we absorb some of the costs, but we have to pass it on to the customers as well and they're not happy with it," Bae said. "If the price is too high, then they're going to find other alternatives, whether that's not washing their car or washing it themselves."
Bill Dombrowski, president and chief executive officer of the California Retailers Association, which opposes city-mandated minimum wage increases because of the likelihood for job loss, added that small businesses would have to raise prices while national corporations would remain price-competitive since they have more buying power.
"You see the small guy already charging more because he doesn't have the buying power as a large retailer does," he said. "This just aggravates that price differential and contributes to the demise of the business."
Restaurants And Food Service
Restaurants and food service companies, which often have slim profit margins, would likely be impacted greatly, according to owners of independent food establishments.
Dombrowski noted that early studies show that Seattle, where a citywide minimum wage policy was passed last year with an incremental increase to $15 an hour by 2017, has already seen the loss of 1,000 restaurant jobs as a result.
Gus Sverkos, owner of Kafe Neo on 4th Street in Long Beach, said increasing the minimum wage in Long Beach would only put his restaurant at a competitive disadvantage with other restaurants in nearby cities since he would have to raise prices.
He added that raising labor costs only compound issues for small business owners who already deal with an increasing amount of paperwork and fees required by the city and state.
In addition, Sverkos said, since waiters and other restaurant workers often make tips, they actually make considerably more than minimum wage, adding that a wage hike may force the industry to start doing away with tips.
He added that a citywide minimum wage increase in addition to the regulations, fees and permits already in place would only "dissuade" small business owners from investing.
"Look how successful 4th Street is because we have small, creative, professional business people who have invested," Sverkos said. "You don't want to dissuade them. You want to help them."
Jim Choura, owner and founder of The Grand Long Beach, a planning and catering business that has employed thousands of people in Long Beach since 1969, said he would be impacted by a citywide minimum wage increase, adding that such a wage hike has the potential to drive away convention and tourism business if prices increase.
"When government does anything to interfere with setting prices, whether it's the price of what I sell things for or whether it's the price of what I pay for my commodities or whether it's the price of labor, it has a disruptive effect to the business," Choura said. "When these things happen, they have a huge ripple effect across the landscape and the end result is of course people go out of business if they can't manage it properly, markets shift and people move to other areas where they can."
Home Care Services
Another industry that would be impacted is home care services, especially those for seniors and the disabled.
Rhiannon Acree, founder and president Cambrian Homecare in Long Beach, said increasing the minimum wage in the city might impact the affordability of senior home care, since raising wages of caregivers would force the price of services to go up.
"I think that you, I and everybody in the world would like caregivers to make more money, and I totally support that," she said. "On the other end, I also support that seniors have a choice if they want to stay home or not. So the fear is that it will become so expensive that it's only a choice for the wealthy and not the middle class."
Acree added there is also an issue with how such a policy would impact skilled nursing facilities, subsidized by Medicare or MediCal. She said the impact of increasing the cost of senior home care might force some seniors to seek less expensive alternatives that aren't licensed, creating a safety issue.
While Acree said the minimum wage could be increased, she said there also needs to be a "balance," with careful consideration for the impacts on the industry so as to not make senior home care more expensive for individuals.
'Balanced, Inclusive And Objective'
Long Beach Mayor Robert Garcia has stated that the study being commissioned by the LAEDC is intended to be "balanced, inclusive and objective." The purpose of the community meetings is to make the process more transparent in providing a "review of the potential effects of an increased minimum wage on businesses, non-profits and the workforce," he said.
As part of a preliminary public outreach process, the city is conducting three community meetings before LAEDC is expected to issue its report sometime in early November, according to city officials.
The first three meetings will be held at: city hall tonight, September 29 at 4 p.m. before the city's economic development commission; at the Expo Building at 4321 Atlantic Ave. in Bixby Knolls on October 5 at 5:30 p.m., before the Mayor's Roundtable; and at Long Beach City College at 4901 E. Carson St. on October 29 at 7:30 a.m., before the city council's economic development and finance committee.
After the report is issued, three more public meetings will be held at: Admiral Kidd Park at 2125 Santa Fe Ave. on November 17 at noon; Bay Shore Neighborhood Library at 195 Bay Shore Ave. on November 20 at 4 p.m.; and city hall on November 24 at 6:30 p.m.