You might be sick of it by now, but there is a solid reason that the Millennial generation is an inescapable topic among polls, surveys, the news and all manner of analyses flooding the web. You're likely familiar with the usual fodder: What do Millennials desire from their careers? Where do they want to live? What do they spend on? Why don't they have better jobs? When are they going to grow up? Why can't they put their phones down? Why can't I stop asking myself about Millennials?
The reason you can't get away from these Millennial questions basically boils down to this: ready or not, here we come. We are now the largest living generation. We make up the largest share of the nation's workforce. So, if you aren't ready for us . . . how much longer will you remain relevant?
Luckily for Long Beach, we've got plenty of people who are on it.
Long Beach Millennials need look no further than city government to see that their age cohort is represented. The nine-member Long Beach City Council boasts four Millennials, including the city's youngest councilman and vice mayor, Rex Richardson, who was elected in 2014 at age 30.
Plus, at age 39, Mayor Robert Garcia barely scrapes by the broad definition of a Millennial – ages 19 to 37. Besides, regardless of that line in the sand, his mastery of Twitter has pretty much earned him the badge of Honorary Millennial.
When asked about opportunities for Millennials to lead the city forward, Garcia told the Business Journal that it's already happening, noting the "passing of the baton" to younger elected leaders. "First of all, you probably have one of the youngest councils of any big city in the country," he said. "I think Long Beach is already leading the way."
Garcia believes that Millennials are focused on sustainability and building better communities, and that they want to work for businesses and organizations that represent those values. He also noted that Millennials value diversity – perhaps because they are the most diverse generation ever in the United States. Plus, he noted that Millennials like to career hop, switching jobs every few years.
In order to appeal to Millennials, these are the concepts Garcia thinks cities will have to examine. "We have got to ensure that there are enough jobs that are accessible, whether they are in tech or they are in sustainability," he said. "We want to make sure that we have multi-modal transportation, because Millennials are less likely to want to own an automobile than the generation before. I think we have to be able to make sure that the city is affordable for them to be able to purchase their first home in." He added, "I think there is a lot of focus on the individual, and I think cities have to adjust to that as well."
Long Beach has a number of traits that fit the bill. "I think Millennials love that Long Beach is diverse and that there's kind of like a spirit of progress," Garcia said. "And there is a support of everyone, including the LGBTQ community and young people and all sorts."
The city's efforts to promote mobility are also likely to appeal to Millennials, he noted. "I think the bike network and the sustainability efforts are very attractive to Millennials," he said.
The Long Beach Convention & Visitors Bureau (CVB), the nonprofit organization dedicated to bringing tourists and conventions to the city, in conjunction with the Long Beach Convention & Entertainment Center has implemented a number of strategies to appeal to Millennials.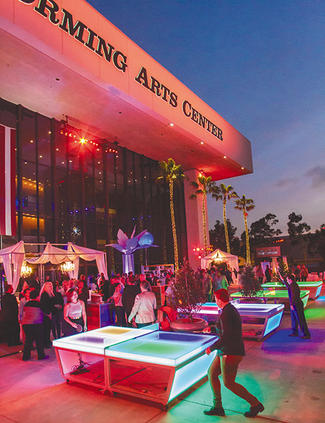 LED Ping-Pong tables are a hit with Millennials are Long Beach Convention & Entertainment Center events. (Long Beach Convention & Visitors Bureau photograph)
"The city's support has allowed for the Long Beach Convention & Entertainment Center to maintain a competitive advantage in attracting the Millennial attendee and planner," Loren Simpson, digital communications manager for the CVB, said. "Millennial attendees, like planners, enjoy the enhancements of the center, it's new special event and networking spaces."
In the past few years, the convention center has undergone major improvements, including the build-out of the arena into the Pacific Room, a facility with a theatrical rigging and lighting system able to create dazzling environments with gymnasts soaring from the ceiling and DJs suspended in stories-high booths.
There are also now lounge-type seating areas throughout the center, which General Manager Charlie Beirne said serve Millennials' desires when it comes to meetings and conventions.
"Steve Goodling and myself, we try to establish an area where the Millennials can gather," he said, referring to the president and CEO of the CVB. "We use the three C's: connect, collaborate and communicate. We think it's important that people get time face-to-face when they are at meetings and conventions, so we certainly do that. Plus with all the different amenities we're adding – our furniture, our lighting and things like that – we are creating more of a soft, cool vibe, if you will."
The convention center's approach to food and entertainment is also designed for Millennials to appreciate – and that often means serving up something photo-worthy.
"It's important to understand Millennials are looking to experience something worth sharing [on social media]," Simpson said. "Whether it be blowtorched s'mores, caprese salad on skewers with basil dust, photo booths . . . or LED Ping-Pong tables, Millennials are looking for an experience they can engage with and proudly share on their social media platforms."
Last year's ComplexCon, 2-U and Agenda conventions/trade shows were all Millennial-centric, according to Simpson. ComplexCon, organized in part by musician Pharrell Williams, included acts like famed Long Beach local Snoop Dogg, Kid Cudi and Skrillex.
"It went over very well. They just announced that they are coming back again," Beirne said of ComplexCon. "I think what they liked about having it in Long Beach is the feel of Long Beach, the walkability, the ability just to get around easily. . . . I think the collaboration, once it got off the ground, worked great. And that's why I think they're coming back."
Garcia pointed out that Downtown Long Beach, where the convention center is located, has been experiencing a "rebirth" that he believes is causing more Millennials to move to the area.
Kraig Kojian, president and CEO of the Downtown Long Beach Alliance (DLBA), pointed out that many of the developments in downtown are being built with Millennials in mind.
"I think there is a lot of development and planning that's being designed around that generation, around the user that fits that role," Kojian said. "I mean, it's promoting public transportation. It's looking at smaller units. It's looking at open space. It's looking at the conveniences and the amenities and the attributes that the downtown generates," he said of such developments.
Adam Carrillo, economic development manager for the DLBA, said the urban environment of downtown – with its variety of restaurants and groundfloor retail, its access to transit and its walkable environment – is in keeping with what Millennials want from a live-work environment.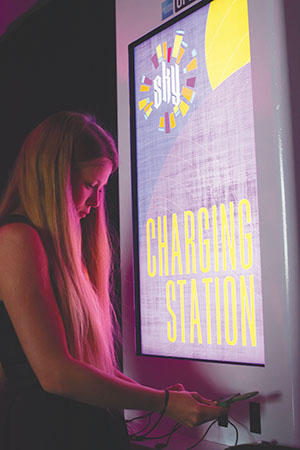 The Long Beach Convention & Entertainment Center keeps Millennials in mind when orchestrating events. Pictured here, a woman plugs her mobile device into a charging station at an event. (Long Beach Convention & Visitors Bureau photograph)
Austin Metoyer, research and policy manager for the DLBA (and Certified Millennial), agreed. "Me and my partner wanted to move downtown because we saw what was happening – we saw a bunch of new development going on. We saw new restaurants," he said. "And so we just kind of wanted to be where we could work, where could go out for a night or go out to eat, or where there were just a lot of things going," he explained.
The DLBA hosts a variety of events for the community throughout the year, many of which feature musical acts. While these events are designed to appeal to all age groups, they appear to have a particular draw among Millennials. According to Metoyer, the average age of attendees is about 33 years old.
The DLBA soon plans to launch a series in partnership with California State University, Long Beach that Carrillo explained is designed to bridge the educational institution and its Millennial student body with the downtown area. The program will focus on entrepreneurship.
It would be great if I could unilaterally tell you, "Millennials love Long Beach!" But while I am a Millennial who grew up in, works in, lives in and loves Long Beach, I do not represent all Millennials (although some days I like to pretend I do).
What I can do, though, is play the mayor card. "You know, Long Beach has got a little bit of a hip factor to it, which I think Millennials like," Garcia said.
You see that? We're hip. Our Honorary Millennial in Chief says so.
Maybe not all Millennials know it yet, but if local groups keep paying attention to the desires of our generation, don't expect that to last long.