Long Beach's largest attractions and tourism-based businesses are apparently reaping the benefits of a solid economy and bustling convention center, with executives and business owners interviewed by the Business Journal all expressing upbeat attitudes going into the summer.

(Business Journal Photograph)
Attractions On The Waterfront
The Queen Mary has a full calendar of events planned for the summer, thanks in part to a partnership with major events firm Goldenvoice. The company has planned a series of waterfront concerts adjacent to the ship with big names attached – the upcoming Summertime in the LBC concert on July 7, for example, features Ice Cube, The Game, Ja Rule, Long Beach's own Snoop Dogg and other performers as headliners. And the radio station 98.7 FM is bringing back its Alt Summer Camp to the ship's grounds on August 12, with famed indie band Death Cab for Cutie at the top of the lineup.
Urban Commons, the Queen Mary's leaseholder, first introduced new events like Goldenvoice's concerts to the waterfront in 2017, while continuing its already successful annual events like the Halloween maze, Dark Harbor, and the winter holiday event, CHILL. "Events are driving visitors to the ship," Dan Eisenstein, director of events for Urban Commons, said. "We are very happy with our partner that we picked up at the end of last year, Goldenvoice, one of the largest purveyors of live entertainment in the world. We're happy with the results that we're seeing."
As the company continues to make improvements to the Queen Mary – a requirement before it begins a planned ship-side development with new attractions, shops and an entertainment venue – it continues to find new ways to bring people to the site, which is across the water from downtown and adjacent to the Port of Long Beach. Most recently, Urban Commons brought in the world's largest traveling observation (Ferris) wheel for a period of about a month, that the firm intends to bring back for a longer stay next summer, Eisenstein said.
The ship itself continues to host multiple exhibits, including the long-running Diana: Legacy of a Princess, which is finally closing in January 2019, according to Eisenstein. An exhibit on Winston Churchill, which at this time has no set closure date, details the former prime minister's ties to the ship and features replicas of his war rooms from World War II. Closing July 7 is Titanic In Photographs, an exhibit featuring photos and artifacts of the ill-fated RMS Titanic. The ship's Ghosts & Legend's Tour has also been revamped, now featuring a trip to a refurbished boiler room equipped with a massive Tesla coil, a device that shoots out low-wattage electricity in lightning-like light shows.
The ship's hotel is also doing well, according to John Jenkins, vice president of asset management for Urban Commons. "Due to the continued efforts of the Long Beach Convention & Visitors Bureau, the Queen Mary hotel occupancy has continued to improve year over year and is up 4% in 2018 from 2017," he said.
Across the water from the ship at Rainbow Harbor, the Aquarium of the Pacific is celebrating its 20th anniversary year with a series of events and competitions, according to President and CEO Jerry Schubel. "We have contests that take place every day. We have some new exhibits. We have got this new film that plays every day in the Great Hall that highlights the Aquarium's observation work over the last 20 years. And we're having art exhibits throughout the rest of the year," he said.
A recent special lecture included former Mayor Beverly O'Neill and other local leaders who were influential in getting the Aquarium built, such as former City Manager Jim Hankla and current Long Beach City College District Trustee Doug Otto. In August, Vice President of Husbandry Sandy Trautwein will give a special lecture highlighting the animals of the Aquarium, particularly those that have been with the facility since its grand opening, Schubel said.
The Aquarium's newest exhibit is a tank featuring a day octopus, an active cephalopod that enjoys swimming in the light and often changes colors before guests' eyes. New Aquarium residents also include baby animals like a seal pup and three new penguin chicks, Schubel noted. The Aquarium's regular series of lectures also continues, with a full schedule available on its website at aquariumofpacific.org.
"We also continue our urban ocean cruises. There are several of those over the summer," Schubel said. These cruises highlight the urban ocean, which stretches from Santa Barbara to the Mexico border. "More people live along that stretch than in the entire State of New York," Schubel said. "This population makes intensive and varied uses of the ocean. We've got the two biggest container ports in the country. And we seem to be able to coexist in relative harmony with nature."
With the exception of a dip in attendance in May, so far the Aquarium is "going gangbusters" this year with visitors, Schubel said. "We have checked with other institutions and most of them, except for the California Science Center, also had soft attendance in May. So something strange was happening," he said. "But I am expecting that we are going to have a good, strong summer."
Construction on the Aquarium's expansion, dubbed Pacific Visions, is progressing on time and on budget, according to Schubel. The expansion is scheduled to open in 2019, and will feature an immersive theater, an art gallery, a new exhibit space and more.
Businesses located at Shoreline Village in Rainbow Harbor are also benefiting from an increase in visitors to the area, according to Property Manager Debra Fixen. "Traffic has been up. We were blessed with great weather for the early winter," Fixen said, noting that this winter was much drier than in 2017. "Also, it just seems like there is more tourism. I see more people here every day. I think part of it are the conventions in town," she said, adding that she is expecting the village to also benefit from the expansion of Carnival Cruise Line's terminal and the future expansion of the Aquarium.
The restaurants and shops at Shoreline Village have experienced an aggregate increase of 8% in sales, according to Fixen. One store, a candle shop, recently went out of business, but it gave another business an opportunity to expand. "We moved Queen Mary Couture over to the candle location. And then Louisiana Charlie's, the Cajun restaurant that's here, they expanded into that space," Fixen said, explaining that the restaurant expanded within the past month. "Then we had a store go out that had been here for a long time, Purple House. And that was replaced with this new, really fun trendy store called Find Your Feet." The new shop specializes in socks and sandals.
Helping visitors travel amongst these various waterfront attractions is Long Beach Transit, which offers two water taxi services – AquaBus and AquaLink. The latter provides water transit from downtown waterfront venues all the way to Alamitos Bay Landing. AquaBus operates within the downtown harbor area. The water taxis began their daily operations on Memorial Day Weekend, according to Paul Gonzales, external affairs manager and public information officer for the transit agency.
"We are also providing water taxi service to a lot of the events for Urban Commons. So if people want to see a concert and not get in traffic to get over there, then they can take the water taxi over," Gonzales said. Last year, Long Beach Transit began partnering with Urban Commons to provide water taxi service to Dark Harbor, with the expense included in the event ticketing fee. About 30% of Dark Harbor attendees used the service, Gonzales noted.
According to Gonzales, a contractor has been identified to repair the AquaLink's stop at the Belmont Pier, which was damaged during a storm last year. "I think by next season, that will be back in action," he said.
Long Beach Transit also offers a free bus service, Passport, to popular downtown destinations such as the Queen Mary and the Aquarium. Gonzales noted that the service is facing more competition from ride-sharing services like Uber and Lyft, as well as a privately operated free ride service that uses golf cart-like vehicles to hustle visitors throughout the area. "They are offering something really different than we are. We are offering a regularly scheduled transit service that is required by federal law to provide a higher level of service," he said, noting that the Passport buses are all ADA compliant. Some of them are battery-powered and operate at zero emissions, as well.
Beginning July 6, Long Beach Transit is launching its summer-long Museum Express service, which provides transportation to family-friendly museums throughout Los Angeles and Orange counties, including the Reagan Library in Simi Valley, the Huntington Library in San Marino, the Mission San Juan Capistrano and more. The round-trip fare on the charter-style bus is $12, with the exception of a trip to the Morongo Casino scheduled for July 21 which costs $15, according to Gonzales.
"This is a really popular service," Gonzales said. "I think we in Southern California are accustomed to jumping in the car and going places to have a fun time, and we find sometimes when we get there that our fun time is sort of spoiled by the amount of congestion around the parking and just getting into the venue. To offer a really comfortable charter type vehicle to take people to these events is really an advantage."
Whale-Watching, Catalina Trips, And Cruises At Sea
Long Beach is home to a variety of water transit services, ranging in size from small lunch cruise operations to the 3,000-plus passenger cruises by Carnival Cruise Line. Owners and executives of these businesses described a steady flow of business in 2018 bolstered by an overall strong tourism industry in Long Beach.
Dan Salas, owner of Harbor Breeze Cruises, hopes to expand his business with the addition of a new vessel operating from Long Beach. Harbor Breeze operates daily sea life watching cruises, harbor tours and chartered vessels for special events. "We have proposed to the City of Long Beach to bring to Rainbow Harbor a modern, state-of-the-art, 500-passenger vessel with California Air Resources Board-compliant engines and a handicapped-accessible elevator," Salas said. "We are awaiting city approval."
Salas said ridership figures for his vessels have been "fantastic" so far this year. He attributed an increase in ridership both to strong tourism, and also to increased waterfront visits by Long Beach residents and workers. "We're seeing people embracing and using the waterfront," he said. "There are more people walking their dogs in the morning, more people riding their bikes, more people just taking an afternoon stroll because of all the new housing and the development," he observed. "We are starting to see employees who work in the buildings around Long Beach taking their lunch break and strolling around the water."
Harbor Breeze's whale-watching tours, which are each staffed by an Aquarium representative, are in fierce competition with another company in Newport Beach that is offering extremely low fares, according to Salas. "It has made it extremely difficult for us to attract those passengers," he said. Even though some potential customers are being lured by the lower prices, Salas said Harbor Breeze's marketing to promote its superior vessels, its partnership with the Aquarium and easy access parking is enabling the company to hold its ground. Harbor Breeze's corporate bookings for special events cruises are growing, Salas added.
"I am so proud of Steve Goodling and his team at the Long Beach CVB, and the Long Beach Chamber, the Downtown Long Beach Alliance, the Aquarium of the Pacific and the Pike, and of all the hard work by city officials, the mayor's office and city manager's office," Salas said. "We are headed for becoming a world class destination and a world class city."
Greg Bombard, president of Catalina Express, which provides daily service to and from Catalina Island, also praised the city for its efforts to boost tourism. "Something that's helping is the City of Long Beach has really worked hard on their convention options," he said, referring to improvements to the Long Beach Convention & Entertainment Center. "What they have done in Long Beach with that convention center is phenomenal as far as how they have been able to . . . bring a lot of new groups to town," he said. "When people come in and enjoy their convention here, they come back with family."
So far, 2018 has been on pace with 2017 in terms of Catalina Express's ridership numbers, Bombard said, attributing the flat growth pattern to gloomy weather in May and early June. He noted that improvements continue to be made on Catalina Island, which ought to attract more passengers. "They are constantly upgrading the Descanso Beach Club. They have done a great job of that," he said, referring to the venue in Avalon. A second beach club has been created at Two Harbors, he added. Sports-centric attractions such as a zipline experience and parasailing are also strong drivers for tourism to the island, he noted.
"We have extended some of our marketing with the Santa Catalina Island Company where we are reaching out to San Francisco and doing some advertising up that way that we haven't done in the past," Bombard said, noting that air travel from the Bay Area is quick and easy.
Carnival Cruise Line's recently expanded terminal, which now takes up the entirety of the dome adjacent to the Queen Mary, is functioning as the company had hoped, according to Carlos Torres de Navarra, vice president of strategic and commercial port development for Carnival.
"It really is exceeding our expectations," Torres de Navarra said. "We knew that our guests would love it. But what we are seeing now is that this terminal, in terms of guest experiences, is now the highest rated terminal in terms of the embarkation process." The new terminal is not only a beautiful setting for guests, but also provides for a quicker on-boarding, or embarkation, process, he noted. "We couldn't be happier," he said.
About 650,000 people are expected to sail from Long Beach on Carnival Cruise Line ships this year, according to Torres de Navarra. "We always sail full, so those numbers are pretty consistent," he said.
In late 2019, Carnival is introducing its newest vessel, which is currently under construction in Italy, to Long Beach: the Carnival Panorama. "It'll be the first time that we put a brand-new ship out in California. So that's a huge investment and commitment from the Carnival brand to this region," he said.
The Panorama will replace the Carnival Splendor in Long Beach. But, before it does, the Splendor will take a first of its kind 24-day cruise from Long Beach to Singapore, with stops in Guam, Malaysia and Vietnam. "It is the first step for Carnival Splendor's move to her new home port in Sydney, Australia," Torres de Navarra explained. "It will be the longest revenue cruise that we have ever offered for Carnival Cruise Line." In the meantime, Carnival continues to offer its regularly scheduled cruises to Hawaii and various stops in Mexico, as well as an annual Alaska trip.
"We can't recall a time where in our minds Long Beach has been at a higher position in terms of attracting cruise tourism," Torres de Navarra said. "When you consider all the new and exciting stuff that's happening here with the Aquarium as well as new improvements to current hotels and the tourism from conventions doing really well, I mean, it's all positive."
Torres de Navarra concluded, "I can't state this enough: that the support we're getting from the City of Long Beach, the mayor and the Port of Long Beach is critical." He added, "The attitude that we see with the port and with the city is, 'Look, we'll make it work. We'll find a way.' And we love that positive working relationship."
Long Beach Airport
Travel through the Long Beach Airport is up 9% compared to last year, according Airport Director Jess Romo.
"The load factors are also up this year," Romo said, referring to the ratio of passengers to seats in an airplane. "That also accounts for the increase in traffic, because it's the same number of flights that we had last year." Romo said airlines operating from the Long Beach Airport – which include JetBlue Airways, Southwest Airlines, American Airlines and Hawaiian Airlines – are better utilizing their allocated daily flight slots, and that there is an increasing demand for travel out of Long Beach. Hawaiian Airlines is the newest commercial airliner to offer service from the Long Beach Airport, and celebrated its first flight to Honolulu on June 1.
"Concessions revenue continues to be strong year to date. And we're expecting to continue to see a really good summer," Romo said, noting that strong revenue among the concessions businesses at the airport are also an indication of an increase in the number of travelers. "We see that their revenues are up, which means the airport's revenues are up."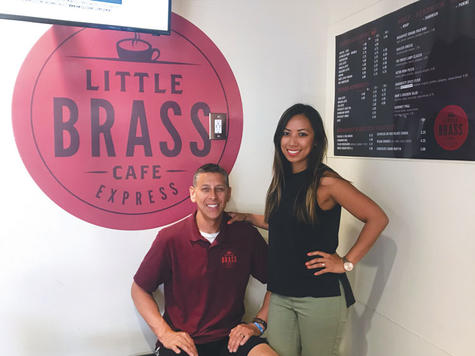 Samantha Argosino and Anthony Arredondo are the co-owners of the new Little Brass Cafe in the historic terminal at the Long Beach Airport. The cafe offers a variety of sandwiches, paninis and coffees. (Photograph by the Business Journal's Samantha Mehlinger)
The newest concessions business at the airport is the Little Brass Cafe, a small business in the historic terminal operated by Samantha Argosino and her business partner and husband, Anthony Arredondo. Argosino previously operated The Brass Lamp on the Promenade in Downtown Long Beach, which closed last year.
"After we closed we got a phone call from Seyed Jalali and John Keisler [from the city's economic development department], and they asked if I'd be interested in opening here," Argosino said. Arredondo, who had been working at Boeing for 17 years, quit his job to join Argosino in the new venture.
The Little Brass Cafe has been doing well so far with its offerings of sandwiches, paninis, pastries and coffee, according to the couple. "We came up with several different sandwiches. And the fun thing for me was trying to name them in homage to Long Beach," Arredondo said. The menu boasts items such as the "Retro Row Pesto" and "Daugherty Spicy Flyer."
The Long Beach City Council approved plans for major airport improvements in May, and the execution of the contract for the work with Swinerton Builders is imminent, according to Romo. Regular meetings to prepare for groundbreaking on the improvements should begin in July, he said.
The first improvement planned is the construction of a new ticketing lobby behind the historic airport terminal, which in turn will become the counter area for rental car operations. The new ticketing lobby will function in a common use format. "Depending on who is using a gate or who needs the ticketing function at that time, they will allocate it to a specific carrier," Romo explained.
The baggage claim areas are also slated to be consolidated into one space, which will enable the courtyard at the rear of the new ticketing lobby to be expanded, according to Romo. The enlarged courtyard will present new opportunities for pre-TSA area concessions accessible to travelers as well as airport employees and workers in the area, he noted. "We're planning for everything to be finished within three years."