Long Beach Transit (LBT) is making changes to its transit services based on community feedback after a year-long comprehensive study. Its two most recent upgrades are the expansion of two bus routes effective February 11 and 12.
Route 22, which originates on 1st Street and Long Beach Boulevard, now connects to the Metro Green Line at Lakewood Station in Downey. "We were already going up to Paramount and Downey, but we found out people want to go farther and connect to the Green Line, which goes into Downtown Los Angeles," LBT President and CEO Kenneth McDonald said. "We're evaluating the rest of the recommendations and deciding how to implement them."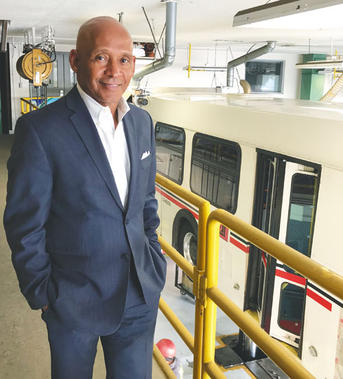 Kenneth McDonald, president and CEO of Long Beach Transit, said the agency is developing changes to its bus system based on the results from a comprehensive study. The Systemwide Transit Analysis and Reassessment (STAR) Initiative was a yearlong process that began in November 2016. (Photograph by the Business Journal's Anne Artley)
Route 46 begins at the First Street Transit Gallery. It runs along Atlantic Avenue, Anaheim Street and Pacific Coast Highway. The route now extends to the California State University, Long Beach campus, whereas it used to end one mile west of the school and the Veterans Affairs Medical Center.
Long Beach Transit's community-based study, known as the Systemwide Transit Analysis and Reassessment (STAR) Initiative, began November 2016. It measured factors such as on-time performance, ridership, route efficiency, staffing, and service amenities, according to LBT. It also aimed to anticipate future service needs based on employment opportunities and areas of growth.
The purpose of the STAR Initiative is to simplify service, schedule buses more often and for longer hours, improve rider experience at bus stops, provide better regional connectors and cut down on duplicate routes.
"We looked at the services we provide to make sure they're meeting the needs of the people we serve," McDonald said. "We looked to see if the travel pattern has changed, and if there are specific job and school centers people are going to. We want to make sure we are on point to be ahead of the trend so we can stay relevant in those corridors."
According to Paul Gonzales, external affairs and public information manager for Long Beach Transit, the agency is considering extending route 22 to the Downey Transit Center as a long-term goal. The center is about another mile from the Lakewood Station in Downey. "There are a lot of advantages," he said. "That'll connect people to shopping and attractions in Downtown Downey. It's a very vibrant community."
LBT worked with Nelson/Nygaard Consulting Associates to conduct 15 community meetings and three online surveys, from which they received more than 1,363 written responses. Representatives from Nelson/Nygaard and LBT also attended meetings with large turnouts. In addition to feedback from the public, LBT gathered input from a public action group made up of members of community groups, including the Downtown Long Beach Alliance, the Long Beach Area Chamber of Commerce and the Disabled Resources Center of Long Beach.
"These people know about the community we serve," McDonald said. "When we got the first set of information from the public, we shared it with them. Now we're evaluating the rest of the recommendations and deciding how to implement them."
According to McDonald, people seemed most excited about a possible route connecting Long Beach to UCLA. Many also expressed a need for service to Santa Ana and Irvine. McDonald stated that he has not yet discussed these ideas with those municipalities.
During the STAR Initiative process, LBT representatives met one-on-one with councilmembers from Long Beach and the 13 other cities it serves, including Paramount, Los Alamitos, Carson, Compton, Lakewood, Bellflower and others.
Thomas Whitman, the consultant at Nelson/Nygaard who helped implement the STAR Initiative, said the completion of an elevated train project at Los Angeles International Airport would further improve the transit experience for Long Beach residents. The train will provide a direct link between the airport and Metro Green Line.
"People will be able to go directly from the [Los Angeles] airport via the Green Line and transfer to Route 22, which takes them directly to the transit gallery in Downtown Long Beach," Gonzales explained. "There are lots of job centers at the airport and lots of disadvantaged communities along that route. It will provide access to the people who live there to great opportunities in education and employment. We're going to have a stop across the street from Paramount High School that'll connect directly to Long Beach City College. That connection does not currently exist."
Some of LBT's mid and long-term goals from the STAR Initiative include extending Route 90L between Lakewood and the Metro Green Line Norwalk station to serve Cerritos College, as well as providing 24-hour transit service.