Local agencies Long Beach Transit (LBT), Los Angeles County Metropolitan Transportation Authority (Metro) and Long Beach Airport are upgrading their facilities to improve the traveling experience for their passengers. Some of the changes include renovating their facilities as well as providing more services to areas with high activity and traffic.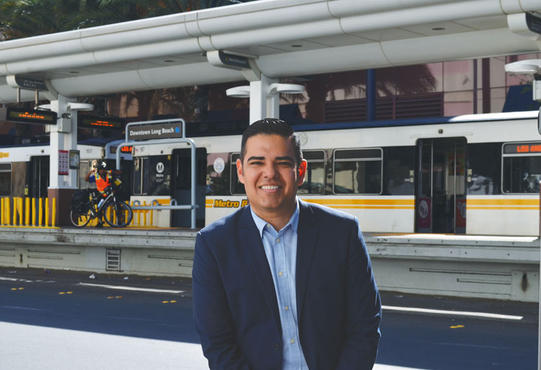 Long Beach Mayor Robert Garcia has served on the Los Angeles County Metropolitan Transportation Authority (Metro) board for the past year. He said he plans to continue to advocate for Long Beach and the southeastern part of the county. (Photograph by the Business Journal's Pat Flynn)
To meet the demand for transportation to special events, LBT has formed public-private partnerships with the Los Angeles Chargers, the StubHub! Center and Queen Mary owner Urban Commons. According to LBT President and CEO Kenneth McDonald, LBT started busing passengers from the Harbor Gateway Transit Center in Gardena and the Del Amo Metro Blue Line Station to the StubHub! Center for Chargers football and LA Galaxy soccer games last year. McDonald said the transit system made a three-year agreement with the Chargers to cover the time the team will use the Carson facility.
"We look at where the centers of high activity are and what we can do to alleviate transit there," McDonald said. "There's very limited parking at the stadium."
Similarly, LBT formed a partnership with Urban Commons last year to provide a shuttle service on its AquaLink water taxis to Queen Mary events from the Aquarium of the Pacific parking lot. They provided transport to the CHILL and Dark Harbor events last year and to the One Love Cali Reggae Fest on February 10 and 11. McDonald said he'd like to continue the service for future events.
Other future projects include an expansion of a program with California State University, Long Beach in which students, faculty and staff can ride the bus system to and from the campus for free. "Cal State is planning an extension of student dorms into downtown. We've been talking about how we can support that," McDonald said. "They expect to have 500 student apartments."
LBT is also looking into increasing their water taxi services at Alamitos Bay Marina and Ballast Point Brewery due to limited parking in the area and the coming addition of the retail center on 2nd Street and Pacific Coast Highway. Two years ago, the transit system started a water taxi service to the Toyota Grand Prix of Long Beach in the spring, which is expected to continue this year.
The LBT bus fleet comprises 10 battery-electric buses, 89 gas-hybrid vehicles, 85 compressed natural gas (CNG) buses and 69 diesel buses. The organization's goal is to phase out the diesel and gas-hybrid vehicles to create a fleet run completely by alternative fuels by 2020, McDonald said. LBT plans to add 40 CNG buses, with engines that produce close to zero emissions, by April 30. These will replace 22 diesel buses, and LBT plans to keep only 13 in service. The transit agency also plans to acquire 30 additional battery-electric buses within the next two years.
LBT is in the process of evaluating the location and frequency of its existing bus stops, with the possibility of relocating some to ensure that there's one every quarter mile. This will help make the stops more predictable and convenient to passengers, according to LBT External Affairs Manager Paul Gonzales.
Another way the agency aimed to maximize convenience was to form a partnership with Century Housing Corporation, which manages Century Villages at Cabrillo, to move a bus stop onto the complex. Century Villages in West Long Beach provides housing to veterans and the homeless. The bus stop was completed in November and begins operation March 1.
"As our community has grown from a couple hundred residents to a little over 1,500, we thought it was important to improve the connectivity of our campus," Brian D'Andrea, Century Housing senior vice-president, said.
The bus station was part of a new housing development called Anchor Place, which also opened last November. A variety of sources funded the improvements, including the state's Affordable Housing and Sustainable Communities Program. According to D'Andrea, Long Beach Transit was part of the planning and design process from the beginning.
"The station is about 500 feet from where it used to be located, which was an alley," D'Andrea said. "It's now in a more secure location, which is well lit, well trafficked and in the heart of the campus. It's closer to where people live and work. Some disabled people live in the complex so it's easier for them to get to."
Other initiatives that improve connectivity for Long Beach residents are the ongoing upgrades to the Metro Blue Line. The $1 billion investment program includes replacing the rail cars from the 1990s and refurbishing the ones purchased after that time, according to Mayor Robert Garcia's senior advisor, Sharon Weissman. This project is due for completion in 2019. The mayor has served on the Metro board for the past year.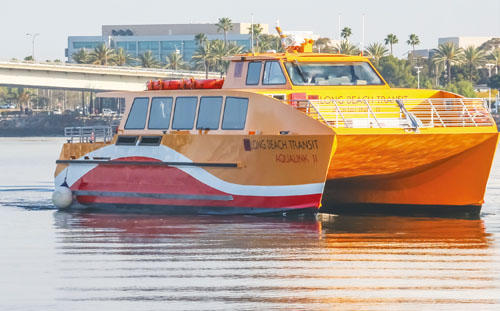 (Photograph courtesy of Long Beach Transit)
Replacements to the catenary system, the electrical wiring powering the train, are also slated for completion next year. And segments of the track and signs at stations will be replaced as needed.
"I've been really focused on making sure we fix the Blue Line," Garcia told the Business Journal. "There's been a focus on Long Beach since I've been on the board. I've been ensuring that the cities in the southeastern part of the county get representation."
As a long-term project, Metro is planning to reroute some of the Blue Line connectors. The goal is to transport passengers to Union Station in Los Angeles without too many train switches, Garcia said.
Long Beach Airport is another local agency upgrading its facilities to improve passenger experience. Although the projects are still in the early stages, proposed changes include the construction of a ticketing lobby and check-in area, as well as consolidating their three baggage screening facilities in a more central location. This measure aims to improve the aesthetics and efficiency of the airport.
"We've put out a request for proposals for a contractor," Stephanie Montuya-Morisky, the airport's public affairs officer, said. "We've received some proposals. The project will be going to council as soon as we award a contract."
Montuya-Morisky said the changes are necessary to accommodate travel demands as well as the increase in different types of ground transportation over the past couple of years, such as ride-sharing companies Uber and Lyft.
"The Long Beach Airport has worked really hard to build a reputation of being comfortable, of being easy to travel through," Montuya-Morisky said. "If you're traveling for business, we want to be reliable. If you're traveling for pleasure, we want to make sure you're at your most comfortable. All of the projects are important in maintaining our image and customer service."
To that end, Long Beach Airport has extended its contract with Clear Channel Airports for the next five years. The media company has partnered with the airport since 2005, and plans to expand its program to attract more advertisers. Thaddeus Glenn, the airport development director, said the new program will feature an array of media – such as displays, banners, digital advertising – to appeal to advertisers at every budget level. The new agreement goes into effect on May 1.
"Our program will enable local and regional businesses to reach a very high demographic: business travelers and people who have money to fly," Glenn said. "This guarantees advertisers every dollar they spend on marketing a high level of return because the vast majority of passengers flying into the airport will have money to spend."
The Clear Channel program aims to create a sense of place and is tailored to showcase the city's assets, according to Glenn.
"Passengers will see the local, regional businesses that make the community tick. This also includes national brands that recognize the importance that Long Beach plays in Southern California," Glenn said. "When you land, you know you're in Southern California versus some generic airport with signs stuck to the wall. Our program is not only attractive, but reflects the community as well. We take great pride in that."