In March, Long Beach Transit received the first of 10 battery electric, zero-emission buses manufactured in Lancaster by Chinese-based automotive maker Build Your Dreams (BYD). When the rest of the buses are introduced to Long Beach Transit's fleet in the fall, Marketing Manager Kevin Lee said six of them are slated to take over downtown's Passport route, making it entirely run on clean, electric energy. The remaining buses are to be introduced on routes throughout the city.
The first completed bus represents a milestone in a lengthy process that began in 2013, when the transit agency first contracted with BYD for the buses. That agreement was later voided by the Federal Transit Administration for not complying with its disabled business enterprise requirement. After re-contracting with the firm last year, the $11,069,319 project – primarily funded with a federal grant – is back on track.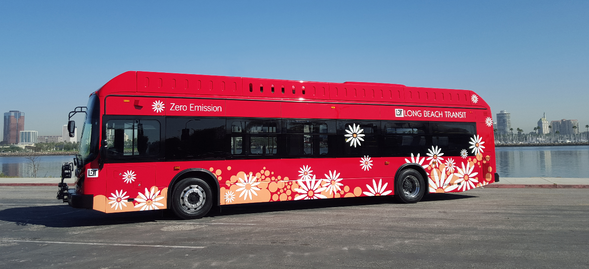 (Photograph provided by Long Beach Transit)
The bus is currently undergoing testing by Long Beach Transit (LBT), according to Lee. "What we do is we'll get one bus in and we'll test it to make sure it meets Long Beach Transit standards," Lee said, adding that it is being inspected to confirm everything LBT requires is incorporated in the design and capability of the bus. The bus is undergoing road testing to ensure it is able to handle a full load of passengers, he added.
"We also obviously have to train on it so that our operators and maintenance staff start to learn about the battery electric bus, because it's a completely different system than they're used to," Lee said. "After we've looked at everything and make sure that it's up to our specifications, or if there's any little tweaks or changes we need to make, we send that back to the manufacturer and make those tweaks or changes, and then we get the rest of the buses."
One of the zero-emission fleet's unique features is Wireless Advanced Vehicle Electrification (WAVE) technology, which uses magnetic induction to charge buses while they're out on the road. Metal plates are to be affixed to the bottom of the bus, and infrastructure with corresponding magnetic plates will be built at the bus stop outside the Long Beach Convention & Entertainment Center across the street from the Pike Outlets, Lee explained. As the buses pass over the plates en route, they'll recharge.
The WAVE technology isn't ready for installation yet, and is likely to be introduced after the buses are already in service, Lee said. In the meantime, the buses will be charged the conventional way at plug-in charging stations.
Once the buses are introduced to service in the fall, about 70 percent of LBT's entire fleet will be running on alternative fuel sources, Lee noted. LBT is working to gather data to illustrate the environmental benefits of its increasingly environmentally friendly fleet.