Top-rated fixed-base operator (FBO) AirFlite – a division of Toyota and a long time corporate tenant at the Long Beach Airport – informed employees of its sale to Ross Aviation last week.
In 2014, Toyota announced it was relocating its North American headquarters from Los Angeles to Plano, Texas. AirFlite, will continue operating in McKinley, Texas, according to John Tary, the company's general manager in Long Beach.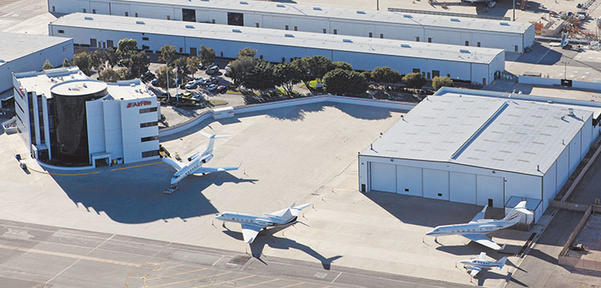 Long Beach Airport's top-rated fixed-base operator AirFlite, a Toyota company located on the westside of the airport, has sold to Denver-based Ross Aviation. The transaction is expected to close some time in November, according to John Tary, general manager of AirFlite. (Long Beach Business Journal photo)
"It was hard to justify a facility here with all of the assets moving to Texas," Tary said. "They obviously have loved Long Beach, loved the facility. There's a long history here."
AirFlite has existed in Long Beach for more than 25 years and is not taking the transition lightly, according to Tary. He explained that there have been many offers since the Texas move was announced, but Toyota wanted to wait for just the right match.
"One of the primary factors in selecting Ross was their desire is always to have locally-run businesses," Tary said. "They attempt to keep the majority, if not all, of the personnel together in the business, and that's their stated intent here. So most of the frontline folks will remain."
As for the managers of AirFlite, Tary points out that they are all Toyota employees to some degree and will not be staying on with Ross once the transition is complete. For Tary, he said he will most likely go back into the flight department as a pilot and enjoy his "small office with a nice view."
The transaction is expected to close sometime in November, according to Tary, who will remain to help with the transition between companies as long as he is needed. He explained that the close date is "hinged upon the approval of the assignment from the airport," and depending on that process, a date will be set.
"This isn't [Ross Aviation's] only location. And they have a history of other operations, so they're an experienced operator," Curt Castagna, president and chief executive officer of Aeroplex/Aerolease Group in Long Beach, said. "We're glad to see somebody with some experience and high credibility is coming in to run the operation. We're anxious to work with them and be collaborative and do what we can to work together to make Long Beach a better place. Nothing but positive."
Tary also hopes the change and some "new blood" will be positive for the city he feels fortunate to have been able to work with. He said, "Toyota has appreciated the synergy with the city and the councilpeople and everyone at the airport, and it was a tough decision. But reality is what it is."
Based in Denver, Ross Aviation has been in business since 1992 and is led by Chairman Jeff Ross.