Veronica Quintero is one of the Long Beach Convention & Entertainment Center's longest-time employees, having started at the center as an office manager in 1979 as she was finishing out her last year in high school. In 1984, she was promoted to oversee the center's food and beverage operations and was thereby catapulted into a management role during one of the landmark events in the center's history – the 1984 Olympics.
It was this event that cemented Quintero's future here in Long Beach – one she had previously thought would be devoted to medicine. "I spent my whole high school career planning to be a doctor," she recalled. "So I was very heavily invested in my academics in high school, and I was actually on a pre-med rotation and was a nurses' aide while I was working here."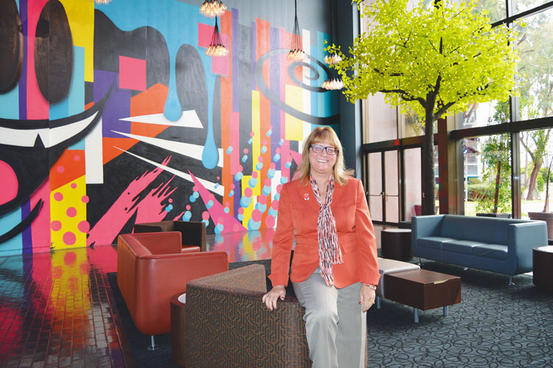 Veronica Quintero has been working at the Long Beach Convention & Entertainment Center since 1979, when she was just about to finish high school. Now, she not only oversees food and beverage operations at the center, but also at the Aquarium of the Pacific and the Greek Theatre in Los Angeles. (Photograph by the Business Journal's Larry Duncan)
Quintero originally came on to the convention center when her boss at the Golden Sails Hotel on Pacific Coast Highway transferred there and asked her to join him. "I lived in Orange County, so I was like, what is a convention center and where is Long Beach?" she said. "I started off as an office manager, counted money, did paperwork and worked for him doing that initially. And then I just continued to stay on after that while I was in school."
All it took for Quintero to realize she no longer wanted to pursue medicine was seeing an open-heart surgery as part of her studies. "In that second, I decided I did not want to be a doctor," she said. She decided to try out fashion school, but when she got the offer to become food and beverage manager at the convention center, she chose to pursue that opportunity instead.
The 1984 Olympics were Quintero's first experience in a leadership role at the center. "It was a pretty wild experience to have the Olympics here and have the women win the gold and just be, like, that entrenched . . . dealing with the attendance and the Olympic committee, and being 20 years old and dealing with all that," she reflected. Being so involved in the event was an experience she "could never replace."
During the '80s, the center was host to many big names as a concert venue, from Prince to Frank Sinatra to No Doubt and Black Sabbath, Quintero recalled, reflecting on these acts as some of the high points for the facility.
After SMG took over management of the convention center in 1992, Quintero was quickly promoted to director of operations for the center.
In 2000, the self-proclaimed people-person became the regional general manager for Premier Food Services, a division of SMG. In this role, she not only oversees food and beverage operations at the convention center but also the Aquarium of the Pacific and the Greek Theatre in Los Angeles – also a SMG-managed facility. She also annually plans for the Toyota Grand Prix of Long Beach.
"I'm very hands-on, so I'm not your typical GM by any means," Quintero said. "I am involved from the smallest aspect of what food stand should we have open during Junior Volleyball Association's event," she explained. "So I am involved in those weekly meetings saying, OK, what are we going to do for them? How many people will be here? What should we open? What should we feed them?"
Quintero's favorite part of the job is helping client's achieve their goals. "I always like to listen to the story of what the customer is trying to achieve and understand their endgame," she said.
Thanks to her own experience learning on the job, Quintero places an emphasis on internal promotions. For instance, when she accepted her current position as regional general manager and was searching for an executive assistant, she hired a 16-year-old convention center employee.
"I posted the job, and the cashier at the employee cafeteria applied to be the GM's executive assistant," Quintero said. "So I interviewed with her, and she was going to school to get her AA [degree]. She was 16 and I said, 'OK, there is only one rule: you can't be afraid of me. You have to be able to approach me,'" she recalled. "She has been with me 17 years. She is my true success story. I love my executive assistant, and I couldn't do my job without her."
When Quintero isn't at work, she is in another major management role of sorts – this one as mother to five children, ages 7 to 29. "Until just a few years ago, all of them were at home," she said, referring to the home she shares with her husband and family in Cypress. "So my 29-year-old is out and on his own and engaged and doing great. My 20-year-old is at USC and doing very well. And then I have seven-year-old twins at home and an eight-year-old. I have a great husband. He is in the industry as well, and we balance our schedules."
As for the future, Quintero has no plans to leave her longtime career anytime soon. "My contract at the center is until '27. So I plan to be in Long Beach for quite a while," Quintero said. She noted that her husband was born and raised in Long Beach, and they still have family in the Westside area of the city. "So really through '27, I plan to be right here in Long Beach at the convention center or the Aquarium doing what I do every day."