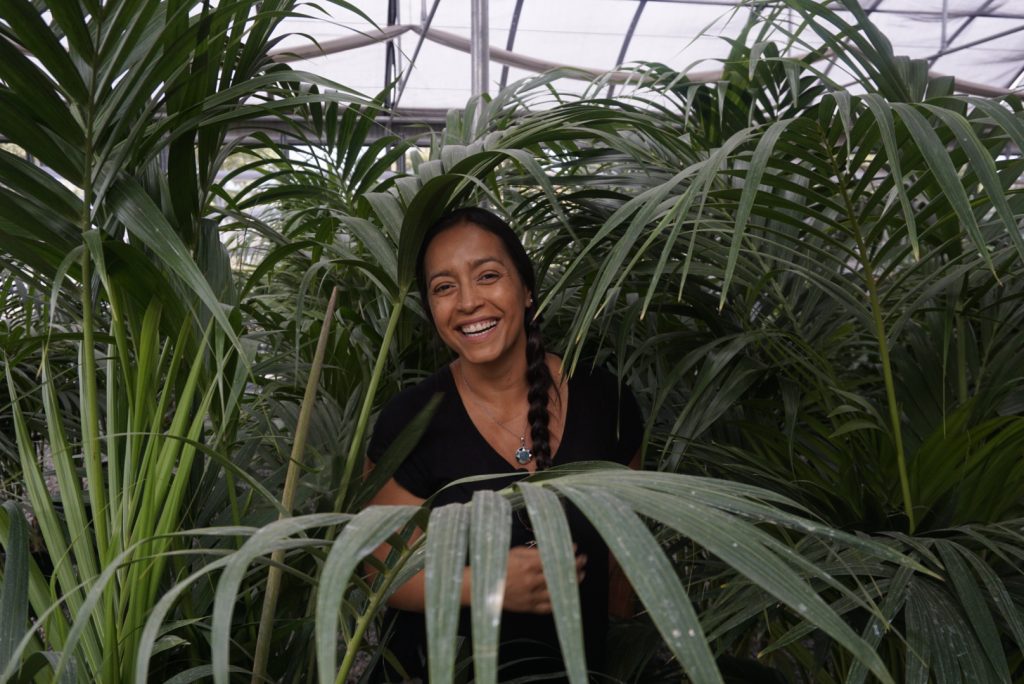 Jennifer Bermudez-Perez has always had a special relationship with plants. Growing up in Michigan, with its cold, unforgiving winters, her grandparents' house was a refuge, full of lush vegetation, reminiscent of their native Puerto Rico.
"Growing up, for them, being connected to nature was just a part of life. They fed themselves off the land," Bermudez-Perez explained of her family's relationship to nature.
For the past two decades, her company, Growing Roots, has brought a little bit of that natural beauty into office buildings and homes across Southern California.
A "full service plantscaping" business, Growing Roots helps companies greenify their workspaces, both literally and figuratively. By deliberately selecting and placing plants around the space in accordance with light conditions, airflow and foot traffic, Bermudez-Perez and her team create a more hospitable office space, while the plants help to create a healthier climate.
While the science behind the air-cleaning power of indoor plants has been debated, having them around the office provides various benefits, according to Bermudez-Perez.
Humidity in office spaces tends to be low and increasing it can improve the well-being of employees struggling with sinus issues, a dry throat or dry skin, she explained.
Office plants have also been found to have a positive impact on sick leave and productivity, driving down the first while increasing the latter. Research measuring the emotional well-being of students in Taiwan and office workers in Norway has shown that the presence of indoor plants can lower anxiety and perceived stress.
Millennials in particular have taken to indoor plants, something Bermudez-Perez noticed in her work as well. "It's so fun to work with them because they're like 'I want plants everywhere!'" the 45-year old said. "They're all about adding as many plants as possible."
This new generation of plant lovers provides a beacon of hope, especially during trying times like these. After offices abruptly shuttered to comply with stay-at-home orders, the logistics of caring for the plants inside became increasingly difficult for Growing Roots.
"I've had some clients who completely freaked out, closed their offices and wouldn't let anyone in," she recounted. Meanwhile, others considered her company's service so essential, her technicians were basically the only ones allowed inside, she said. Some clients had to end their contract because they could no longer afford the plantscaping service.
"Logistically it's been a lot harder, financially, it's been tough," Bermudez-Perez said.
As if the financial losses weren't enough, she suffered from a coronavirus infection herself. Despite feeling the symptoms—head and body aches, extreme fatigue—for seven weeks, finding herself in the midst of an impending economic collapse, she carried on, applying for every business loan available.
"As a business owner, you do what you have to do," Bermudez-Perez said.
As part of the Goldman Sachs 10,000 Small Businesses Program, Bermudez-Perez recently joined a virtual visit to Capitol Hill, asking senators to focus relief efforts on small businesses rather than large corporations. "I'm hoping we will be heard," she said.
Health in the workplace has become a focal point in the current crisis and the plantscaper hopes this will make more people aware of the positive impact plants can have on an office environment.
As offices begin to reopen, Bermudez-Perez hopes more of them will feel inclined to add a little bit of greenery among the desks. "Plants aren't just a pretty decor item, but they are in so many ways a lifeline for us," she said.