Wedding industry professionals will tell you there are three types of wedding toasts. There is the kind that touches on all the right emotions, connects with the audience and reflects well upon the bride and groom. There's the so-so wedding toast, which might be a little bland or rambling but is relatively harmless. And then there's the flop – the toaster, instead of inspiring laughter or heartfelt emotion, invokes a stony silence even a cricket wouldn't dare break.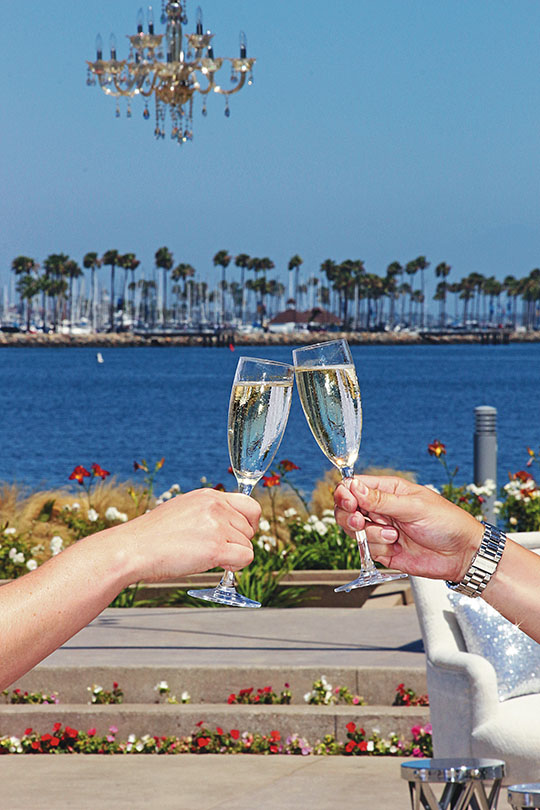 "I have seen everything from extremely amazing speeches to god-awful speeches where everyone is cringing in the audience," Crystal Kelly ­­­­­­­Olivares, senior catering manager for the  Hotel Maya, a Doubletree by Hilton, told the Business Journal. Olivares' main market in her line of work is the wedding industry – everything from walk-up affairs to big weddings with up to 450 guests. To avoid the latter result, her first tip is to "be gracious and sincere in your toast."
"A good wedding toast should be somewhat of a roller coaster of emotion," Dan D'Sa, director of The Grand Long Beach, said. D'Sa also oversees The Grand's operations at the Carson Community Center and its outside catering division. "It is critical that you are always speaking from the heart."
Ivy Jacobson, associate editor of the wedding planning website TheKnot.com, also said that a good wedding toast should play on emotions. "People love to laugh and people love to cry a little," she said. "Really drawing in guests with a funny joke, a quote or a meaningful song lyric is a great way to kick off the toast just to give everyone something to laugh at or something sweet to set the tone."
"It's important that you capture the audience," D'Sa said. "Laughter is always a big key in getting people's emotions moving in a positive way. Once you capture them with laughter, then you touch on the heartstrings and close out with wishing them all the best."
"Recount stories that have real meaning and connection, but are not embarrassing or about past relationships," Olivares advised. While a few teardrops are fine, it's best to avoid becoming too overwhelmed by emotions while giving a wedding toast, she noted. Jacobson agreed. "Having a sweet saying or memory is good and might make some people cry, but really turning on the waterworks isn't the best," she said.
Jacobson had a basic rule of thumb for knowing whether or not a story is appropriate for an audience of wedding guests: "If you can't really say it to the bride's grandmother, you shouldn't say it to the entire crowd at the reception."
Several elements violate this rule of thumb, and should be off-limits to wedding toasts. All three industry professionals emphasized that vulgar language and stories about ex-boyfriends or ex-girlfriends should never be included in a toast. "Any touchy subjects should be off-limits," Jacobson said. "Anything involving alcohol or drunk stories is better left for the bachelor and bachelorette parties."
A key component to a wedding toast – and one that should be obvious – is remembering that the toast is to the newly married couple, not about whoever is giving the toast, Olivares pointed out. Take it from her – she knows from personal experience. "My father-in-law gave one of the worst speeches ever," she said.
Before launching into the story, she prefaced it with a somewhat ominously stated fact: "My husband's father is a divorce attorney." Uh-oh.
"He was talking about the statistics of divorce, and how high they are. He went on to talk about couples he has worked with, and what he has seen," Olivares said. "In my mind, I thought the story was going to get turned around and be like, 'But Crystal and Daniel here, they do not have that type of relationship. I see this going further.'" Her hopes were unfortunately not met. Instead, "He went on and asked everyone in the room if they needed his business cards."
The result of her father-in-law's toast was an uncomfortable audience of guests, not to mention an unhappy bride. "It was really quiet and awkward and everyone was like, 'Oh my God, why is this even happening?' It was awful."
The story is a prime example of another wedding toast no-no, she noted. "He had a lot of alcohol before the toast so that was probably a big factor," she recalled. "Go easy on the alcohol before the toast."
One of the simplest ways to stay on track during the wedding toast is to bring notes. "Notes are a very respectful way of showing that you cared enough to take the time, and you want to make sure it is done perfectly," D'Sa said. Using notes might prevent stumbling over words and reduce stage fright, Jacobson pointed out.
Practicing in front of other people before the big day is a must. "It is good to see how things play out and how people react to what you wrote," Jacobson said. "It is also a good way to get comfortable speaking in front of people."
"You should practice in front of a crowd," D'Sa recommended. "It is one thing to say something to an individual. It is another thing to say something to 150 to 500 people. It's a completely different ball game."
All three wedding professionals were also in agreement on the ideal length of the wedding toast – short and sweet. "I tell people to try not to do anything longer than three to five minutes," Olivares said. Jacobson suggested one to three minutes, while D'Sa said to keep the length to no more than a paragraph.
"The longer you make a toast, the more opportunity you have to make a mistake," D'Sa said. "Speaking from experience, I gave an unbelievable toast at my brother's wedding and went a little bit too long, and completely botched it," he recalled. "I tried to save it with humor and it wasn't funny."
It's becoming more and more popular to find creative ways to give wedding toasts to make for a memorable experience. For example, "A lot of wedding toasts are being replaced by all these viral dances and songs," Jacobson said. "But not everyone has to do that. If you can't sing or dance, there is no pressure to put on some giant spectacle."
Olivares recently witnessed a unique toast in which the maid of honor and best man – who happened to be engaged – teamed up to give one toast. "They did a poem. The girl started off the poem, and she would say a line, and then the best man would say the next line and they continued alternating," she recalled. "It was so well orchestrated. It kept everyone's attention. Everyone was laughing."
Traditionally, the maid of honor and best man give toasts at the wedding reception, D'Sa noted. Family members typically give speeches at the rehearsal dinner, although some times that happens at the reception, particularly if the bride's father is giving a welcoming speech, according to Olivares. Making decisions about who speaks when should be decided in advance by the couple getting married, and discussed with the parties involved, Jacobson said.
In the end, Jacobson reflected, "A heartfelt, funny toast is always in style."