For the foreseeable future, Long Beach should experience increasing home prices, according to local real estate agents. Buyer demand remains high and inventory remains low, which continues to drive up sales prices.
According to Geoff McIntosh, owner of Long Beach-based Main Street Realtors and outgoing president of the California Association of Realtors®, in January the median price of a single-family detached home in Long Beach was $619,000, a 6% increase from the same month in 2017.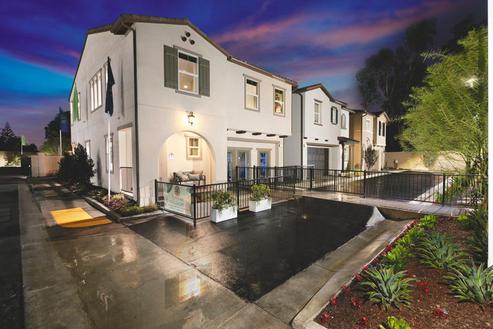 Ten homes in the new housing community Riverdale have been completed and moved into, according to the developer. There are 131 homes planned for the community, which is being constructed just north of the Virginia Country Club adjacent to the Los Angeles River. The average sales price of the single-family homes in Riverdale is about $650,000. (Photograph courtesy of Brandywine Homes)
Although higher-end homes make up a larger share of current listings, McIntosh said that's not what's driving up prices – it's simple supply and demand. "I do believe that it is just the pent-up demand from entry-level [buyers] and maybe first-time move-up [buyers]," he said. "And the fact that there is just no inventory available has created this competitive bidding environment where, if something comes on the market, and it's in a decent location and it's in decent condition and it's appropriately priced, we're seeing multiple offers."
Phil Jones, broker and owner of Coldwell Banker Coastal Alliance, said homebuyers are having trouble finding properties to meet their needs. "The problem of course is inventory and affordable inventory," he said. The most active market in Long Beach for detached single-family homes is those priced between $500,000 to $700,000, while for condos it is those in the $300,000 to $350,000 range, he noted.
The price of condos is appreciating at a faster rate than for detached homes, at about 11%, according to Jones. "I would say it's because of the demand in that price range is probably stronger," he said.
At the end of December – the latest data available – Jones said there were 448 properties listed for sale in Long Beach. "That is just remarkably low," he said. Due to the low inventory of homes for sale, sales transactions are decreasing. "The number of transactions in December was down 9% in 2017 compared to 2016. And I would say that is largely tied to the shortage of inventory. It's really constricting sales," Jones said.
Both McIntosh and Jones noted that increasing interest rates for home loans would have some effect on buyer demand this year. "If you have been flirting with the idea of buying something for the last two or three years when the rates were like 3.25% and now you're looking at 4.25%, it seems like a big difference," McIntosh noted.
Confusion over the new tax law may cause some potential sellers to hold back, McIntosh said. "I do think that we're kind of in the middle of an exploratory period where the public is waiting for the accountants to agree on what all of the new tax law means and how they will be affected," he said. "So I am cautiously hopeful that we may see a little bit of inventory increase as we move into spring and people better understand what the new tax law means to them."
McIntosh said current market dynamics are likely to be the "new normal" in Long Beach because housing is not being built at a rate to accommodate increasing demand. "We need more housing. We also need to be looking at higher density solutions," he said. Locals who live in single-family homes are "nervous about the idea of higher density coming into their neighborhoods," he observed.
The first houses in a new community of 131 single-family homes near Bixby Knolls have been completed, according to developer Brandywine Homes. Ten homes have been completed and moved into, with another 10 expected to be completed and ready for residents by the end of March. Fifty-eight homes have been sold for an average price of $650,000 each, according to Brandywine Principal Dave Barisic.
Still, even with some new construction, both Jones and McIntosh expect current market dynamics to prevail. In California, about 180,000 housing units should have been built per year over the past decade to meet demand, according to Jones. Only about 80,000 were built per year, which he attributed to restrictions on building caused by the California Environmental Quality Act. "That leaves us with a shortfall of about a million housing units statewide over the last 10 years. It's insanity," he said.