From Pacific Coast Highway (PCH) to 61st Street and Atlantic Avenue, major retail centers are sprouting up from one end of Long Beach to the other.
Construction is ongoing at the corner of 2nd Street and PCH, where a 245,000-square-foot commercial complex is replacing the SeaPort Marina Hotel. A joint venture between property owner Raymond Lin and retail developer CenterCal Properties, the project includes two levels of retail and restaurants, a fitness club and a Whole Foods, which is relocating from the neighboring Marina Shopping Center. CenterCal representatives have previously told the Business Journal that the company hopes to strike a "village-walk atmosphere" within the outdoor mall.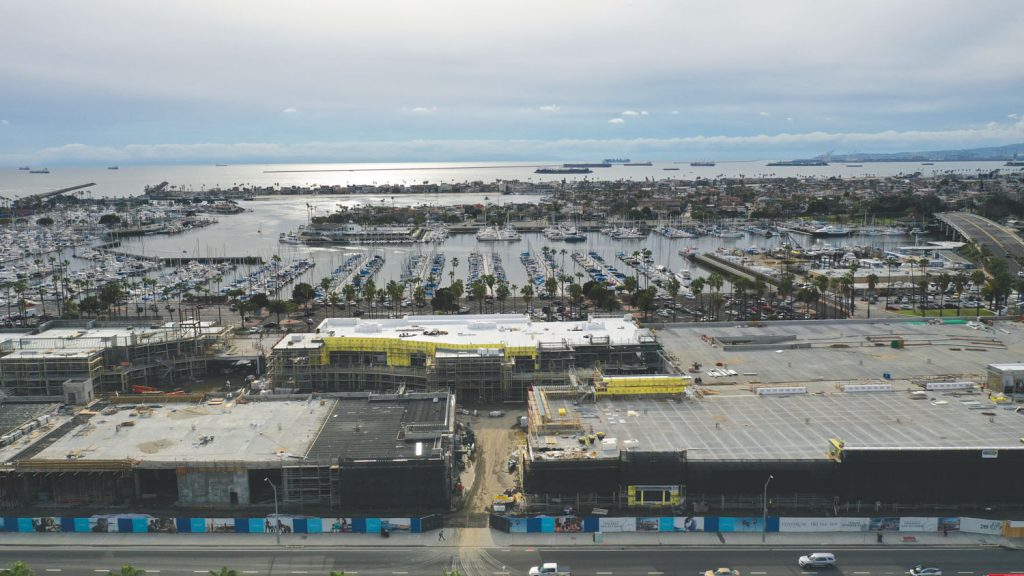 "It's kind of like a bomb of positivity that's just going to explode and help everything around there," Long Beach Deputy Director of Economic Development Sergio Ramirez said. "It's going to bring new business to 2nd and PCH, but as a spillover, it's going to benefit 2nd Street." He commented that Marketplace Long Beach, located across PCH from the new development, has engaged in a multi-million dollar remodel of its facades.
Ramirez said that the intersection of 2nd Street and PCH should have always been a major commercial hub due to its proximity to California State University, Long Beach, the residential neighborhoods of the city's 3rd District and nearby cities Seal Beach and Rossmoor.
The 2nd & PCH center has garnered more interest from potential tenants as the buildings have taken shape, Ramirez said. He estimated that between 50-70% of leases have now been filled. Development Associate at CenterCal Properties Barret Bradley told the Business Journal that outer construction of the project is about 60% completed. "We're still on track for an October 24th grand opening," he said.
Long Beach Exchange (LBX), a 266,000-square-foot retail and restaurant complex owned by Burnham-Ward Properties, opened its doors in Douglas Park in mid-2018. The complex is now 85-90% leased, according to Burnham-Ward Partner Steve Thorp. The company wanted to create an "experiential" destination that people would want to visit multiple times a week, Thorp said. That meant including a grocery element, such as Whole Foods Market 365; clothing options, like Nordstrom Rack and TJ Maxx; and fitness centers Grit, Orangetheory and Raw Yoga. Dining options were essential, he added, which is why the complex houses multiple artisanal food vendors in The Hangar, a steel and glass cafeteria that features historical photos of the area's past.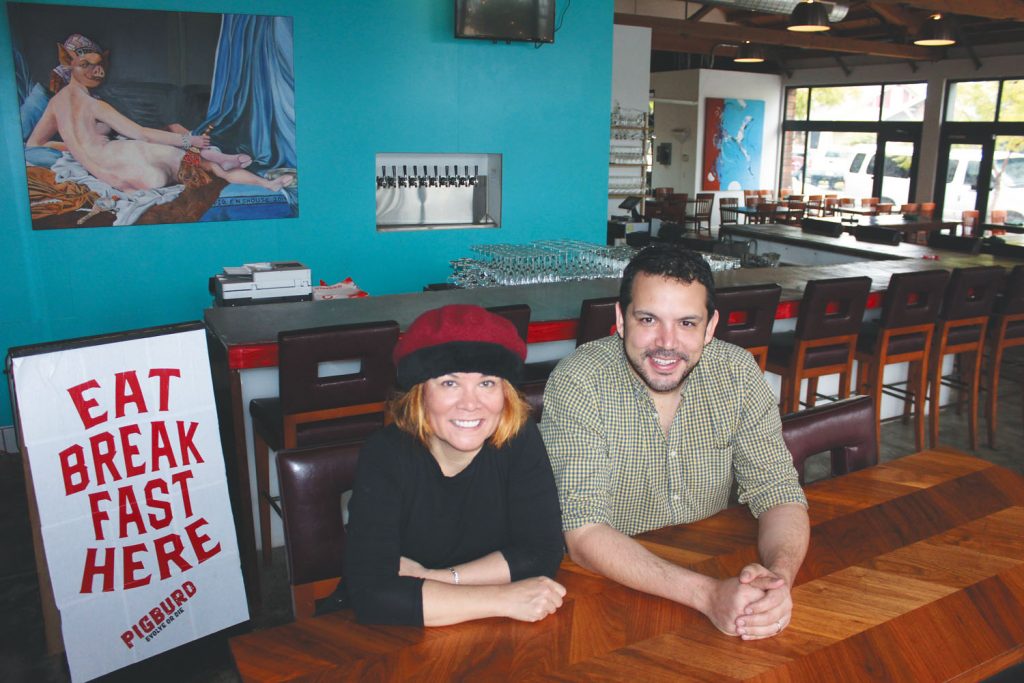 "All those tenants, they're just starting to get going, and we already have incredible feedback from the community on the food and the operators," Thorp said.
The main plaza is available to screen films and host farmers' markets in the spring and summer, Thorp went on. "We're really excited to activate that space now that the weather is starting to get better," he said.
Five additional restaurants are coming online soon, Thorp said, including: Panini Kabob Grill, a full-service Mediterranean restaurant; Georgia's, southern comfort food; Silverlake Ramen, a ramen concept originating from Silverlake, Los Angeles; Wahoo's Tacos; and 908, which will feature both a restaurant and full bar. "Think 'Great Gatsby' in terms of the quality," Thorp said of 908.
The demand for food and services from employees of the business park is high throughout the day, Thorp said. "But then beyond that we've got 750,000 rooftops in a five-mile radius. There's a lot of people. There's a strong demand for good food, good retail and good services. We're playing right to that."
In Downtown Long Beach, the former City Place mall, a six block property, has been transformed into The Streets. Encompassing a 350,000-square-foot section bordered by 3rd Street, 6th Street, Pine Avenue and Long Beach Boulevard, the area is being reimagined by Shooshani Developers as a new urban core.
Restaurants that have opened in the area include King Buffet, Romeo Chocolates, The Plant Junkie, Burgerim, The ThickShake Factory and Creative Crepes. Parklet dining areas have been added in front of Mitaki Japanese Restaurant and Fresh Kabobs. A 20-unit condominium, The Place, is currently under construction at 5th Street and Promenade North.
Architecture firm Studio One Eleven, which is headquartered at the former Nordstrom Rack building in The Streets, designed the revamped area. The first portion of the project to be completed was The Promenade between 3rd Street and 4th Street. Improvements to the northern area of The Streets are up next. "The project will gradually repurpose the eight-block area into a vibrant mixed-use district featuring a hub of great restaurants, businesses and retail for all the residents of Long Beach to enjoy," the firm stated on its website.
Three major commercial developments are currently planned for North Long Beach: Uptown Commons, The Uptown and The Beat.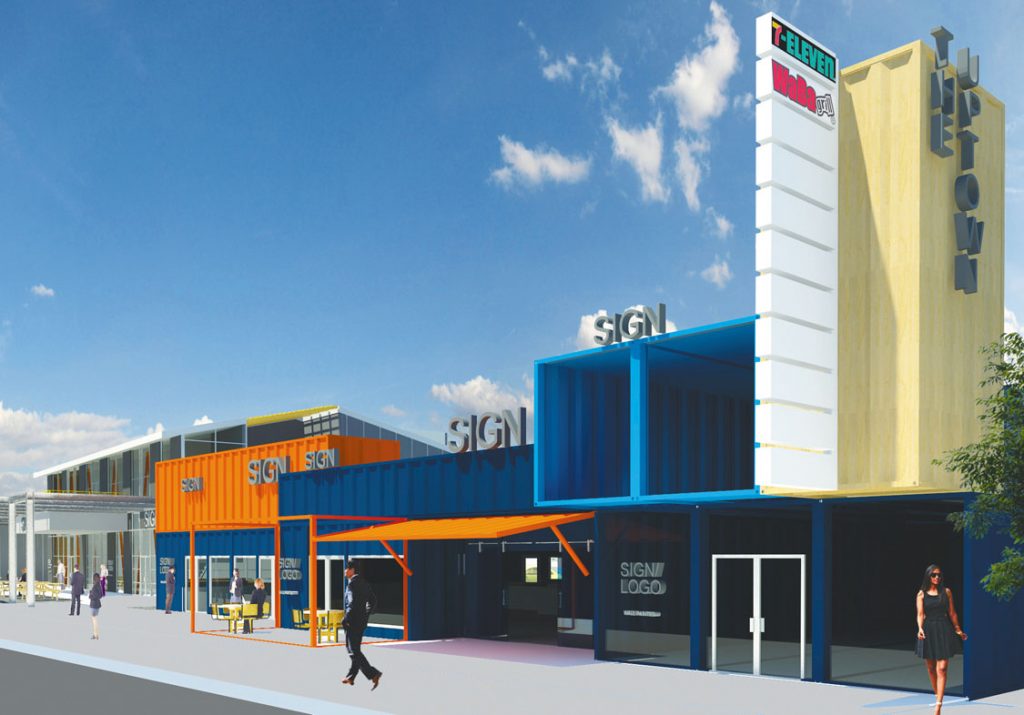 The Beat, formerly The Canvas, is being designed by Little American Business (LAB) Holding, LLC. With a mission to "combat retail monotony," the LAB has made a name for itself by revitalizing existing architecture and providing local, customized spaces for retail and restaurant businesses in Orange County. Last year, the LAB purchased several parcels of land in Long Beach's 8th and 9th Districts along the Atlantic Avenue corridor. Tasha Hunter, executive director of the Uptown Property and Community Association, a nonprofit that manages the Uptown Business Improvement District, told the Business Journal that representatives from the LAB have met with artists in the community as well as the Long Beach Historical Society.
"I'm very excited about the level of engagement the LAB has sought," Hunter said. "They've met with a lot of creatives in Long Beach, and they want to know these Long Beach stories."
Hunter said the LAB has shared its design ideas for the area with both city and community leaders. "They've talked about lots of green space, widening sidewalks. I've heard of potential artist cottages [and] opportunities for local business owners, local vendors to come into the space."
Both The Uptown and Uptown Commons have been approved by the Long Beach Planning Commission, Hunter said. Uptown Commons is being developed by Frontier Real Estate Investments at the northeast corner of Atlantic Avenue and Artesia Boulevard. The company is currently seeking permits for the six buildings that will occupy a 93,000-square-foot plaza, Frontier Vice President Tom Carpenter told the Business Journal.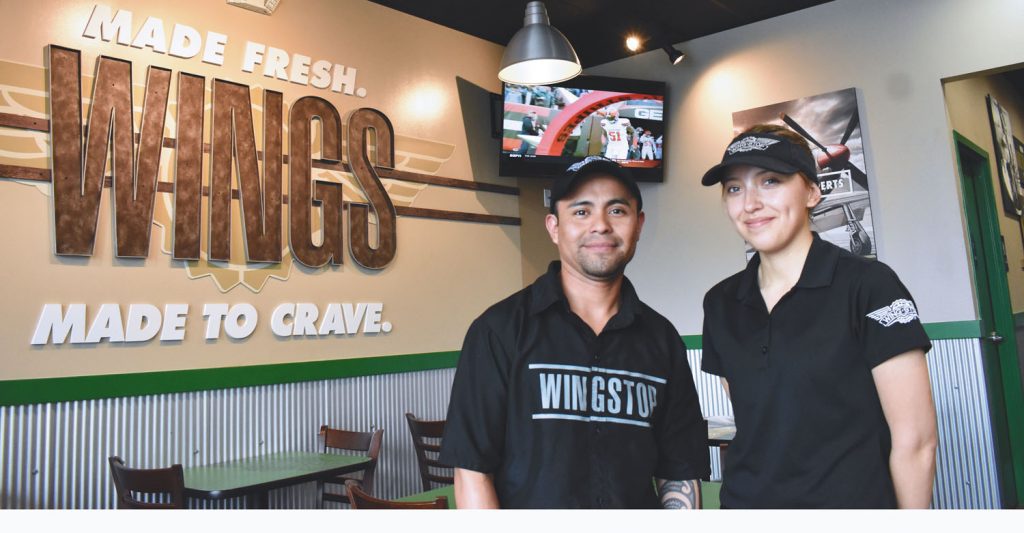 "We went through a formal RFP [request for proposal] process to purchase the site from the city," Carpenter said. "The city identified major voids in the trade area, which they wanted to fill. These were a bank, coffee shop and sit-down restaurant. We are excited to have developed a project that will bring Chase Bank, Starbucks and a mix of restaurants to the community." Carpenter added that a final tenant list should be announced soon.
Hunter said the arrival of a Chase Bank in North Long Beach is of particular importance. "There hasn't been a bank up there in a very long time," she said. "It's going to be nice to see that big parcel of land have those developments come through."
Westland Real Estate Group is developing The Uptown, a retail center that will combine Harding Plaza at 6151 Atlantic Ave. with an adjacent plot of vacant land. "We will be demolishing a section of our existing shopping center to create a cohesive full-block retail development," Westland President Yanki Greenspan told the Business Journal. "What we're working on now is the lease-up phase, trying to get a few more tenants so we can actually start breaking ground." Lease negotiations are underway with a coffee shop and a national gym.
Manny's Barbershop, currently located at 1580 Atlantic Ave., has already signed a lease to relocate to the Uptown retail center. Other signees include Burgerim and a real estate office, Greenspan said. "The Long Beach Beer Lab and the Long Beach Creamery have both indicated interest in the site as well," he added.
Harmony Sage Fried, co-owner of the Beer Lab, told the Business Journal that her brewery would be excited to establish a distribution location at the Uptown. "It will be sort of like SteelCraft, where it's just those small storefronts," she said. "It's another way for us to get our beer direct to the customer." The Beer Lab, which bakes sourdough in addition to brewing craft beer, is considering the option of selling their food at the site as well.
The new Uptown center is slated to cover 36,000 square feet. The facades of the Harding Plaza section will be renovated to create a cohesive look, Greenspan said. "There's a lot of pride of neighborhood in North Long Beach and so we're trying to take advantage of that with this kind of development," he noted.
"It's an opportunity for growth," Hunter said of the Uptown center. "We like the style of what they're proposing, and it'll be great to see development on that vacant land."