With municipal and commercial developments underway and in the pipeline, the 2.2-square-mile City of Signal Hill is proving it still has opportunity for growth. Mayor Tina Hansen, a member of the city council since 1994, is focusing her fifth, nonconsecutive, term as mayor on closing out the development of the Signal Hill Library, ensuring the city's revenue sources and finances are stable and keeping the city business friendly.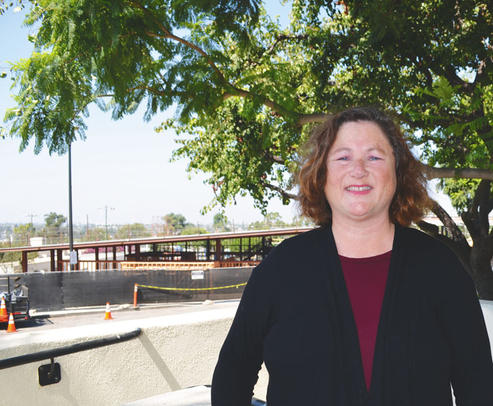 Signal Hill Mayor Tina Hansen is pictured outside city hall as construction continues on the city's new library, a project she has been devoted to since she first joined the city council in 1994. (Photograph by the Business Journal's Pat Flynn)
The new 14,000-square-foot library currently under construction next to Signal Hill City Hall is a municipal project many years in the making. The facility is replacing a 1931 structure originally built as a firehouse and eventually converted into a library. "My number one priority is for the library to be completed and to do the grand opening, because that's been a pet project of mine pretty much since I got onto the council," Hansen told the Business Journal. "We first started designing it back in 2000." The mayor said that she has taken a hands-on approach to the library project, suggesting names for its rooms and ensuring that elements of the city's history are incorporated in the design.
Also on Hansen's priority list is ensuring the stability of city revenues. "We're always concerned about our tax base – the fact that we're 70% reliant on sales tax," she said. "There's constantly movement in the state to redistribute tax."
For example, a hot topic among legislators, regulators and the business sector is whether or not to change California's current origin-based sales tax structure to a destination-based structure. This change would mean that, if someone purchased an item from Office Depot to be shipped from its Signal Hill facility, Signal Hill would no longer receive sales tax for the transaction. Instead, the destination city would be the beneficiary. "If they change the tax structure from where the order takes place versus where it goes to, that will be an impact," Hansen said.
"Every year we always put more into our reserves. But we are always aware of the fact that we're so reliant on sales tax," Hansen said. "We're always aware of the fact that [the loss of] one large auto dealer, one large business, [or] any change in the redistribution [of sales tax revenues] will have a big impact on us."
Because Signal Hill is a small municipality largely dependent on sales tax revenues, the city has worked to develop a reputation as a business-friendly destination. Hansen noted that Signal Hill has a low business license fee compared to surrounding municipalities. "We try to make people feel welcome here," Hansen said. "Customer service is always a big deal with us. When businesses need help and they call in, they always feel like they get good customer service. And they love our police response, too." Signal Hill operates its own police department, a plus for businesses that are most concerned with security, according to Hansen.
Over her years as an elected representative of Signal Hill, Hansen said she has seen the city position itself as a destination for those seeking active lifestyles and high-end housing. "We have positioned ourselves as a city that grows but that grows carefully," she said. "We have positioned ourselves as being business friendly, as being an active lifestyle city, as being high-end residential."
Hansen noted that the city has also prioritized affordable housing with the development of Zinnia, a workforce housing project on Hill Street completed this year. "That has always been a passion of mine, is providing safe housing for people. I told staff before I leave council, I hope that we can put another affordable workforce housing project together," she said.
The next step for the city is to create a community gathering place for its residents, a prospect Hansen expects to be fulfilled with Signal Hill Petroleum's proposed Heritage Square development at Cherry Avenue and Burnett Street. In addition to the existing Mother's Market, the development will include retail, eateries and housing. "We still feel like we don't have that true community center. . . . We really want that," Hansen said. "We really see Heritage Square as something that will be a community gathering place where people will say, 'Let's go out in Signal Hill.'"