In July 2015, the Medicare program celebrated its 50th anniversary of providing health insurance for individuals 65 years of age and older and for people with disabilities. According to the Centers for Medicare and Medicaid Services (CMS), 55 million people were covered by Medicare in 2015. The Congressional Budget Office projects 80 million Americans will be eligible for Medicare by 2035.
Currently, 13% of Americans are age 65 or older, a number that Pew Research Center estimates will increase to 18% by 2030 when the entire Baby Boomer population will be at least that age. Every day, 10,000 Baby Boomers become eligible and enroll in Medicare, a trend that Pew said began on January 1, 2011, has occurred every day since and will continue every day for another 14 years.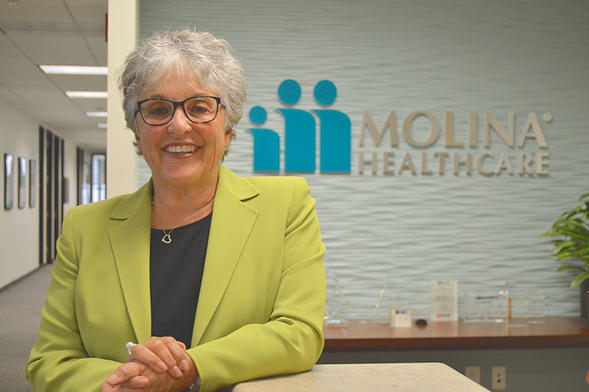 Lisa Rubino, senior vice president of Medicare operations for Molina Healthcare, advises individuals to sign up for Medicare coverage during their initial enrollment period, which begins three months prior to their 65th birthday month, to avoid paying penalties for signing up late. (Photograph by the Business Journal's Larry Duncan)
"There are four parts: Medicare A, B, C and D," Jack Cheevers, public information officer for CMS, said. "Part A covers hospitalization, B covers doctor fees and medical equipment, C is what's called Medicare Advantage, which is a type of managed care, and D is the prescription drug program."
Cheevers explained that around three-quarters of those insured through the program are covered by what is known as Original Medicare, which consists of Part A and B. Individuals who have worked at least 10 years typically qualify for free Part A coverage, as payroll taxes go into the Hospital Insurance Trust Fund, which covers the cost. Part B requires recipients to pay monthly premiums based on their incomes, with prices ranging anywhere from $120 to $400 per month, according to Lisa Rubino, senior vice president of Medicare operations for Molina Healthcare.
"You get to pick any doctor in the country that accepts Medicare, which is most of them. You get to go to any hospital you want in America that accepts Medicare, which is most of them," Cheevers said. "So you have very, very extensive access to health care, and the government pays the provider directly. In other words, you can go into the doctor's office for a checkup, the doctor bills Medicare and the federal government sends them a check."
Medicare Part C, also known as Medicare Advantage, is similar to signing up for insurance through the Covered California marketplace – private companies have different plans that provide different coverage, and individuals can shop around for the coverage and premiums that best suit them. Cheevers explained that the benefit of Part C is that it often covers certain costs that Original Medicare does not. For example, some Advantage plans cover medications.
"That brings us to Part D, which is the drug program and is [also] sold by private insurance companies to people," Cheevers explained. "You pay a monthly premium for it, and you can only sign up for D if you have Original Medicare."
According to Rubino, most people begin receiving information on Medicare and enrollment materials six months before their 65th birthday. The initial enrollment period begins three months before the individual's birth month and continues for three months after the birth month, for a total initial enrollment period of seven months.
Both Rubino and Cheevers recommend signing up for coverage during this initial enrollment period to avoid possible penalties for signing up late. If an individual turns 65 and is not covered by an employer's or spouse's medical plan but fails to enroll in Medicare, a fine will be incurred for failing to procure health insurance.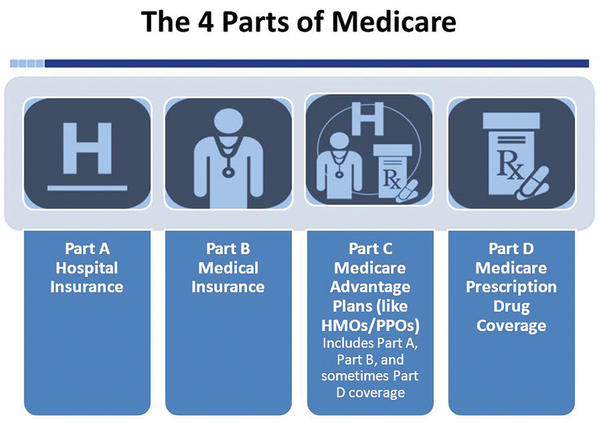 However, Cheevers noted that more people are working past the age of 65 and are covered by employer-provided group health insurance. He recommends that, prior to their 65th birthday, employees ask employers if they will be required to sign up for Medicare Part B. If employers do not require Part B, individuals can delay their Medicare enrollment. Once the job ends or the company insurance ends, whichever comes first, an individual has eight months to sign up for Part B without penalties.
When first eligible, people can enroll in any part of Medicare they choose and are eligible for during the initial enrollment period. For those who initially opted only for Original Medicare, open enrollment  for parts C and D occurs annually should they wish to change coverage.
"So this open enrollment period from October 15 to December 7, that's the time when you can sign up for the private plans, the C and D plans – Medicare Advantage and prescription drug plans," Cheevers said. "If you have Original Medicare and you're happy with it, you don't even need to think about open enrollment. It's only for people who want that drug coverage or the network health plan."
Cheevers said, however, that he advises everyone who signs up for Original Medicare to also enroll in Part D because – even though they might be 65, healthy and not taking medications – health status can change very rapidly, and being caught without drug coverage can become expensive.
It's also important to sign up for Part D during initial enrollment because those who sign up later will have to pay a penalty unless they have other creditable drug coverage, such as through their employer or spouse, Rubino added. She explained that this penalty is applied every month not enrolled since initial enrollment and continues as long as the individual has Medicare Part D coverage, so she said a good rule of thumb is for individuals to sign up for every program they are eligible for.
Once a person is enrolled in Medicare, they are enrolled for life and there is no need to reapply year after year. However, program coverage can change annually – particularly for parts C and D – including changes to covered prescriptions, participating doctors and copay prices. Rubino recommends that individuals check their benefits annually to ensure necessary medications and doctors are still covered, as well as to see any other changes to their coverage.
"It's the same advice I'd give my 92-year-old mother: If you're in a plan and you like that plan, why change?" Rubino said. "If your doctor is the same, if you're paying the premium and it's the same, if your copays and whatnot have very little changes, it's probably easiest to stay put. If your plan designs and provisions have changed with a particular carrier, it's always good to check what your options are."
Cheevers said there are many resources to help people enroll in and keep up with their Medicare services. A "Medicare & You" handbook is available online and is sent in the fall to every person with Medicare coverage. People can call a 24-hour assistance line at 1-800-MEDICARE (633-4227) from anywhere in California and be redirected to a local office.
"The state Health Insurance and Counseling Advocacy Program, which is partially funded by the federal government, is a place where you can go and get free counseling that's personalized for you from volunteers who are usually Medicare beneficiaries themselves," Cheevers said. "So they really know the ins and outs of the program. You can go to their office and do it face-to-face, or you can do it over the phone."
For more assistance or to sign up, people can visit their local Social Security office, visit ssa.gov, call 800/772-1213 or visit medicare.gov.