Watching the shampoo, body wash and laundry detergent containers pile up in her recycling bin, Bring Your Own Long Beach owner Julie Darrell felt like she needed to do more to protect the environment. She saw her bathroom shelves grow with individually packaged products, thanks in part to the relentless marketing campaigns for household goods and personal care items leveled at women on a daily basis, she noted. Something needed to change, she thought.
"I felt like there was more I could do," Darrell said. She had already made waste reduction a part of her household's everyday routine, and wanted to help others do the same. When she realized that there were no stores focused on providing package-free products in Los Angeles, Long Beach or Orange County, she knew she had found her niche. "I can't be the only one looking for this," she remembered thinking to herself. Since last year, customers can now refill their laundry detergent, baking soda, shampoo and many other pantry and household items at her East Village retail location.
Darrell is one of many female entrepreneurs driving the implementation of sustainable business practices in Long Beach. Many are part of the city's green business certification program. The program recognizes businesses from a variety of industries – from hair salons to architecture firms – that have shown a commitment to sustainability by complying with a number of requirements set by the California Green Business Network. Of the 32 green businesses currently certified in Long Beach, 15 are led by women and three have a male-female team at their helm.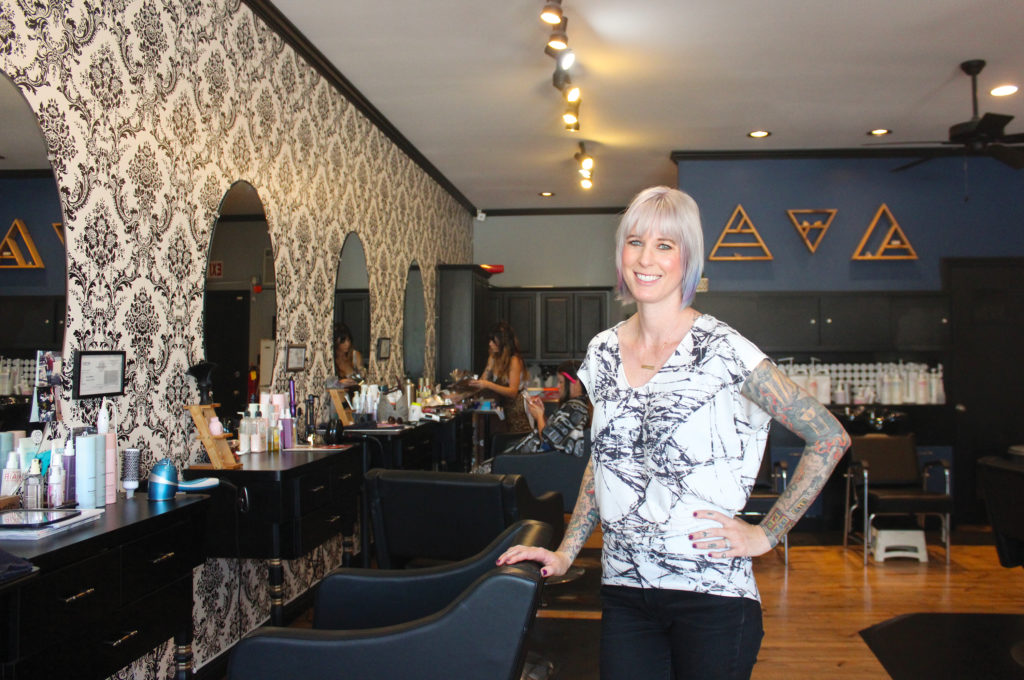 Fine Feathers Kombucha co-founder Jodine Penev West said she and her partner, Jay Penev, also used their personal experience to inform their sustainable business practices. While living in the Pacific Northwest, Penev West remembers she became more educated on the issue of sustainability, an awareness that still informs their business decisions today.
"My husband and I met when we were both working up in Portland, Oregon, and that's just one of those places where you learn a lot more about sustainability and how to incorporate that into your life and your business," she explained. "So when we moved down here and started our business, it was a no-brainer that we would run it as sustainably as possible."
Fine Feathers Kombucha, a kombucha brewery in Central Long Beach, is on the city's list of green certified businesses, but Penev West said their commitment goes beyond the requirements set forth by the program. "It's something that we're constantly thinking about," she noted. From their level of production to their distribution network, everything is designed to leave the smallest environmental footprint possible, Penev West explained.
"We don't overproduce, that's one [way]. So we just meet our demands, we're not sitting on a bunch of products and wasting a bunch of resources," she said. In addition, Penev West noted, the company doesn't have a far-reaching distribution network. "We try to stay as local as possible and work with distribution companies that are like-minded," she added.
Measured by the number of companies seeking certification through the city's green business program, interest in sustainable practices is high in Long Beach, according to Courtney Chatterson, Long Beach coordinator for the California Green Business Network and communications specialist for the Long Beach Office of Sustainability. "It's been really great to see that so many businesses in Long Beach care about this program and care about the environment," Chatterson said.
In addition to businesses like Darrell's Bring Your Own Long Beach and Penev West's Fine Feathers Kombucha, which were founded with sustainability in mind, many businesses on the city's list of green-certified companies have adapted their practices to become more environmentally friendly. California's high standards for sustainability, from waste management to building codes, have helped move the process along.
"Any time a business is setting up its new space, they're going to have to meet more rigorous standards for energy and water efficiency," Chatterson explained. "That makes it easier to certify new businesses. Older ones might have to do some retrofits," she noted. As businesses adopt greener practices, whether it's to comply with state regulations, to attract environmentally conscious clients or out of a sense of corporate responsibility, there's a ripple effect as their suppliers are compelled to do the same.
"Some of the [certification requirements], like asking businesses to purchase recycled-content paper, are potentially market changing," Chatterson said. "Because more and more businesses are asking for those kinds of products and the price keeps coming down, more options become available."
Celia Brennan, owner of the green-certified Seven Hair Studio in Carroll Park, said when she began working her way down the city's checklist, she discovered a wealth of eco-friendly product lines that weren't available when she started her business in 2012. "It's getting easier, because more companies are realizing there's a need for things like that," Brennan said.
And it's not just LED light bulbs and recycled toilet paper. Brennan has furnished her salon with new water-efficient shower heads and a tap water filtration system to avoid waste created by water coolers. Plus, she's using sugarcane-based liners in her shampoo bowls to reduce the amount of harmful chemicals washed down the drain. "Our salon is servicing so many people per week that I feel like it's making a difference and it's a good place for us to talk to other people and hopefully try to influence them or inspire them," Brennan pointed out.
By becoming part of the city's green business network, companies can become ambassadors of sustainable practices, spreading the awareness among their customers and fellow entrepreneurs, Chatterson explained. "Each business that we certify becomes a sustainability champion," she said. "I think the business community has a lot to contribute, especially small and medium-sized businesses, who make up a huge part of our economy."
Most of the women leading sustainable businesses in Long Beach said the changes they had to make to reduce their impact on the environment were minor. "It really wasn't that much more of an effort. It was just a little bit more documenting and being intentional about the choices you're making," Daniella Carter, founder and principal of Long Beach design firm Pretty Smart, told the Business Journal. "It's something that's just part of what we do and, in my opinion, part of being a good [corporate] citizen."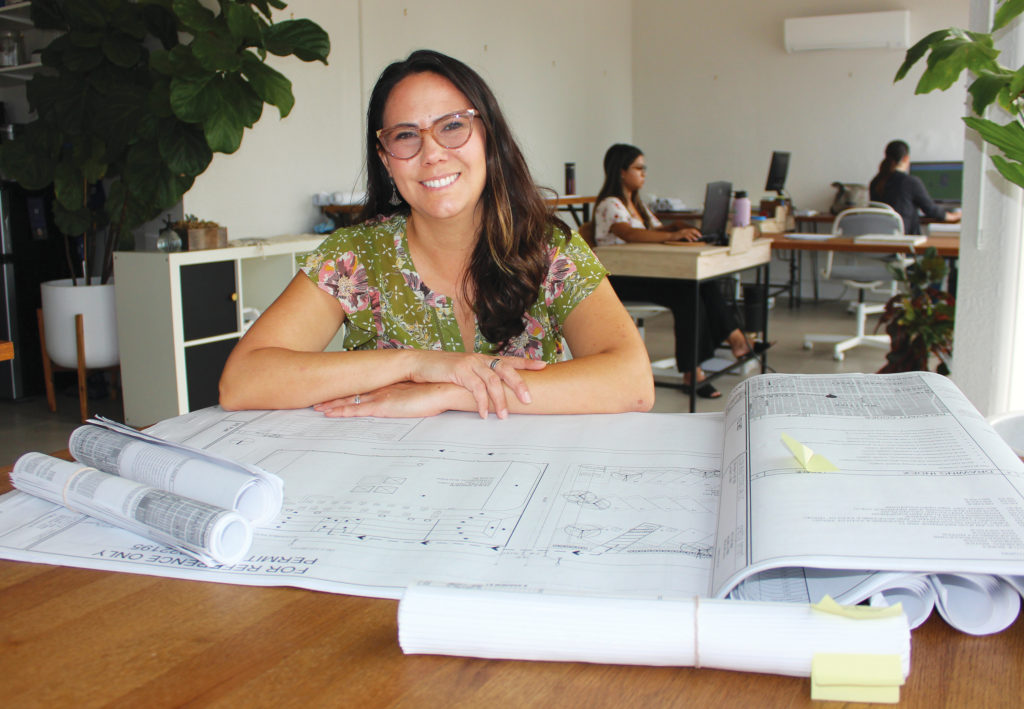 Carter said incorporating greener business practices hasn't come with any notable financial costs, but even if it did, the marketing value of being recognized as a green business and the long-term cost savings of sustainable technology do their part to balance the scale. "It's a small price to pay," she concluded.
Why have women taken such a prominent role in promoting sustainability in Long Beach's business community and beyond? "I'm not sure, but I love it!" Chatterson said. Studies have found that women are still more likely to be in charge of purchasing household items, groceries and other packaged products that make up a large portion of household waste production. The packaging industry accounts for approximately 40% of global plastic production, and 20% of globally produced plastic ends up in households in the form of consumer products, according to a literature review on plastics, gender and the environment sponsored by the non-governmental organization Women Engaged for a Common Future.
Both Darrell and Local Harvest Certified Farmers Markets Director Lee Ostendorf noted that women and those who identify as female are also prominent drivers of sustainability in their role as consumers. "It's important to them who they buy their food from [and] how to prepare it, and some of them are even learning how to grow things," Ostendorf said about her majority-female customer base. Reducing the amount of packaging they use is important to her clientele as well. "Most people bring their own bags; most people won't accept anything packaged," she noted.
But there's still plenty of work to be done, Chatterson noted. "There's a lot of education that needs to happen, because people might be aware of certain aspects of sustainability and their environmental impact and not others," she said. To further promote sustainable practices, Darrell said, it's important for business owners and private citizens to engage with their local leaders and advocate for sustainably-minded policies.
"I think it's really important to get involved in policy change, to get involved in your local government somehow," Darrell said. In addition, she noted, local governments as well as the private sector should advertise the positive impact sustainable practices can have for a company's success and the tools available to get them there. "I think a lot of businesses are willing to make those changes, if we can put forward some of the advantages in having a sustainable business model," Chatterson said. "I think that just having those tools available can really make a big difference."