Ask any local commercial real estate agent what sector is driving demand in the office market, and they'll tell you it's the health care industry, which has been adding employees, services and office space ever since the advent of the Affordable Care Act. MemorialCare Health System is no exception – it's in growth mode in Long Beach as it expands with new facilities and operations, adds employees, and continues to grow its network of physicians and enrollment in health plans.
Driving this growth is MemorialCare's push to center its services on community population health rather than the traditional model, which was more focused on hospital care.
To accommodate this model, the system is investing in more ambulatory, or outpatient, facilities and services in community-based settings, health system CFO Karen Testman and MemorialCare Medical Foundation CEO Mark Schafer told the Business Journal in an interview at their Fountain Valley offices. The nonprofit foundation Schafer oversees includes MemorialCare's two physician medical groups.
"Population health care is not just about hospitals," Testman said. "It's actually becoming less about them as we look into the future and more about serving patients in still very high quality, but lower cost settings that are more appropriate," she explained.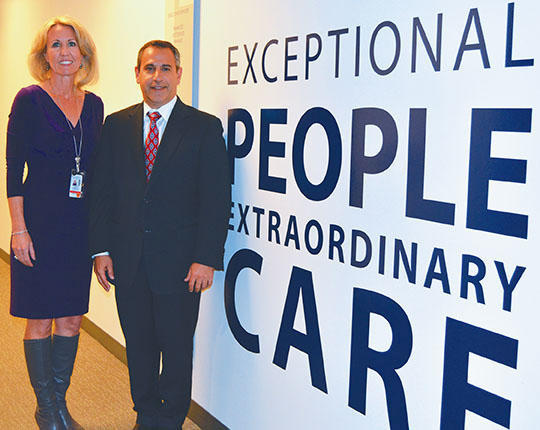 Karen Testman, CFO of MemorialCare Health System, and Mark Schafer, CEO of MemorialCare Medical Foundation, told the Business Journal that the health system is continuing to invest in Long Beach with new facilities and expanded services. (Photograph by the Business Journal's Larry Duncan)
"We've been growing our ambulatory services in the Long Beach area," Schafer said. Over the past few years, the health system has invested in primary and urgent care services, and surgery and imaging centers, particularly in the Long Beach area, he noted.
MemorialCare is building on its expansion into the airport-adjacent Douglas Park, where last year it debuted a new surgery center. "We're opening up a new 30,000-square-foot ambulatory center in Douglas Park," Schafer said. "It will open some time around September, and it will have primary care, specialty care [and] imaging." The center will provide "full-service" imaging operations, PET Scan, CAT Scan, MRI, X-Ray and ultra sound machines, he noted. "It's a very high end center," Testman said.
Three years ago, MemorialCare opened a similar center in Los Altos. "After three years, it's really bursting at the seams and really busy," Schafer said. "That's why we went forward with the decision to open another ambulatory center not too far away."
Today's consumers are demanding more ambulatory centers within their communities, according to Testman. "They want that care as convenient and low cost as possible, and that typically translates to something away from the acute care hospital that's closer to where they live or work in their community," she said.
MemorialCare is also expanding locally through a new joint venture with Fresenius Medical Care North America to operate more than a dozen kidney dialysis centers in Los Angeles and Orange Counties. Three existing centers are in the greater Long Beach area, and a new center is planned in Long Beach as well.
Kidney disease is becoming an increasing problem in Long Beach and throughout the U.S. due to prevalent health issues such as hypertension, diabetes and obesity, Schafer explained. "We found this to be a really great opportunity to partner and provide better care to dialysis patients," he said.
"As we add facilities, we will be adding more people," Schafer said, adding that the new Douglas Park ambulatory center and the future new dialysis facility will both be hiring.
As MemorialCare expands, it continues to add physicians to its medical groups, which Schafer said are the health system's fastest growing entities. "We've been adding roughly 20 providers per year," he said, adding that there are currently about 240 MemorialCare-employed providers in the MemorialCare Medical Group. There are about 2,000 health care providers affiliated with this group and the Greater Newport Physicians Independent Practice Association, another physician group within MemorialCare.
Over the past few years since the Affordable Care Act was enacted, MemorialCare has been steadily growing its health plan options. In addition to offering its own Seaside Health Plan, MemorialCare is part of four accountable care organizations (ACOs) for Medicare patients. Combined, the ACOs account for about 80,000 enrollees, Schafer said. MemorialCare is also part of Anthem Blue Cross Vivity, a health plan launched in 2014 that includes six other hospital systems. All of these plans are growing, Schafer noted.
As a "key market" for MemorialCare, the health system plans to continue investing in Long Beach. "We've had that hospital [Long Beach Memorial Medical Center] for over 100 years, and we've been serving that community for that long and intend to continue to do so," Testman said. "So we're looking for ways to continue to improve how we serve that community."
Long Beach's population is growing, and much of it is aging as well, Schafer noted. "There is a real community need in Long Beach for more medical services," he said.