After three decades of working together, Dr. Marc Sakwa and Dr. Jeffrey Altshuler have developed a dynamic reminiscent of a married couple that has made it last, even through challenging times.
In conversation and in the operating room, the two cardiovascular surgeons know to play to each others' strengths, and perhaps most importantly, they trust each others' judgement. 
"You build up a bond of trust," Altshuler said. "I know that in terms of surgical procedures or difficult cases, he would never ask me to do something he wouldn't do himself."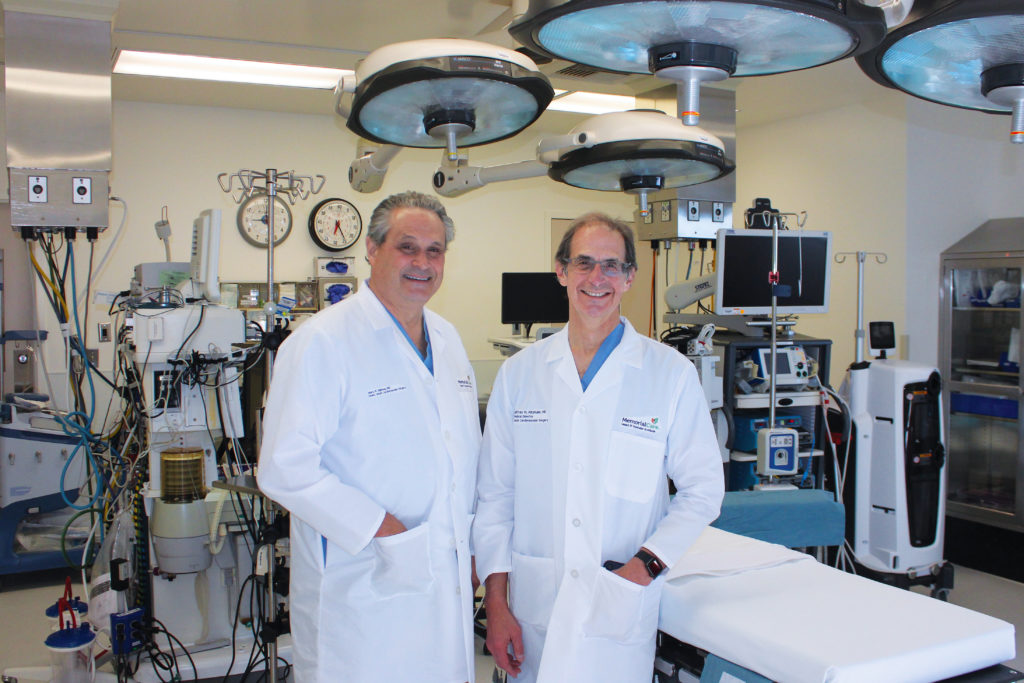 Now, the two physicians have joined MemorialCare's Heart and Vascular Institute, bringing with them an innovative technique: minimally invasive heart valve surgery. In addition to his role as a surgeon in the operating room, Sakwa will also serve as the institute's system chief of cardiovascular surgery and as medical director of adult cardiovascular surgery at Long Beach Medical Center. Altshuler will take on the role of medical director of cardiovascular surgery at Saddleback Medical Center in Laguna Hills, while also performing surgeries at Long Beach Medical Center.
Coming from Beaumont Hospital in Royal Oak, Michigan, the two surgeons have built a reputation by specializing in minimally invasive heart surgery. When using this technique, the surgeon foregoes cracking the sternum—the medical term for the breastbone—to access and operate on the heart, instead accessing the organ and its surroundings through a small incision between the ribs. 
"It's the same operation that everybody does through the big incision, we can just do it through the small incision," Sakwa explained. 
The result isn't just a better cosmetic outcome – traditional sternotomies leave behind a highly visible scar along the breastbone. The technique also brings with it a lower risk of blood transfusion and an expedited recovery time, said Sakwa. 
"There's a lot of advantages to it," he said. "It's not pain free. It's still an operation, there's still some recovery, but it's much quicker."
Minimally invasive heart valve surgery first picked up steam in the mid-1990s. The technique has its limitations. Depending on their individual anatomy, patients may not qualify for a minimally invasive procedure. 
Conducting heart surgeries through a keyhole incision also requires a high level of technical skill, a 2017 review of research and clinical trials published in the German medical journal Deutsches Ärzteblatt noted. But, "patients increasingly ask for a therapeutic approach that leaves the sternum intact," the journal reported. 
Altshuler and Sakwa would know. The physicians estimated that, together with another colleague at Beaumont Hospital, they had performed over 3,000 such procedures since 2008.  
It's not just their expertise in minimally invasive heart surgery that the two physicians are hoping to bring to Long Beach. 
"The way that we ran our practice was that everybody had a niche, everybody had a role," Sakwa said. The team of experts at Beaumont became a family, he said, as many team members spent decades working side-by-side. 
That's the kind of team Altshuler and Sakwa are planning to build here. Their first weeks at Long Beach Medical Center have been promising, Sakwa said. 
"We're fortunate that the team that's in place has really bought into our way of thinking," he noted. "They're interested in being a cohesive group, so it's like rebuilding a family again. Which is really important to getting good outcomes and building a strong practice."
Long Beach Medical Center has a history of innovation in the field of heart health dating back to the 1950s, when resident cardiologist, researcher and educator Dr. Mervyn Ellestad co-invented the modern-day maximum stress test to detect heart disease at the hospital. 
More recent achievements include the development of the first blood test to determine the severity of a myocardial infarction, the creation of a cardiology computer registry and the first computer program to detect the size and location of a myocardial infarction. The MemorialCare Heart & Vascular Institute, which spans three campuses in Long Beach, Fountain Valley and Laguna Hills, delivered nearly 20,000 cardiovascular diagnostic tests and treatments last year, according to a press release. 
That history was enticing to Altshuler and Sakwa. 
"Jeff and I are adventurous guys who were looking for one last change in life. This was an opportunity we couldn't pass up, based on the reputation and the willingness of the hospital to support what we like to do, which is approach complex cardiac issues in a less invasive way," Sakwa said. "The weather had nothing to do with it," he joked.