The Lazo family during their wedding at the Cute Little Wedding Chapel in Long Beach.
Gerson and Brittany Lazo had always planned for an understated wedding.
"It was something we wanted anyways, something quick and small," Brittany Lazo, the 28-year-old newlywed bride, said. 
But in the months they spent planning before the pandemic took hold, the couple didn't imagine their ceremony would be quite as intimate. Faces covered, the two were joined only by officiant Alan Katz and their 6-year-old son, who did the honors of pronouncing them husband and wife. 
For the ceremonial kiss, the couple briefly pulled down their mandatory face masks.
Industry insiders say this is an approach many couples are taking during the coronavirus pandemic: Wed now, celebrate with friends and family later.
"What we're offering couples is to keep their original date, and reschedule their big ceremony for next year," said Katz, owner of Long Beach's Cute Little Wedding Chapel in California Heights.
For some couples, Katz said, the legal act of getting married can't wait. 
From marines about to be shipped out of Camp Pendleton to immigrants whose fiance visas are set to expire, Katz and other wedding professionals in the city have seen couples who had to stick to their original date, even if it meant giving up their dream ceremony, at least for now.
To that end, Katz and other officiants successfully lobbied county officials to reinstate a program during the pandemic that allows them and other members of a specialized notary program to issue marriage licenses on the spot.
LA County has also announced a program that lets couples receive licenses and be married via videoconferencing, following an executive order by Gov. Gavin Newsom issued on April 30.
"Even if they're okay with waiting for the celebration for a year or more, they want to make sure their relationship is on solid ground legally," said Megan Papageorge, owner of Sweet Peach Planning. "Weddings can wait, but marriage can't wait for a lot of people."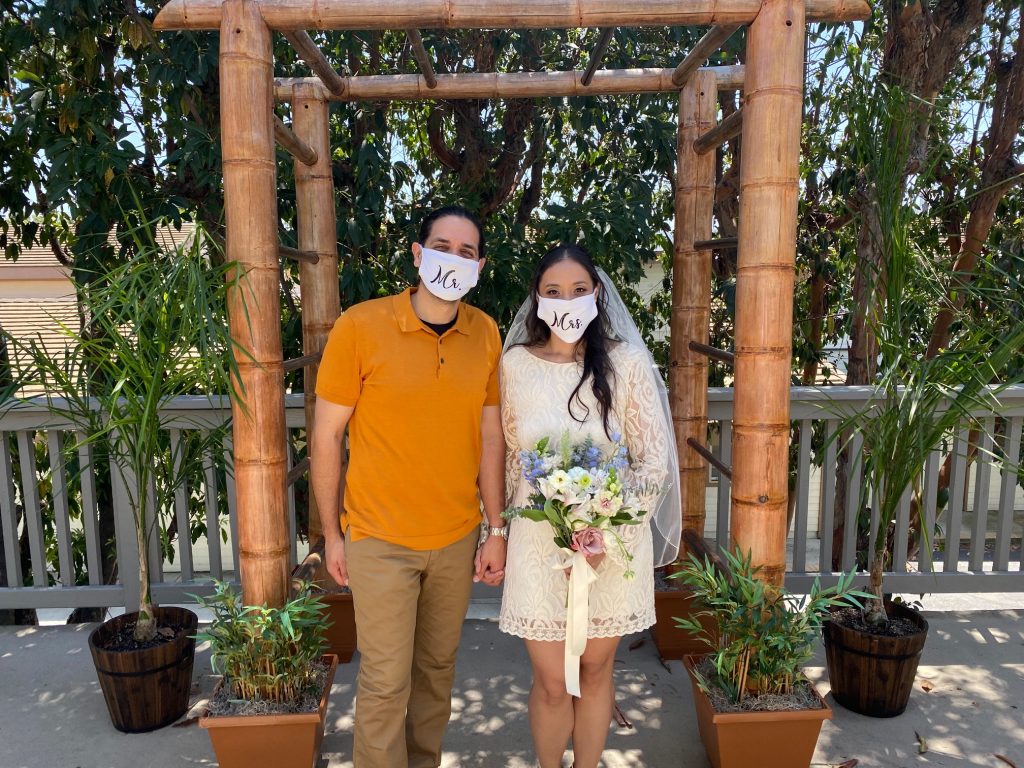 Papageorge's planning firm had eight wedding celebrations scheduled since March 15. One couple decided to elope, the other seven are planning to celebrate once restrictions have been lifted.
"They still want to have that party they imagined down the road," the wedding planner said. 
Some, in the interest of time, may choose a smaller event to celebrate before the state moves to allow larger gatherings again. 
"I have a feeling that's going to be the option for the rest of 2020," said Marni Farmer, owner of the event planning firm So Smitten. 
Together with several other wedding vendors that normally work out of the same building in California Heights, Farmer is putting together "backyard shindig" packages for post-pandemic parties.
"It's going to be a lot more affordable than what we normally charge for a large-scale event," Farmer said. "Everyone's scared to make that commitment, to put down a big chunk of money, when everything's so uncertain."
So far though, it's unclear when even those scaled-back events will be allowed. That uncertainty is hanging over every decision couples make in the age of COVID-19.
The Lazos, for example, at first had decided to wait out the pandemic.
"We didn't figure it would be this long," Brittany Lazo said. But as the stay-at-home orders and ban on events dragged on, the couple decided to move forward with the wedding despite the restrictions. Six and a half-months pregnant, the bride didn't want to wait any longer. 
"We didn't know how long this was going to last, so we just decided to go ahead and do it," she explained.
Overall, she said she was happy with their intimate ceremony.
"The only thing that was a little emotional was not having our parents there," she said. "Hopefully we can do things like that later, celebrate later."
A beach wedding, she imagined, maybe some time next year.