Recent studies estimate that the millennial generation, those born between 1981 and 1997, stands to inherit between $30 trillion to $59 trillion through a generational transfer of wealth over the next few decades. Ahead of this shift, philanthropic organizations are examining how to appeal to this generation's charitable giving preferences, which local nonprofit leaders told the Business Journal were shaped by growing up in the digital age.
While major media outlets have for the past few years published many stories purporting an entitled attitude amongst millennials, research shows that the generation is one already committed to charitable giving. Eighty-four percent of employed millennials surveyed for the 2015 Millennial Impact Report said they had made a charitable donation during 2014, and 70 percent had spent at least one hour volunteering.
"Already we have seen that this generation, the millennials, have a tendency to give as much as other generations," Andrea Taylor, CEO of California State University, Long Beach's (CSULB) 49er Foundation, told the Business Journal "We are seeing a real spirit of giving in them, in terms of them wanting to give back."
Drew Gagner, president of the St. Mary Medical Center Foundation, believes millennials' proclivity towards philanthropic giving has been informed by what many refer to as the "age of information." "Having grown up with the Internet and social media, they have a different connection to the world than earlier generations," Gagner said of millennials. "That Internet and social media growth has really made the world smaller."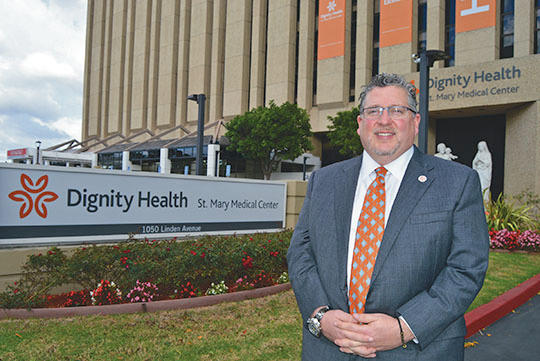 Drew Gagner, executive director of the St. Mary Medical Center Foundation, said that the foundation needs to do a better job of getting the millennial generation actively involved, perhaps through board positions. He has hired staff members within that age group to help him strategize, as the millennial generation stands to become an influential force in philanthropy. (Photograph by the Business Journal's Larry Duncan)
Marcelle Epley, president of the Long Beach Community Foundation (LBCF), said that what she views as a strong spirit of volunteerism among millennials has been shaped by that generation's access to information. LBCF is a nonprofit organization that brings together the financial resources of individuals, businesses and nonprofit organizations to support local causes.
"They understand this need [for philanthropic giving] from a very early age," Epley observed. "Perhaps what we might attribute that knowledge to is digital technology, the Internet and this vast amount of information that is available at our fingertips 24 hours a day."
"My generation is very civic minded," Kellie Playter, a 30-year old professor of communications for Concordia University, told the Business Journal. Playter co-founded the Red Shoe Society, a group of young professionals who assist the families of seriously ill children who are staying at the Long Beach Ronald McDonald House. "We have so much information now, and there are so many charities and groups we are aware of," she reflected.
The 2013 Millennial Impact Report, which examined the giving preferences and habits of millennials in depth, found that members of this generation are more drawn to "support causes they are passionate about," rather than supporting specific institutions. The report argued " . . . so it's up to organizations to inspire them and show them that their support can make a tangible difference on the wider issue."
"There are a lot of millennials now more focused on socially conscious, globally minded typed charities – things that are civil rights minded, [or related to] environmental protection and those types of things," Gagner observed. Millennials' passion for supporting more globally pervasive issues marks a shift from previous generations like the baby boomers who, Gagner said, are more likely to give to charitable institutions or arts and culture-related organizations.
Epley said that the philanthropic causes most likely to reach a millennial audience are those making headlines. "Those causes, for example, are what's happening in other countries and major national disasters," she said. "Those are the things that make the top headlines. Those are the stories that are being circulated on social media."
Millennials' preference to give to far-reaching charities and causes presents a challenge for local institutions trying to tap into their demographic. "When we think about the idea that they are interested in socially conscious and globally minded type charities, we can't deliver that," Gagner said. "There is no question. You cannot get more local than your local hospital."
To appeal to potential millennial volunteers and donors, Gagner takes the approach of relating the local programs his foundation supports to the wide-reaching causes they are passionate about. For instance, the Families in Good Health program at St. Mary Medical Center helps local minority communities, some of which may be economically disadvantaged, to gain access to health care. "That is an opportunity at a local level to help with what [millennials] would consider a global-minded issue," Gagner said. The hospital's C.A.R.E. program, which provides HIV and AIDS-related services, also addresses a global issue on a local level, he noted.
The Long Beach Community Foundation is working to develop a program to educate young Long Beach residents about local causes. "We are currently seeking a partnership for that program. But if we can target and harness that philanthropic interest and keep it in Long Beach, then that is what is going to make more of an impact in Long Beach in terms of giving," she said.
Millennials are also driven to contribute to causes that have direct relevance to their lives, the 49er Foundation's Taylor said. Recently, the foundation held its first student-based philanthropic initiative called Feed a Need, which gave CSULB students a chance to help their peers.
"We asked students who were on meal plans to donate just one of their meals . . . because unfortunately with this campus and other [university] campuses we still have students who are going hungry," Taylor said. "Our goal was to get 1,000 meals donated in a week's period of time. The response was overwhelming. Within one day we had almost all of those 1,000."
When contributing to philanthropic organizations or causes, millennials are "focused on impact, first and foremost," according to Next Gen Donors, a research project based upon a national online survey of millennials and generation X members whose families have historically given $250,000 or more per year to charity. "They want impact they can see, and they want to know that their own involvement has contributed to that impact," the report stated.
Part of the reason Playter is passionate about the work she does with the Red Shoe Society is that she gets to see firsthand the impact the organization makes. "We cook at the house quite often, and you feel like you're directly making an impact," she said. "We buy the food, come in as a group and prepare a meal right there for the families. We even sit and eat with them," she explained. "You see the benefit right there from your time and your effort and your money," she continued. "Sadly I hear about organizations who pocket quite a bit of the money and they don't end up seeing a real benefit [to their cause]."
The Long Beach Rescue Mission is working to increase opportunities for younger generations to become more closely involved with the organization to appeal to their desire to make a direct impact. The Rescue Mission provides shelter, food and other services to the homeless. "We want to start getting more young people involved," Robert Probst, executive director of the Rescue Mission, said. For example, "One of the things we just started working on is how to design an internship for young professionals to be on our board of directors."
Also key in attracting younger volunteers and donors is keeping up with technology, Probst pointed out. "We have to keep our website fresh and appealing, with easy access. If something starts to take too long they will move on to the next thing," he said. The Long Beach Rescue Mission also uses its Facebook page to spread the word about its programs and mission, he noted.
The St. Mary Medical Center Foundation is also placing more of an emphasis on social media. Word about a recent campaign for the hospital's C.A.R.E. Program was entirely spread through social media, Gagner said.
According to Taylor, millennials "are responding more through e-solicitations, crowdfunding platforms or Facebook pages" when engaging with philanthropic nonprofits. The 49er Foundation reaches out to recent alumni almost entirely through online means, she noted.
Recently, the 49er Foundation launched an online crowdfunding platform called Beach Funder, which gives CSULB students and staff an outlet to raise funds for endowments, programs and more. "One of the Beach Funders we did last year was for the alternative spring break program. Our goal was to raise money to purchase iPads for the class," Taylor said.
"We raised over $10,000 and were able to get 15 iPads," Taylor continued. "But the more important thing is we had 101 donors for that crowdfunding campaign." She said the campaign was successful because crowdfunding-based campaigns lend themselves more easily to sharing across social media networks.
"We were able to utilize our students to reach out to all of their friends, family and connections through social media to help support this," Taylor said. "Social media networks are going to continue to play an important role in how we raise money."
Probst pointed out that millennials are more inclined to give online because it's simple and easy. "You can go right to our website and hit the donate button, and it tells you different ways of donating," he said.
While technology has made giving to charitable causes easier, it has also made millennials wearier of the causes they give to. "They are sharper consumers in some ways," Taylor said. "Remember, this is a generation that grew up on the Internet. . . . They can check websites to see what people are doing with their money," she noted. "There is more of a trend toward accountability that you will certainly see with millennials."
Probst agreed. "They are smarter in giving," he said of millennials. As a nonprofit organization, "You have got to be totally transparent," he emphasized. "With your programs, you can measure out your outcomes with new technology. I could tell you how many counseling sessions we did in the last year, and I could break them down to the number of hours of counseling," he said. "I could tell you how much it costs for one person in our program to be counseled per hour."
"It keeps foundations and other charities on their toes in terms of being accountable and transparent," Taylor said. "That's good."
"We just have a natural intuition to give back," Playter said of her generation. "I don't know any friends who aren't involved with some kind of charity or group they contribute to."