Founded in 1941 in Long Beach, engineering firm Moffatt & Nichol, now a global company with 40 offices in seven countries, is doubling down on its commitment to its hometown by purchasing new headquarters at The Terminal at Douglas Park.
About 100 of the firm's employees moved from the company's previous offices at Kilroy Airport Center to their new digs last week, according to President and CEO Eric Nichol. Another 100 employees who previously worked in Long Beach have been moved to a new office in Orange County, closer to their homes.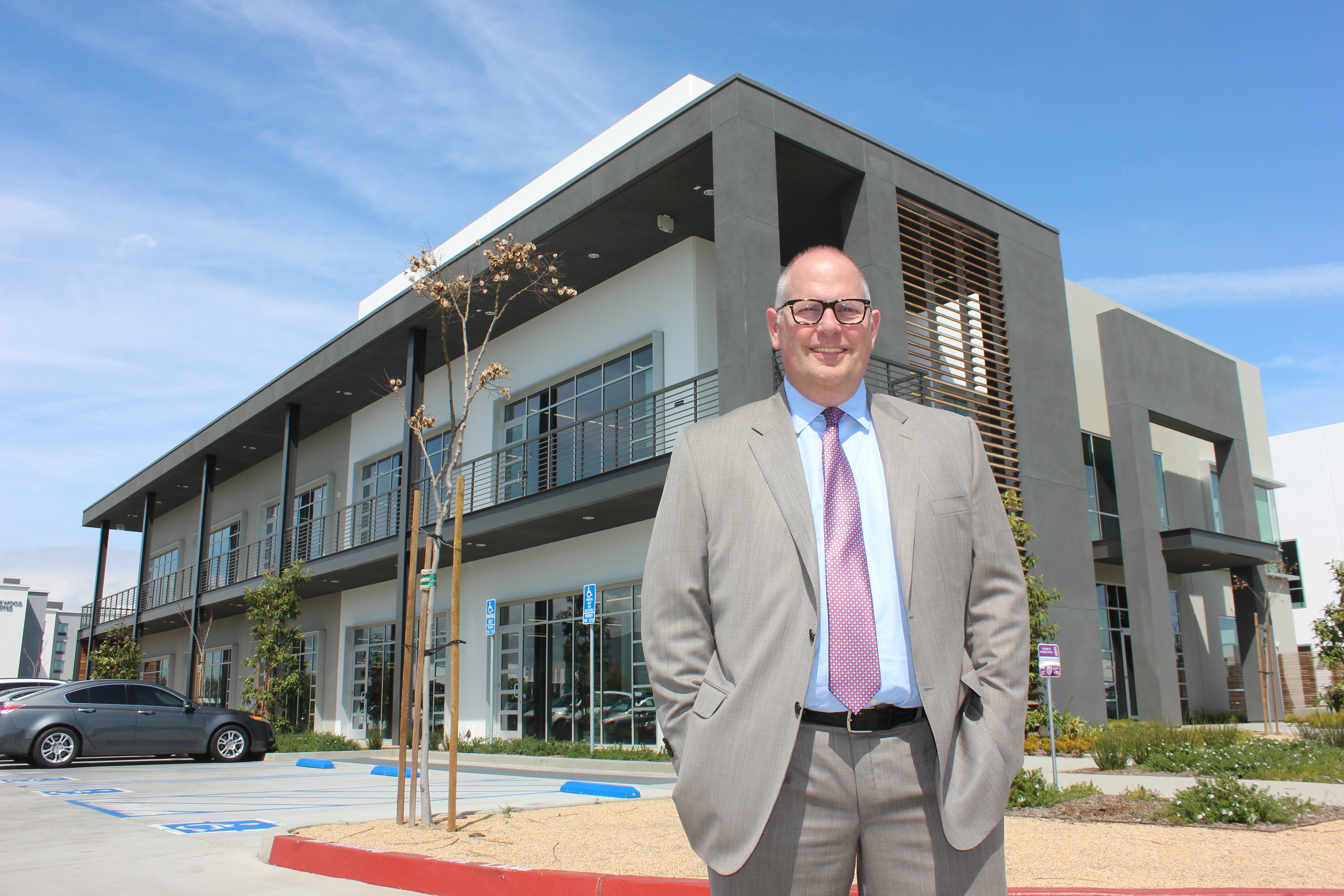 "I want to make sure it doesn't sound like we're moving out of Long Beach, because our headquarters are here," Nichol said. "It's just the quality of life – we want to have people spend more time with their families than on the freeway," he said of the Orange County facility. Additional offices are also planned for Downtown Los Angeles and the Inland Empire in order to have resources in closer proximity to clients in those areas, he explained.
"This will always be our headquarters – that's one of the reasons why we bought a building, is because it just makes more sense for us. We've been here 75 years; this is our home," Nichol emphasized.
The new Long Beach headquarters is a two-story, 25,000-square-foot building with an interior designed by local firm Retail Design Collaborative. It is one of four buildings within The Terminal development, with the remaining three housing a mixture of tenants. Nichol explained that the building offers a number of benefits for employees, including work stations that are adjacent to windows for natural lighting, an open floorplan to allow for more collaboration, and amenities such as a kitchen and courtyard.
"Long Beach seems like it's getting more and more business friendly. It's also in a great location," Nichol, who lives in Long Beach, said of why the city is still a good fit for the company. "We're halfway between Orange County and Los Angeles . . . . We've got the best port facilities in the nation here. There are other things that aren't related to business, but Long Beach is just a fun place too, and I think people like that."
Nichol is the third generation within his family to lead the company, which was founded by his grandfather, Frank Nichol, and his partner John Moffatt. The firm's reputation for specializing in maritime projects stretches back to the very beginning, when the founders took on contracts to design naval facilities in Long Beach and Port Hueneme. "We do Navy facilities all over the world. That's one of our biggest clients, and that's actually how we got our start, with the Long Beach Naval Shipyard here," Nichol said.
Moffatt & Nichol has had a hand in the engineering of many Long Beach icons – from the moorings of the Queen Mary to the original Gerald Desmond Bridge (soon to be replaced with an even larger structure) and even work to improve water flow in the Colorado Lagoon. Recently, the largest local infrastructure project Moffatt & Nichol has been involved in is the redesign of the Port of Long Beach's Middle Harbor, which involves combining two aging terminals into one, state-of-the-art, mostly automated facility. "That's a very big project for the city and the port, and we're very proud of our involvement in that whole process," Nichol said, noting that the company is the lead designer.
The firm's international offices in the United Kingdom, Brazil, Canada, Chile, Colombia and Panama are strategically located due to its maritime work in those regions, according to Nichol. For example, "We started out there in Latin America with a lot of our shipping clients, port clients that are going through the [Panama] Canal," Nichol said. When it comes to maritime work, Moffatt & Nichol specializes in ports, harbors, cruise terminals and more, he noted.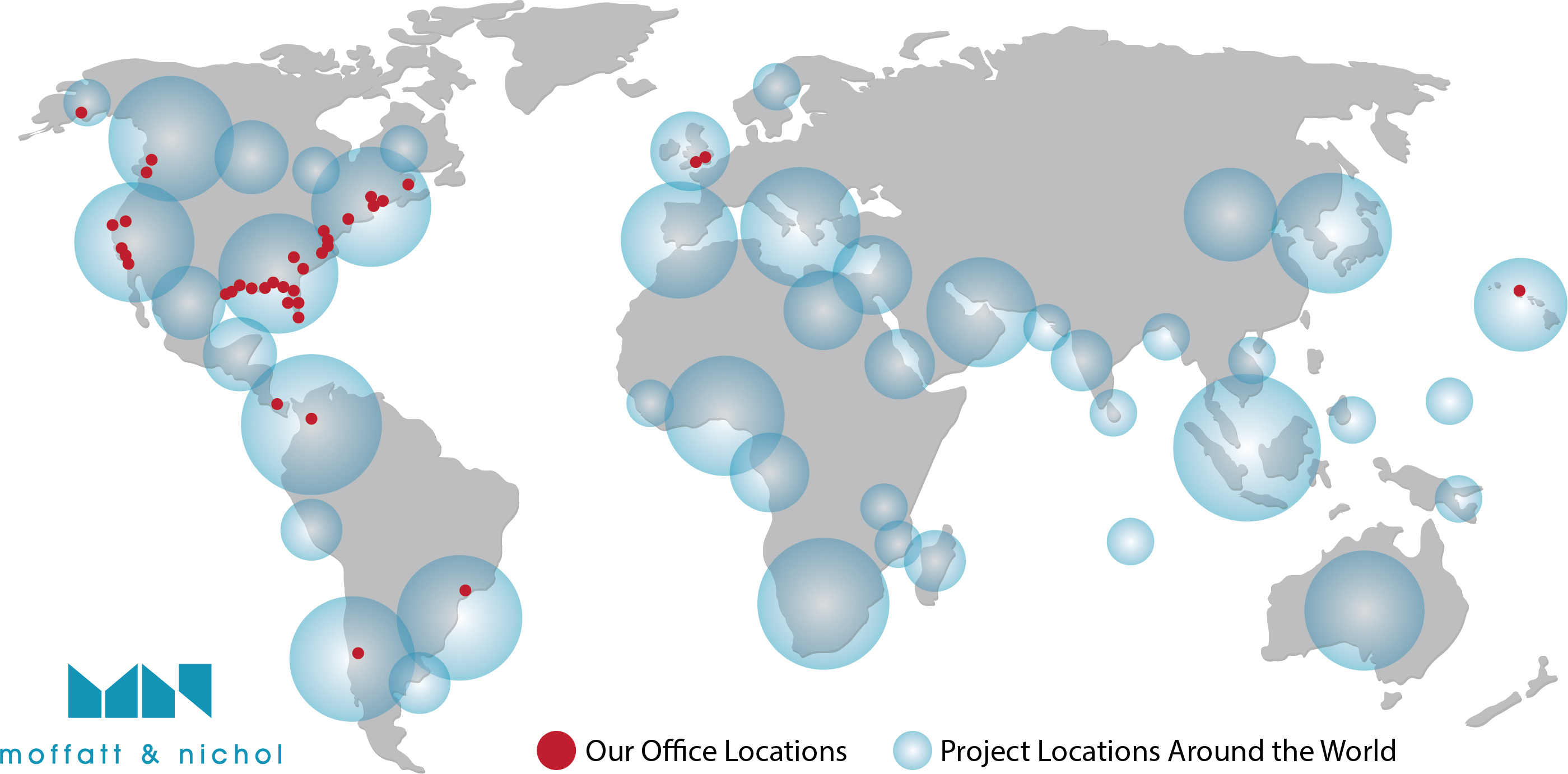 Moffatt & Nichol's other key areas of concertation are transportation, coastal engineering and environmental remediation. When it comes to transportation, the company is often sought for its work engineering bridges, roadways and rail. Currently, Moffatt & Nichol is the lead designer on the 405 Freeway widening project in Orange County. "We're doing 17 bridges as a team between the 605 [Freeway] and [State Route] 73," Nichol said. "We're adding four lanes total to the roadway, and that is going to help people's commutes," he added.
"Transportation is a very large growth sector for us, and [so is] some of the environmental work we're doing. We see a lot of growth potential in that," Nichol said. He noted that the company is gaining more work along the Gulf Coast to assist with environmental cleanups related to oil spills. Climate change is also driving some business for Moffatt & Nichol. "We've got a lot of stuff we're working on now along the California coast for different municipalities on sea level rise and water elevation change," he noted.
One of the challenges Moffatt & Nichol faces is finding new talent, according to its chief executive. "We're trying to hire 50 people as a company, globally," Nichol said, noting that the job market is tight right now. Just finding and retaining talent, it's a very difficult time. There need to be more people going into engineering school because there are not as many as what the country needs." He added, "We want to hire someone out of college, and so do five other firms. It's a really competitive market right now."
Nichol said he supports an increasing emphasis on STEM (science, technology, engineering and mathematics) in high schools and middle schools to help people understand those fields at a younger age. "It's not all people with pocket protectors and tape on their glasses. It's actually a wonderful profession," he said.
Moffatt & Nichol has always grown organically, and Nichol intends to keep it that way. "We're going to continue doing what we're doing. Keep innovating, keep challenging yourselves and never rest on your successes," Nichol said of his future focus. "We're going to continue doing what we've always been doing for the last 75 years, which is trying to keep getting better and being more creative for our clients. . . . But we believe it's not about getting bigger for growth's sake. If you find great people, hire them. The business is all about people."