The Museum of Latin American Art (MOLAA) has grown immensely since its beginnings 20 years ago, when founder and philanthropist Dr. Robert Gumbiner decided to share his personal collection of Latino art by opening a new museum in Long Beach. Not only has the museum itself grown – a $10 million expansion was completed in 2007 – but so have its collection, its cultural focus and its myriad of educational programs.
The museum entered its 20th anniversary year freshly recognized for its professionalism, having earned accreditation from the American Alliance of Museums in November. Stuart Ashman, the museum's president and CEO, counts this among the museum's greatest achievements since he took on his leadership position in 2011.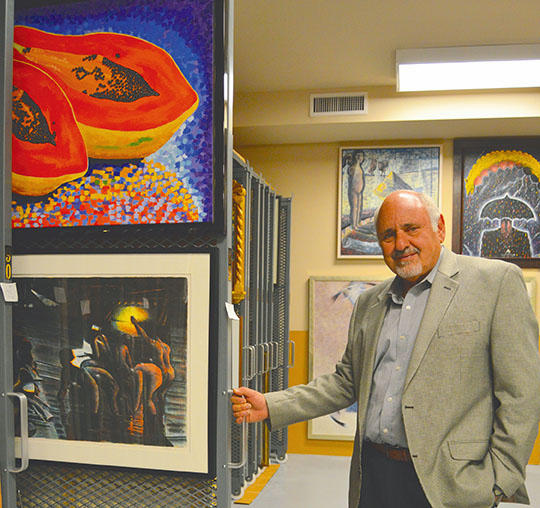 Stuart Ashman, president of the Museum of Latin American Art, provides a glimpse into the museum's permanent collection. The museum is celebrating its 20th anniversary with a special exhibition highlighting pieces from its collection, which will be rotated later in the year. (Photograph by the Business Journal's Larry Duncan)
"Accreditation from the American Alliance of Museums (AAM) is a voluntary program, and it indicates that you are committed to best practices," Ashman said. "Right now, there are over 22,000 museums in the United States and about 850 are accredited."
To receive the recognition, the museum had to submit its core documents, such as its bylaws, code of ethics and strategic plan, Ashman explained. A written submission responding to questions about the museum's processes was also required. Once that was reviewed, the AAM sent out a visiting committee of museum directors to assess their own experience at the museum against the documents MOLAA submitted. A commission, also made up of museum directors, eventually made the final decision.
The museum recently announced another big change – one that generated buzz in the arts world and Southern California community, as well as in the media. Last year, the museum expanded its focus to include the works of Chicanos, American-born Latinos.
"When I first came to the museum, I was surprised that there was sort of a restriction on Latin American art and artists having to live or work in Latin America," Ashman recalled. "Basically, it separated the museum from the immediate community, who recognized that they were Latin American in some way, but were not able to be represented," he explained. "So my idea was to open that door to make that happen, because museums have to be relevant to their communities. Otherwise, they don't survive."
Ashman continued, "The community had already been crying out for this kind of action. So I think the implications are big." MOLAA's first exhibit centered on Chicano art, "Somewhere Over El Arco Iris: Chicano Landscapes, 1971-2015," that debuted last Octobe. Since then, the museum has added about a dozen Chicano works to its collection.
"We have plans in 2017 to do a retrospective of Frank Romero, who is one of this group called 'Los Four,' which are credited with being the seed planters of the Chicano art movement in the '60s," Ashman said.
In addition to furthering the museum's mission to showcase Latin American art, the move to include Chicano art also opens up potential fundraising opportunities. "It allows us to include Chicano businesses in our fundraising efforts," Ashman said.
Beyond these achievements, the museum has built up its professional core and expanded upon its initiatives over the past few years.
A 2014 grant from the James Irvine Foundation allowed MOLAA to develop and strengthen the cohesion of its board of directors, according to Ashman. "The biggest challenge has been to develop the board from what we would call a founder's museum board to a more acceptable institutional model," he said, explaining that, because one man founded the institution, its support system and board were made up of his personal associates. With the foundation grant, MOLAA hired consultants to work with and develop the board. "There is now 100 percent agreement from everybody on the board, family [of Dr. Gumbiner] or otherwise, [about] the direction we want to take the museum."
Educational initiatives have also been at the top of Ashman's priority list since he joined the museum. Since then, the museum has added The Port to Learning, a special gallery to educate visiting students about exhibits and events currently taking place at the museum. And with community donations matched by Hyundai, two years ago MOLAA purchased a school bus, which it sends to underfunded schools to pick up students for free field trips to the museum. These moves were made in part to supplement schools' arts programming, which has been subject to budget cuts since the Great Recession.
As MOLAA strives to expand programming for the community, fundraising remains a challenge, as it does for many museums and nonprofits. Individual donations are particularly challenging to pursue, Ashman said. "We're a niche museum, so we can't catch everybody, because some people might not be interested in Latin American art," he explained. Decreasing grant resources among government agencies at all levels also presents funding difficulties, he added.
That's not to say the museum isn't on sound footing, however.
"We're fortunate that, because we're Latino [-focused], we have corporate and foundation support that we may not otherwise have from their corporate affinity groups and things like that," Ashman said.
"We have a great staff, and we've been able to in the last couple of years bring the museum to a place where it has the beginnings of what looks like financial stability and sustainability through efficient use of resources and fundraising, and some budget cutbacks," he noted.
Moving forward, Ashman hopes to expand the museum's ties to the business community, and increase its visibility and its role in attracting visitors to Long Beach. He also hopes to expand the museum's already significant cultural contributions as the only museum in America solely dedicated to showcasing modern Latin American art by starting a press and publishing books about museum exhibitions. He reflected, "Those are our dreams."
To commemorate its 20th anniversary, the museum is displaying a year-round exhibition drawn from its permanent collection. The first rotation, featuring about 160 works of art, runs through July, at which point the exhibit will be rotated and refreshed with new items from the permanent collection. On May 14, MOLAA is hosting a gala and auction in celebration of the anniversary.
For ticket prices and more information about MOLAA, visit www.molaa.org.