When it comes to business assistance, the City of Long Beach is working with several partners to create innovative solutions, some of which are the first of their kind, according to John Keisler, director of Long Beach Economic Development Department. One such solution arose from the city's partnership with Start It Up for the development of a business assistance phone application, which was launched on December 4.
"This is a cutting-edge thing that the city is doing for entrepreneurs that actually has never been done," Keisler said. "As you start answering questions about yourself and your business idea, the algorithms in the chatbot [an artificial conversational entity] connect you with a mentor who is similar to you or has the skill set that can address your needs."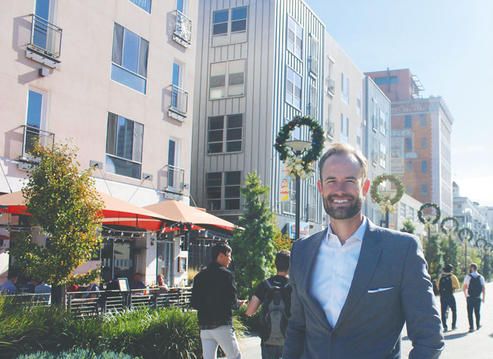 The City of Long Beach is launching several new business assistance resources beginning in early 2018, according to John Keisler, director of the Economic Development Department. (Photograph by the Business Journal's Brandon Richardson)
Start It Up's proposal came to the city through the Citymart open procurement process after the city decided to seek ways to assist businesses in beating the national average survival rate for small businesses and startups. To do this, the city wants to educate budding entrepreneurs before they make any significant investment, sign any leases, apply for licenses or lose any money.
With connections at Stanford and Tufts universities, Start It Up was already seeking a trial city for its program to assess entrepreneurs' startup businesses strengths and weaknesses to better prepare them for the startup process. This assessment informs entrepreneurs of resources such as mentors and classes, to help them be successful in the long term.
The three-month pilot program begins in 2018 with the first cohort of entrepreneurs being small business owners who are members of the Uptown Business Improvement District, coordinated by its manager, Tasha Hunter. According to Keisler, one of the more unusual aspects of the new program is the fact that a city department invested money up front in order to develop this business tool alongside Start It Up. The economic development department and the Innovation Fund invested $25,000 combined into the project.
"It's the government as an investor. It's the government trying to stimulate the creation of new technology and new businesses," Keisler said. "The whole point of it is to provide an innovative and efficient way to assess the readiness of entrepreneurs and connect them to online mentors all over the world so they can be successful. This will be a really cool learning experience for us. This will be a national story once we go through this piloting and go from beta to next generation application."
January will also see the launch of the city's new micro-lending program through the international nonprofit Kiva, which is based in San Francisco. Keisler explained that the city's current small business lending program is not a one-size-fits-all system, with a minimum loan of $25,000 and some credit requirements. He said some entrepreneurs have bad credit or no credit at all, or they simply do not need that much money.
Through Kiva, everyday residents can loan as little as $25 to small businesses of their choice as part of a crowdfunded loan program. Since 2005, Kiva has crowdfunded over $1 billion in loans for 2.7 million borrowers in 82 countries. According the company's website, 100% of money lent goes to fund the no-interest, no-fee loans, which have nearly a 97% repayment rate.
"The woman I am lending to in San Jose is trying to buy her first large sewing machine. So she only needs a couple thousand dollars to get her business started," Keisler said. "I lent her $25 that will get repaid over 18 months. I got my first $1.40 per month repayment last month. You actually become an investor in local small business. To us that's the spirit of Long Beach and that's really exciting."
On December 5, the Long Beach City Council voted to approve a 10-year lease agreement between Long Beach City College (LBCC), the city and co-working space design and operating firm BlankSpaces at 309 Pine Ave. The space is currently utilized by LBCC for workshops and one-on-one business advising as part of its Small Business Development Center (SBDC). In January, the building will be renovated and transformed into a business incubator and accelerator hub called the Shaun Lumachi Center For Innovation and Entrepreneurship, Keisler said.
The revamped facility will house SBDC, LBCC's Goldman Sachs 10,000 Small Businesses program, e-commerce program and international business accelerator program, as well as all government-sponsored entrepreneur support programs. The center will be open seven days a week to allow entrepreneurs better access to programs and tools to help them succeed.
BlankSpaces is designing the project to include open and efficient co-working space featuring hot desks (desks shared by multiple users), private offices and meeting rooms. These spaces will be available to rent at affordable prices for new business owners and students making their first move into the downtown area. The city is paying for the renovation of the city-owned property, and BlankSpaces will pay monthly rent to the city, making it a cost-neutral project.
LBCC's newest business assistance program, B2B E-commerce for Advanced Manufacturing (BEAM), which will find a home at 309 Pine Ave., was kicked off with a Getting to Global event in October.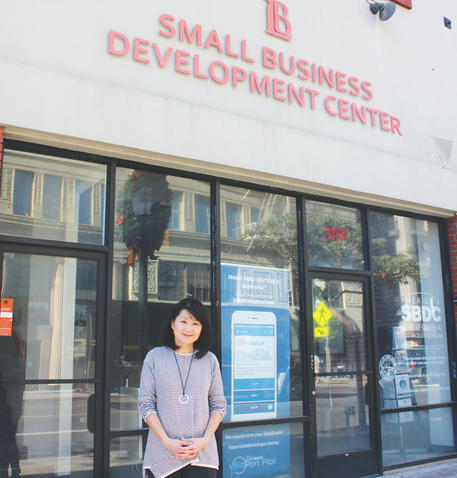 Sheneui Weber, chief operating officer for Long Beach City College's (LBCC) College Advancement and Economic Development, stands in front of the Small Business Development Center at 309 Pine Ave. Earlier this month, the Long Beach City Council approved a lease agreement between the city, LBCC and co-working space operator BlankSpaces to transform the building into the Shaun Lumachi Center For Innovation and Entrepreneurship. (Photograph by the Business Journal's Brandon Richardson)
"The e-commerce phenomenon . . . is a shift in the market and it will be interesting to see how that develops. But what we see is that it makes a lot of economic sense, because if you think about it, 95% of the market is outside of the United States," Sheneui Weber, chief operating officer for LBCC's College Advancement and Economic Development, said. "So there is a lot of opportunity for businesses, especially small businesses, if they learn how to grow their sales via e-commerce."
To assist new or expanding businesses in growing e-commerce, the BEAM program provides a number of online resources and workshops that focus on marketing and other topics such as logistics fulfillment. Sheneui explained her experience shows that the increase in sales generated by e-commerce often translates to job creation for small businesses.
"In order to attract businesses, you have to have something for them," Weber said of the 309 Pine Ave. project. "You have to have services, you have to have a support network and sometimes having a physical location helps tremendously with that."
Weber explained that LBCC and the SBDC will continue to offering services such as financial, marketing, social media assistance and other resources for small businesses at the renovated downtown location. She said she hopes to continue introducing new innovative services to assist entrepreneurs.
"We have a very big network of business advisors that can help small business owners with any issue they have, any challenges, even if they just need a little advice," Weber said. "We also have orientation workshops for budding entrepreneurs. We want to make sure they fully understand what they are getting into, how to vet their business idea, make sure this is something they really want to do, and give them a good solid foundation to start off with."