With passenger volumes through Long Beach Airport continuing to recover after being decimated by the pandemic and airlines utilizing more daily flight slots, officials say the small, municipal airfield is well-positioned for a solid 2022.
"Over the last several months, activity has gradually increased and remained strong over the summer," Claudia Lewis, bureau manager for finance and administration, said, adding that Long Beach Airport is currently operating at about 25% below pre-pandemic levels.
August passenger data has not been finalized but using daily Transportation Security Administration estimates, Lewis said about 105,000 passengers flew out of the airport. This is a slight decrease from about 115,000 in July, which was the airport's best month since the onset of the pandemic, she said.
The August dip can be attributed to a softening in air travel demand as the peak summer season passes and the rise of the delta variant of the coronavirus, Lewis said. And Long Beach was not alone: National air travel declined from over 63.17 million passengers in July to fewer than 57.5 million in August, according to TSA data.
Two-thirds of the airport's revenue comes from passenger activity such as fees assessed on each commercial airline ticket sale, parking and more, according to Lewis. When the pandemic struck, that revenue stream all but dried up for several months and the ongoing return to "normal" has been slow.
Early in the pandemic, passenger traffic plummeted. April 2020 saw 97% fewer passengers than the same month the year before. In 2019, nearly 1.8 million traveled through Long Beach Airport—71% more than the roughly 520,000 in 2020.
Estimated at about 1.2 million passengers, projections for 2021 are more than double that of 2020. And 2022 is expected to be even better, with airport officials anticipating 1.35 million passengers to fly out of Long Beach.
Thanks to millions of dollars in relief grant funding throughout the pandemic, the airport is entering the 2022 fiscal year—which begins Oct. 1—with a "strong financial standing," Lewis said. Thus far, the airport has received $24.2 million from state and federal recovery efforts, Lewis said, with another $15.1 million expected from the American Rescue Plan Act for fiscal year 2022.
The funding—along with cost containment efforts such as furloughs, a hiring freeze, delaying non-critical capital projects and deferring non-essential discretionary spending—allowed the facility to close out fiscal years 2020 and 2021 with no deficit while continuing major capital improvement projects, Lewis said. Throughout the pandemic, three critical airfield projects were completed and work continues on portions of the Phase 2 terminal improvement project.
The overall airport budget for 2022 is just over $50 million for operations, debt services and capital improvements, according to the city's recently approved budget. Revenue, meanwhile, is expected to be just over $60.2 million for a nearly $10.16 million windfall for the airport fund.
The airport's proposed operating budget for 2022 is just over $32 million. The facility is expected to close out the 2021 fiscal year with $30-$32 million in its reserve fund, meaning it could operate for between 330 and 352 days without incoming revenue, a metric called "days cash on hand," according to Financial Services Officer Mony Chhey.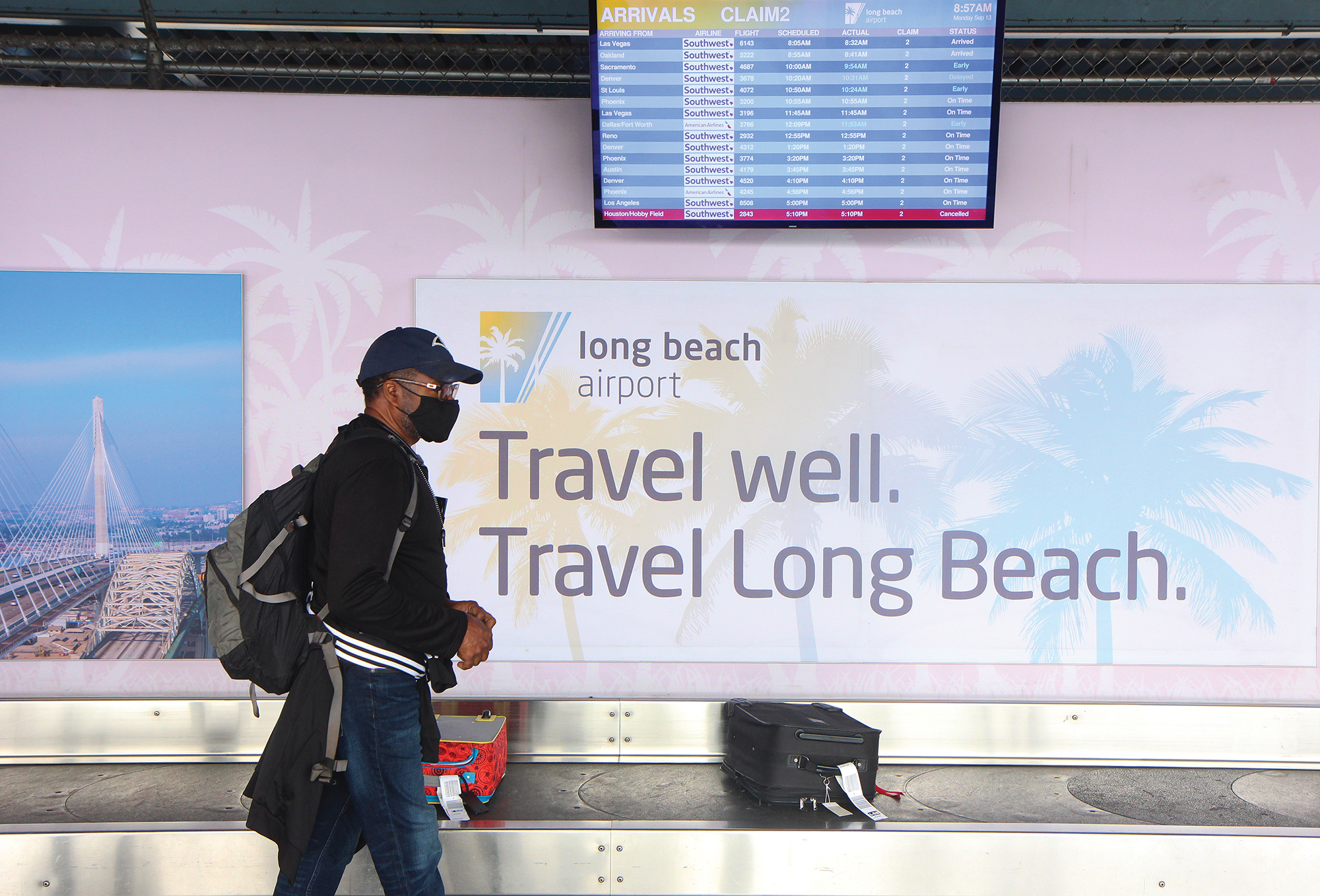 Flight Slots
Airlines that operate in Long Beach are allocated a certain number of daily flight slots, with a maximum number of flights out of the city limited to 53 based on the noise ordinance that regulates the facility. Long Beach carriers are required to fly each slot 85% annually or risk losing the slot.
The usage rule was suspended amid the pandemic, as carriers around the world grounded many planes for months. However, as of July, Long Beach carriers once again must follow usage guidelines, which has boosted daily flights, according to airport spokeswoman Kate Kuykendall.
While airlines are still ramping up services, generally speaking, Lewis said carriers are operating anywhere between 70% to 80% of their daily capacity. But as of Sept. 12, Southwest Airlines, the dominant carrier in Long Beach following JetBlue's departure last year, is flying its full 34 daily slots on Sundays, including new destinations such as Chicago Midway, St. Louis and Hawaii.
"This is the first that they've flown their full flight slot allocation ever, so it's exciting for the airport," Kuykendall said.
"Southwest has been a great business partner," Lewis added.
About 43 flights depart the airport every Sunday currently, Lewis said. And with an expected onslaught of holiday travelers, Lewis estimates the airport will see 44-46 daily flights every day in December.
Noise generated by airport operations is monitored and evaluated each year and the noise ordinance is sometimes updated with an increased number of flight slots if noise levels have decreased. While 2021 data will still be evaluated, it will not be used to make any decisions related to the ordinance, Lewis said. The reinstatement of the usage rule means 2022 data can once again be a valid metric for possible ordinance updates, she added.
As the airport continues to recover with increasing flights, the purse strings have loosened slightly. The hiring freeze has ended, with multiple positions being filled in recent months and more on the way, particularly in the operations division, Lewis said. The hiring is necessary as activity picks up, she added.
"I'm so proud of how … our airport has weathered this incredibly challenging time," Director Cynthia Guidry said. "Long Beach Airport has demonstrated our financial resiliency and will continue to adapt to whatever comes our way."
Editor's note: This story has been updated to clarify passenger-related revenue streams and the frequency of Southwest flights.