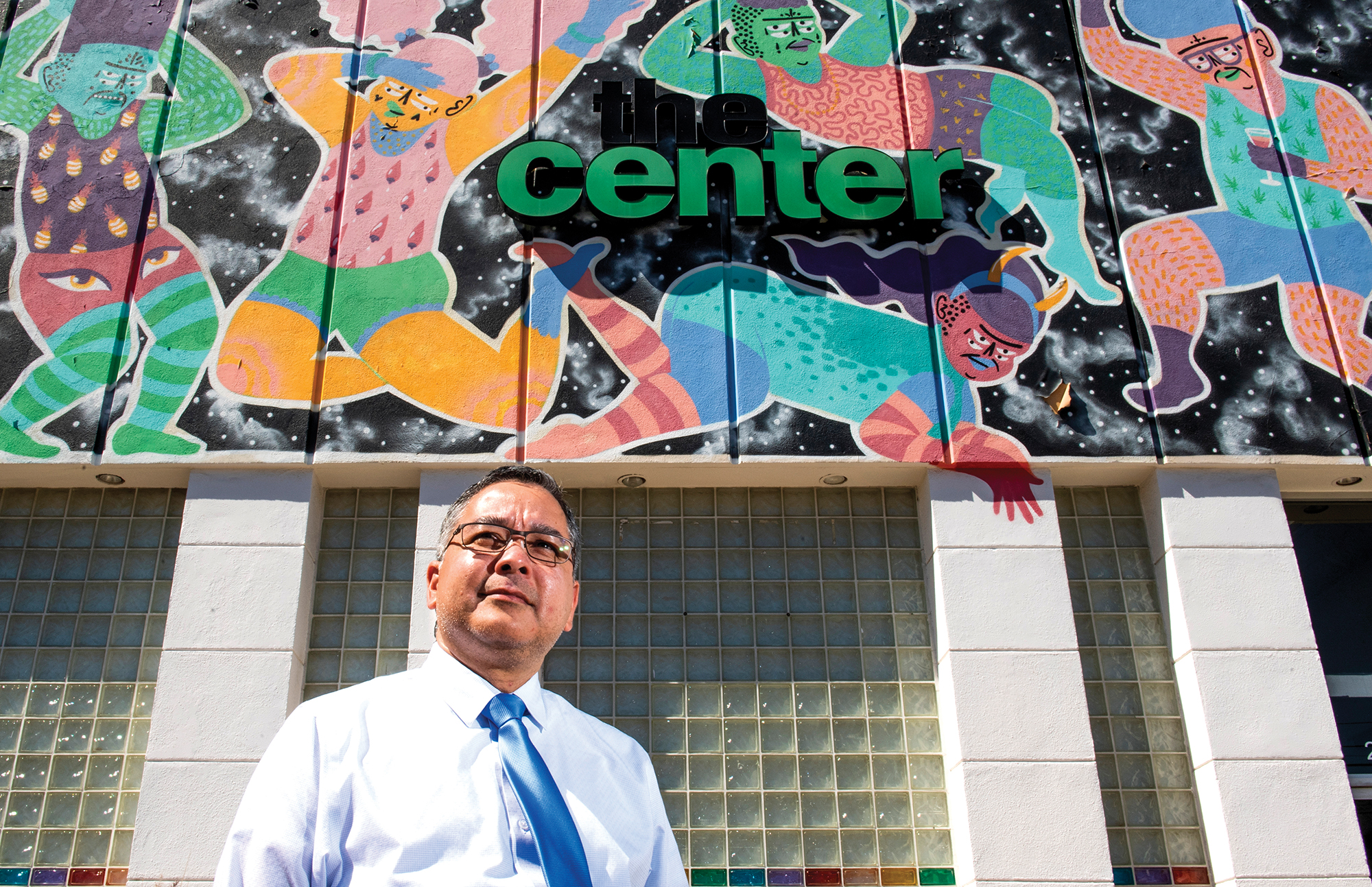 When Carlos Torres' husband finished graduate school five years ago and went on the hunt for a research position at different universities across the country, Torres said he had only one request.
"I will move anywhere you find a job; as long as that place is San Diego," Torres said, laughing. Instead, the couple moved to Pittsburgh, where they lived for five years before Torres was hired as the new executive director of the LGBTQ Center Long Beach this spring.
The couple didn't make it quite as far south as Torres had hoped, but he said he's happy to be in a city that made an impact on him decades ago, when he used to travel from the Fort Irwin Army Base in Barstow to Long Beach to feel free from the restrictions of Army life—including on the expression of his sexual orientation.
In the late 1990s, Torres remembers, the Long Beach Pride festival and parade was his first "big city pride," as he called it. "It was mind blowing," he said. "Being surrounded by people from your community…I know that sounds cliche, but I was like: I can be myself."
Returning to the city over two decades later, Torres was recently hired to helm the Center, replacing former director Porter Gilberg, who staff members had accused of racist and sexist behavior last year, and who was ousted as a result.
Torres said that improving access to the Center's services in underserved communities, especially communities of color, is one of his primary goals as director.
"We have to go to those communities and we have to make sure that the community is represented in our staff," Torres said. "I want people to join our organization or to reach out to us for services or connections because we are the right place."
That includes working with community partners active in areas like housing, combating food insecurity and faith-based organizations, and taking a proactive approach to building those partnerships.
"I can build a table and ask people to join me at the table. But if they're not willing, then I ask them: Can I join your table?" he said in his own riff on the famous Field of Dreams "build it and they will come" quote.
Born in Ponce, Puerto Rico, and raised as the oldest of seven children by a single mother, 48-year-old Torres said he feels especially qualified to help create an environment that is inclusive to all, regardless of race, gender, faith or language skills, and said he's excited to start working on making the Center more inclusive and transparent.
"I really feel that I'm in the right place," he said.
Torres was heading the Persad Center in Pennsylvania, an organization focused on the wellbeing of the LGBTQ and HIV/AIDS-positive communities, when he saw an ad for the position at the Center in a newsletter. He remembers telling his husband: "I think I want to apply." Two months later, he was hired.
Since starting his job on March 22, Torres has overseen the slow thawing of the Center's programming, much of which had been on hiatus as a result of restrictions on in-person meetings and services during the pandemic.
"We have been dormant and now it's like spring season, and we're coming out too," Torres said. For the past two weeks, the Center has been offering in-service counseling again, as well as outdoor painting classes and walks for elders in the community.
"It's helping with the social isolation for the seniors, who are—just like many of us—just fed up with video conferencing," he said. Many young people, in turn, have struggled to access services from afar, especially those living with their family who have not yet expressed their sexual orientation or gender identity to family members.
To unite those two groups, the Center is planning to hold its first in-person community event in June, which is internationally recognized as Pride month, a time for the LGBTQ community to come together and celebrate.
"It's just an opportunity to bring joy after such a devastating pandemic," Torres said of the event, which he said will focus on promoting connections between youth and elders in the community and celebrating "families of choice."
"As LGBTQ people, we have families of birth, but we also have families of choice," he said. "A lot of those individuals that we consider family are not related to us by blood, but are related to us by their deeds."
A date or location for the event is yet to be announced.
Torres is also planning to expand the Center's service offerings. Most notably, the Center is currently working on setting up a PrEP clinic.
PrEP, which stands pre-exposure prophylaxis, is a treatment aimed at people at a higher risk of contracting HIV—such as gay men with HIV-positive partners—consisting of a daily medication and supervision of patients' health metrics.
"HIV is a life-long medical condition and it requires rigorous medical attention," Torres said. "So preventing someone from acquiring it is a big deal." The Center is planning to start operating a PrEP program in July.
To fund its programming, the Center relies primarily on donations and event sponsorships, which have fallen short over the past year as events large and small were prohibited to prevent the spread of coronavirus.
The Center, however, didn't suffer as much as others, Torres said, thanks to a combination of generous sponsors and assistance from the federal Paycheck Protection Program. "There's a gap, but it's not as big as it could have been," he said, estimating a 10% shortfall in the organization's annual budget of approximately $2 million.
"We're very fortunate that members of our community really stepped up to help us financially," he added. When the Center had to cancel last year's annual Black and White Ball, scheduled for April 4, at the last minute, Torres said most sponsors decided not to pull their sponsorship dollars.
This year, the fundraising gala will take place on New Year's Eve, something Torres considers turning into a tradition if the inaugural event goes well. Anticipating further reopenings in the fall, the Center is also planning to once again host its queer film festival, offering access virtually, in person and through a drive-in show.
The Center can use all the funding it can get, given that it's currently in the market for a new space. The staff has outgrown its offices on Fourth Street's Retro Row, something that was less apparent while everyone worked from home during the pandemic, but would likely become a problem soon.
"If I were to bring in every member of our team today, we'd be hanging from the rafters," Torres said, laughing. The Center is currently looking for a location in North Long Beach, close to public transportation.
Torres said he plans to lead the Center pushing for "more outreach, more presence, more inclusion."
In the end, he hopes that it will be the Center's clients who will prove that his approach is working. "People's experiences," he said, "will speak for what the Center is doing."