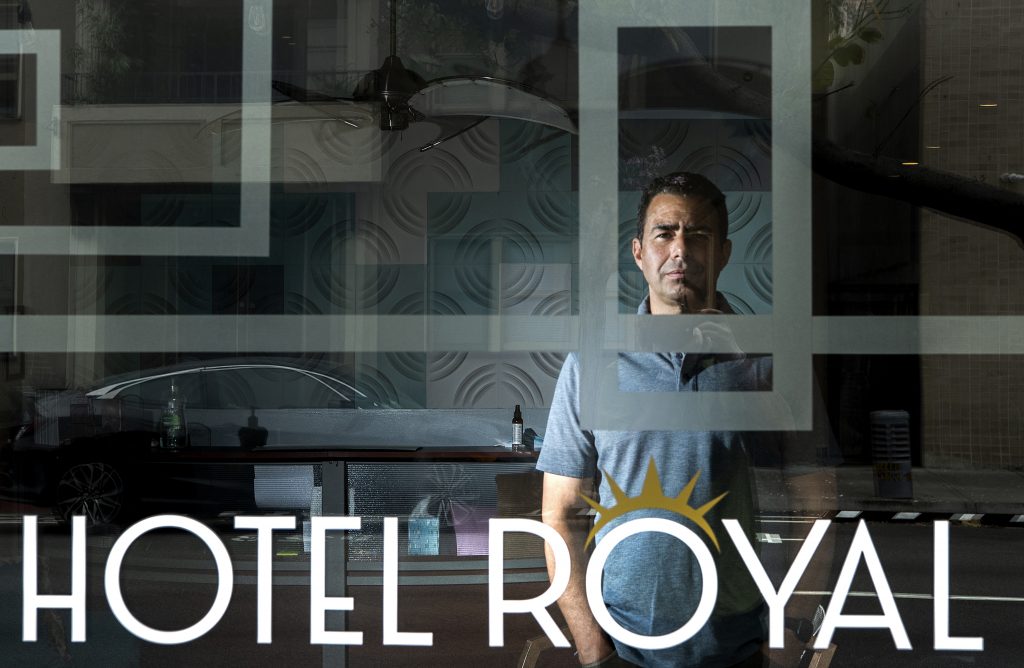 In its nearly 100 years in business, the Hotel Royal has weathered many storms. The 1933 earthquake, the Great Recession and now, a global pandemic. 
Located in the heart of the East Village Arts District, the 30-room hotel with its pastel-colored art deco facade has become popular with European visitors looking to explore the city.
But as international and domestic travel has come to a grinding halt during the coronavirus pandemic, the Royal and other independently owned hotels are facing their biggest challenge in recent history: a complete shutdown. 
Since the economic collapse of 2008, independent guest houses like the Hotel Royal and The Varden on Pacific Avenue have become symbols of the transformation of Downtown Long Beach. 
Once single room occupancy residences, providing housing for low-income workers and those living on the margins of society, Downtown's historic hotels now offer boutique accommodations for tourists and business travelers alike. 
"We've been through worse. This used to be a crack house, there's no way this [virus] is going to get us," Victor Beauchamp, owner of the Hotel Royal, recalls telling his staff when the extent of the global pandemic became apparent.
On March 17, the Royal had to close its doors. Since then, the hotel has lost thousands of dollars in bookings every day. "I assume by the end of the week it will be half a million," Beauchamp said. All ten staff members have been temporarily laid off.
The hotelier said he's exhausted his options for emergency funding, including an application for funds under the federal Paycheck Protection Program, to no avail. 
According to Business.org, only 5.7% of U.S. businesses have received funding through the program. Only 2.8% of California businesses have received funding through the program, the lowest rate in the nation.
Saying goodbye to his staff was painful. "They're like my family and I had to let them go," he said.
But despite the ongoing losses, Beauchamp said he will do whatever it takes to keep the Royal in business. "We put so much blood, sweat and tears into making this place nice," he said. "So, pandemic or whatever, it has to go on."
It's their grit, their passion, that keeps small business owners like Beauchamp going during this difficult time. 
"Small business owners are their own breed: we tend to be a little scrappier," said Kim Ryskamp, who co-owns Dockside Boat & Bed inside Downtown's Rainbow Harbor with her husband, Kent. 
The couple has seen the boat-and-breakfast—guests stay on private yards docked in the harbor—through tough times since it opened in 1999. 
"Right after 9/11 no one wanted to leave their house," Ryskamp remembered. "Eventually, just like now, our phone started ringing again."
Unlike the Hotel Royal, Dockside Boat & Bed doesn't rely primarily on international travelers. Most of Dockside's guests come from the surrounding area, Los Angeles and Orange County.
This puts them in an advantageous position. While international travel restrictions may be in place for the foreseeable future and the convention schedule remains uncertain, local travel is more likely to commence again once lockdown orders are gradually lifted. 
Until then, the Ryskamps are determined to keep their business afloat. "It's so much more than a paycheck for us, it's our identity," Kim Ryskamp said. "We're not going to lose that to a virus."
Once visitors start to trickle in again, hotels will have to respond to new concerns around shared spaces, cleaning protocols and contactless services. 
"We have high density, like you would have in [hotels in] Europe, I wonder if people are going to be concerned about that," said Beauchamp. 
Contactless payments, door locks that can be activated from guests' mobile phones—the fear of commonly touched surfaces brought about by the virus will change the way hotels and other hospitality businesses operate.
"I think life is going to be very, very different until we have a vaccine," said Larry Black, owner of the historic Varden hotel. "It's like we're living in a sci-fi movie." Like the Beauchamp, Black has had to lay off the ten staff members who normally tend to the 35-room hotel and its guests.
Months without revenue and future investments in new technology will present a financial challenge for small hotels. "I hope this doesn't mean the end of small businesses like ours," said Beauchamp. "We don't have the funding the big businesses have." 
Meanwhile, their small size may come as an advantage over large, corporately owned hotels once travel restrictions are lifted. With three instead of ten floors to prepare and no corporate ladder to slow down decisions, independently owned hotels can be flexible and quick in their reopening.
"We basically can open on a dime," Black said.
It may take some time for hotels to get back on their feet. "We're not going to be at full occupancy for a very long time," Ryskamp acknowledged. But, she said, "we will go as long as it takes. This is not just our business, it's our passion."