Iris Himert is not one to wait around for opportunity to fall into her lap. Since the German native came to America as an 18-year-old, she has sought out, fought for and earned promotion after promotion. She believes her passion, persistence, integrity and determination are what got her to where she is today – and, by nature of her work, have also played a hand in boosting Long Beach's success as a tourism and convention destination. After three decades at the Long Beach Convention & Visitors Bureau, Himert is retiring from her position as executive vice president of sales.
Himert began her career in the hospitality industry when she arrived in America in the 1960s. She jumped at the chance to type menus for a hotel. "I started a job as a menu typist at The Drake in Downtown Chicago. I had no idea how to type," she recalled. "I learned how to type in 48 hours."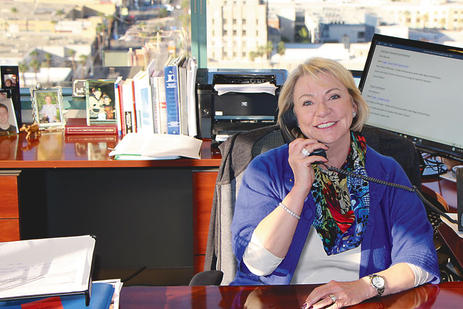 Iris Himert is retiring from the Long Beach Convention & Visitors Bureau after 30 years on the job. She started her career in Chicago at the age of 18 typing menus for a hotel. Now, she is retiring as executive vice president of sales. She attributes her success in part to her drive to provide for her family, as well as her passion for Long Beach. (Photograph provided by the Long Beach Convention & Visitors Bureau)
She worked her way up to the position of receptionist and then became the youngest-ever reservation manager at The Drake Hotel in Oak Brook, Illinois, just a few years later. Shortly thereafter, she got married, had two children, and moved with her husband to Warsaw, Poland, where he pursued a career opportunity and she continued to work in hotels.
When her children were around the ages of four and five, Himert became a single mother and moved to California, where she took on a job at the front desk of a hotel in Irvine. "To tell you the truth, when I first became single and I started back in the hotel business, I was a front desk clerk and I knew I couldn't make a living at the front desk," she said. The vice president of the hotel gave her an opportunity to apply for a sales position, but when she applied he decided to pass her over.
"He was going to bypass me. I said, 'Look, unless you give me an opportunity, I can't prove to you I can do this,'" Himert recalled. Her persistence paid off – she got the position. "I was scared to death to go into sales, knowing that sales has a lot of stressors," she said. But, regardless of her nerves, Himert jumped into the job, with supporting her family as a strong motivator.
"There were three of us [in sales], and I worked harder than anybody else around me," Himert said. She spent her days driving a car full of boxes and jars of candies for potential clients, making cold calls and chasing leads. "It was noticed that I brought in the most leads, and then I got into group sales. And that's really where my career began," she said.
"I believe that being a single mom made me work a lot harder and made my drive a lot stronger to provide for them and give them a good life, a good education," she reflected. "So I think I have always worked a lot harder than anybody else around me, and it was noticed. And thus, I kept getting promotions and ended up where I am at now."
In 1983, Himert took a job at the Long Beach Convention & Visitors Bureau (CVB), but she left after three years to take the position of assistant director of sales at the Disneyland Hotel. "I realized pretty quickly I wanted to be back at the beach," she recalled. "At the time, I used to call my old boss probably once a month [asking about] any openings."
It was the passion for the job that drew her back to Long Beach. "Passion for a job equals and spells success," Himert said.
In 1989, Himert returned to the Long Beach CVB as national sales director, and she has been bringing conventions and meetings to Long Beach ever since. "I quickly then was promoted to associate vice president of sales . . . and then senior associate vice president, and vice president of sales, and senior vice president of sales and then executive vice president [of sales]," she said.
"I will tell you, in the early 1980s, Long Beach was a tough sell. There wasn't a whole lot that was happening downtown," Himert said, "The Hyatt [Regency] was here and not much else. We had a convention center with 88,000 square feet, and we really only solicited state and local business at the time."
After the U.S. Navy left Long Beach in the early 1990s, then-Mayor Beverly O'Neill and City Manager Jim Hankla spearheaded the expansion of the convention center.
"Mayor O'Neill always used to say there are three economic engines here in town, and they are the three T's: trade, tourism and technology. And she was absolutely right and spot on," Himert said.
"I think the toughest time was by far when we went through the recession in 2008 and 2009," Himert said of the convention industry. "Long Beach fared better than a lot of the other cities because we were diversified on what we booked." Other convention cities focus primarily on corporate business, but the CVB's efforts to bring in business from professional and government organizations helped the industry weather the recession, as it will if another occurs in the future, she explained.
Post-recession investments in the Long Beach Convention & Entertainment Center, as well as capital improvement investments by the City of Long Beach and new projects by real estate developers, have helped catapult the city into what Himert describes as the best time in the industry she has seen in her entire career here. "Long Beach has gone through such a renaissance. I know that's why I stayed here as long as I have, because I feel such a passion and love for the city," she reflected.
"Right now, business is booming," Himert said. "We're looking forward to a 2017 that is going to be amazing. We're pacing way ahead in bookings and room nights."
CVB President and CEO Steve Goodling, one of four CEOs Himert has worked for at the organization, is one of the forces behind this renaissance. "I have immense respect for Steve Goodling. He is a visionary," she said. "I have learned so much from him. And the city has blossomed because of his vision."
A primary motivator in Himert's work bringing big business to Long Beach is the impact it makes on the local economy. "One of the driving forces for me personally is . . . all the people that have employment because we're doing a good job," she said. "It's the maids. It's the doormen. It's the waiters in the restaurants who, without conventions, are not going to be able to bring home paychecks and feed their families."
Himert reflected, "Obviously after 30-plus years, it's not just a job, it's part of my heart."
There is no official last day at the CVB for Himert, who will assist during the transition period for the new vice president of sales, who started yesterday, December 5. She plans to spend some of her newfound free time as a volunteer for the Court Appointed Special Advocates for Children program. "All that passion I have had over the 30 years [at the CVB], I know I can transfer that to this particular mission, as my heart has always been very much open to children and their well-being," she said.
Asked about his thoughts on Himert's role at the CVB, Goodling told the Business Journal, "The city has been very fortunate to have someone of Iris's caliber here in our city for the 30 years that she has represented selling the City of Long Beach."
He continued, "Her time in selling the city has helped her to learn much, and in turn, she has imparted that learning to new staff and helped them in selling the city. She has been intimately involved in all of the major deals that have come in to our city: the TED conference, for example, and other programs. . . . She has made a difference. And we're fortunate to have someone that has been so dedicated in selling the city."