A life worth living is a life touched by music. Minds are opened, hearts are won, and community is built through song. The rich tapestry of musicians and music experiences in Long Beach is a large part of what makes our city great, and it will play a central role in our ability to grow and attract the kind of people we want as neighbors, friends, customers and employers. And, as counterintuitive as it may seem, our business and civic leaders will play more of a role in making Long Beach a music city than our rock stars.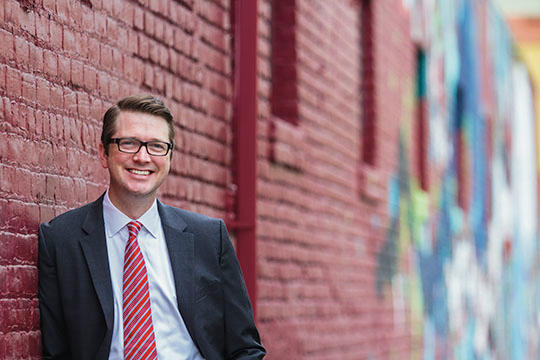 (Photograph of Justin Hectus by Bernadette McKeever)
Looking at downtown, and specifically what the Downtown Long Beach Associates (DLBA) has done to support live music, there is both anecdotal and empirical evidence to support the notion that an environment that encourages live music attracts and retains visitors, residents and businesses. Investments in large-scale live music productions and concert series that seemed like a risk driven by a gut feeling eight years ago have been refined into a proven formula that produces measurable results in terms of quality and tangible return on investment. Reviewing Summer and Music (SAM) exit surveys proves the math: concert goers spend between four and nine times production costs at local businesses, and between 50 percent and 75 percent of attendees of SAM shows are visitors to downtown. Anecdotally, we regularly hear from SAM fans who say that they fell in love with Long Beach and downtown during the course of attending free concerts here. I know creative professionals and at least one business of note that moved to downtown because SAM and other DLBA productions convinced them that this was a place worth putting down roots.
It is no coincidence that superstar music cities like Austin, New York and Nashville are also hubs for technology, innovation and entrepreneurship. Dynamic people want to live in dynamic cities with a vibrant music and arts scene, and thriving companies in creative industries are drawn to those centers because of the rich human capital.
Music plays a critical role in education as well. Long Beach Unified School District has a long and proud history of strong music programs. This year, those programs were augmented when The Harmony Project brought its nationally-recognized music programs for low-income youth to the city after being championed by former Long Beach Police Chief Jim McDonnell and current Chief Robert Luna as a school safety initiative. The chiefs cited studies that showed improved brain function and higher education opportunities for kids who committed to regular, long-term music instruction. Now Los Angeles County sheriff, McDonnell introduced The Harmony Project by saying, "this project is going to make the city safer."
Thoughtful collaboration between local creatives, musicians, educators and charities ties bonds in even more meaningful ways than ROI and education, connecting volunteers and artists and patrons in a time-honored formula that could be the basis of our renaissance.
Now is the time when we should set our sights on turning Long Beach into a year-round, cradle-to-grave, music city of national importance. There is a proven business case for doing so. SXSW has nearly twice as many attendees and six times the economic impact of our Grand Prix. We may be smaller than Austin, but the metropolitan area around us is 10 times the size of that around Austin. We have the right bone structure and roots to be a music city. All we need is the collective will to take it to the next level.
We need to build on the pro-music initiatives passed by city council in March 2010, and take steps to encourage more music festivals and more live performances in non-traditional venues. As businesses and individuals, we need to demand more music education in our public schools, even if we have to dig into our own pockets to fund those programs. We need to take steps individually and collectively to make sure we have affordable housing and employment opportunities for artists and musicians. Some of that is as simple as paying to see a show or buying a CD, or as significant as providing a venue for free or renting space to a musician at below market rates. Patrons come in all sizes and a lot of small acts strung together will create the fabric of the city we want. Finally, branding Long Beach as a music city is as important as delivering the musical goods both because it will focus our thinking on the end game and play a key role in attracting visitors and new residents.
In my personal experience, music and Long Beach are inextricably intertwined. The first real friends that I made here were musicians, my first attempts at being an entrepreneur and business owner involved music, and my first and best attempts at being a volunteer and philanthropist were steeped in music. Music changed me as an individual – in my mind and spirit – and I think it can change the city in the same way if we let it. I'll continue to do my part and hope that others will do the same.