Through the years, Downtown Long Beach has woven in and out of the Southern California music scene. Venues focusing on live music are sparse, and some, such as the former Vault 350, shut down. Others had a hard time bringing in acts and attendees, forcing them to focus on other forms of entertainment, such as burlesque shows in the case of Harvelle's. But despite such ups and downs, outdoor festivals and events have brought music to the streets of downtown for years.
"Music is an international language. Music provides an opportunity for people to come together. It's a connector of culture, a connector of genres, a connector of people," Downtown Long Beach Alliance (DLBA) President and CEO Kraig Kojian said. "Music is a factor that most people can relate to. And when you do that for a downtown, I believe it really solidifies its soul and certainly speaks to people coming together and appreciating the art of music."
In the spirit of bringing music to the people, the DLBA hosts or sponsors a number of events throughout the year. The organization's Live After 5 event occurs on the third Thursday of every month, with free street performances at rotating locations to help promote surrounding downtown businesses. Another long-running DLBA event is its New Year's Eve celebration. In years past, multiple blocks of Pine Avenue were shut down to allow for a large-scale concert production. Now, the event has moved to the waterfront for a more family-friendly atmosphere; however, Kojian said music is still a key element.
Kojian noted the positive impact numerous music festivals have had in the downtown. While residents of Long Beach and surrounding areas have long enjoyed events such as the annual jazz and folk festivals, Summer and Music (SAM), a series of events sponsored by the DLBA, has acted as a catalyst to bring younger musicians to the downtown area to attract a younger audience.
"This past year was our 10-year anniversary. It was maybe one of the best we've ever done," SAM Co-Founder and Organizer Rand Foster said. "With the DLBA's encouragement, we really swung for the fences [and] picked lineups that were incredibly strong, and people responded."
SAM events include FKA720, which pairs music with skateboarding, the carnival-centric Twisted At The Pike, and Buskerfest. Music producer and artist Dâm-Funk headlined this year's FKA720, while Los Angeles-based Fartbarf and L.A. Witch, and Long Beach band Shave headlined Twisted.
Taking place in the East Village Arts District of downtown, Buskerfest is a battle-of-the-bands-like event for local groups to showcase their music, with attendees ultimately deciding which performance is best. Each guest is given several wooden chips to award to the groups they like best. The group with the most chips at the end of the night wins. The event also features headlining bands at the end of the night, such as The Blasters and Mike Watt & The Secondmen. This year, Buskerfest drew in between 4,000 and 5,000 people, according to Foster.
"From the beginning, we wanted to focus on local talent as much as possible, which I think we've been very successful with. We've entered an era where Goldenvoice is coming to town and doing . . . big festivals," Foster said. "On the one hand, it's great because we set out . . . to demonstrate that there was a supportive community that lobbied for music. But some of the bigger festivals we're getting, the community isn't part of it. One of my favorite things about SAM is . . . it is a community building exercise and it does make people feel proud of Long Beach."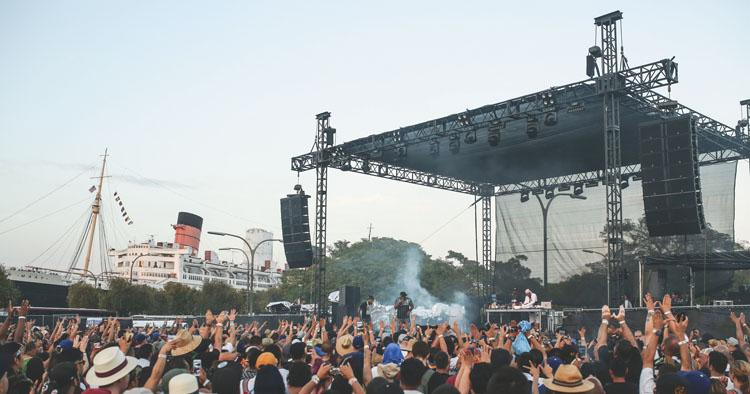 This year, music festival creator and operator Goldenvoice (organizer of Coachella and Stagecoach) partnered with Queen Mary master lease holder Urban Commons (UC) to bring a steady stream of largescale music festivals to Long Beach, including One Love, Tropicalia and Summertime In The LBC. According to UC Chief Development Officer Dan Zaharoni, Goldenvoice put on five festivals totaling about 10 concert days this year. For the 2019 festival season, Zaharoni said UC is working with Goldenvoice to increase to as many as 20 festival days.
"We average around 15,000 people per day. That would be 300,000 people that came to Long Beach and had a great time. Instead of thinking about Long Beach as a place they don't know about, it's a place they've gone to party," Zaharoni said. "They've maybe come to the Queen Mary for the first time and discovered this historic icon sitting right in their backyard. Also, those people are eating at the restaurants across the bay and staying at the hotels."
The homegrown Music Tastes Good (MTG) festival celebrated its third year in 2018, which was its smoothest running to date, according to talent buyer Jon Halperin. The festival combines music with food, featuring numerous local and imported chefs. A record-setting 7,500 people watched long-time English rock band New Order perform Saturday night, Halperin said. The previous two years, Halperin explained that the festival did not spring for such a notable headliner, instead relying on several smaller acts to draw crowds. "Just seeing how well New Order did this year for us was a huge indication of what having a huge headliner that a wide variety of people love can do," he said.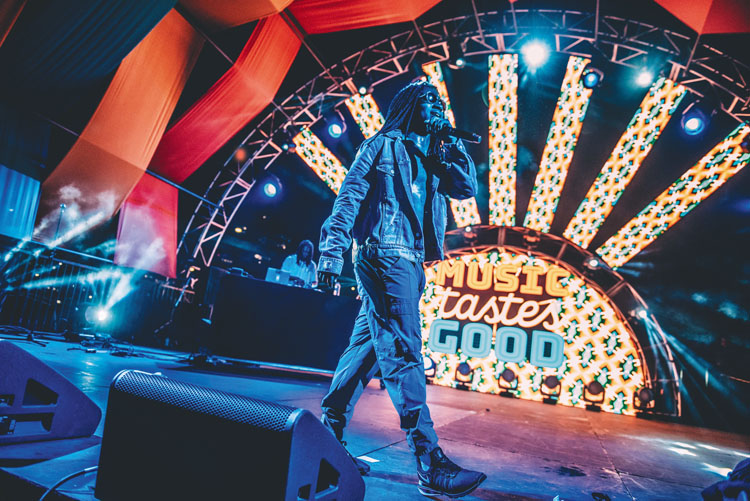 While MTG affords an opportunity for local musicians to perform, Halperin said organizers spend as much time curating the food as they do music. The food element and the local emphasis on music and community are what sets MTG apart from other festivals, he added. The 2019 budget has not been set, but Halperin expects the festival to continue gaining notoriety within the music and culinary industries.
Being centrally located between Los Angeles and Orange County is detrimental to Long Beach's music scene, Halperin said. Due to radius clauses in contracts, bands and artists are not allowed to perform within about 30 miles of a previous or forthcoming show for a certain amount of time. So, if a national tour has a stop in L.A. or Orange County, contractually it cannot come to Long Beach. However, festivals have succeeded in bringing national acts back to Long Beach, Halperin explained.
While there are not many music venues in the downtown, several continue to operate with varying success. The Federal Underground, located beneath the Federal Bar on Pine Avenue, continues to host live music performances. However, General Manager Jeff Osborn said events are hit or miss. Reggae continues to do well for the venue, he added.
Fingerprints, a record store in the East Village Arts District owned by Foster, hosts 50 to 60 live performances every year, with a capacity of about 250 people. The Foo Fighters, Thrice, Chris Carrabba of Dashboard Confessional, This Wild Life, Matt Costa, Anti-Flag, Prophets of Rage and John Rzeznik of the Goo Goo Dolls are a few among many who have performed in the store since it opened at its original location in Belmont Shore nearly 27 years ago.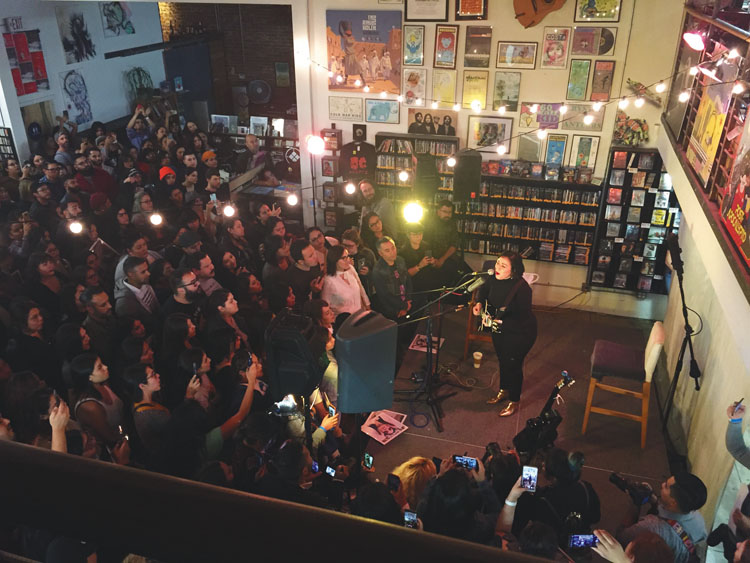 One year ago, Andy George, owner of Toxic Toast Records on North Pine, opened up the storefront beside his shop as the Toxic Toast Theatre. The first show featured AJJ (formally Andrew Jackson Jihad) and, with 350 in attendance, sold out. Throughout 2018, George said the venue hosted between 20 and 30 shows. One issue George is facing is getting his venue on the music industry radar as a viable option for booking shows, he explained.
"Music is my life. I grew up in the punk and ska scene in the '90s in Orange County, and there just wasn't a lot of all-ages spaces that had music," George said. "I'm just trying to provide a space for young people to be able to experience music without the stress of alcohol or anything like that."
The future of Toxic Toast Theatre is currently up in the air due to a lack of support from the city, George explained. He said he has been battling for almost three years to obtain a long-term entertainment permit. According to George, the city is citing a lack of parking as the reason for not issuing the permit; however, parking has not been a notable issue for any of the shows, he added. Despite this hurdle, George said he hopes to continue operating the space with shows as frequently as possible. He is kicking off the new year hosting ska veterans Suburban Legends on January 4.
"It's a space for people to express themselves artistically and emotionally. A way for people to escape," George said. "It's just a way to experience something fun and artistic, and communicate with other people through music."