Unemployment is low, tax cuts are putting more money in consumers' pockets and allowing for business investments, and wages are increasing – all factors that lead economists to believe that the remainder of 2018 should be positive, with an expected gross domestic product increase of around 3%.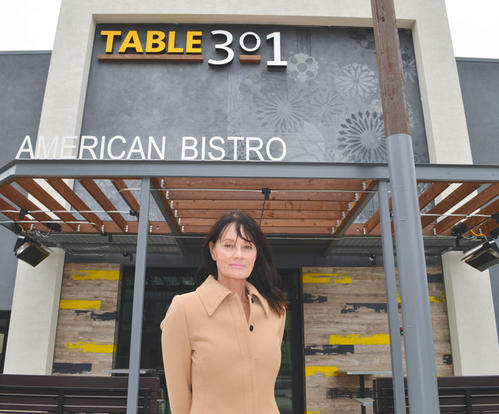 Catherine Morris of William Morris Commercial is responsible for leasing retail space at The Streets in Downtown Long Beach, which is seeing a stream of tenants moving into redesigned storefronts at The Promenade and on Pine Avenue. Recent new businesses include Burgerim, Poki Cat and The Thickshake Factory, with Loose Leaf Boba Company and the restaurant Table 301 slated to open soon. The Streets is bounded by 6th Street on the north, Long Beach Boulevard on the east, 3rd Street to the south and Pine Avenue on the west. (Photograph by the Business Journal's Pat Flynn)
"The tax cuts are beginning to kick in," Mark Vitner, managing partner and senior   economist with Wells Fargo, told the Business Journal. "Where it is showing up most directly is in hiring. Job growth has picked up nationally. We have added an average of 207,000 jobs a month, which is a little bit stronger than last year's job growth average of 186,000 workers a month," he observed. "We have seen businesses a little bit more willing to invest and hire permanent workers now that tax rates have been reduced."
Vitner noted that consumer spending hasn't yet seen much of a boost. In fact, the last available data from the U.S. Bureau of Economic Analysis (BEA) showed that personal consumer expenditures on goods actually decreased by 0.4% in the first quarter. Vitner speculated that harsh winter weather in the eastern United States may have disrupted consumer spending, but noted that May retail sales figures appear to have been quite strong, indicating that spending is now on the rise.
Robert Kleinhenz, economist and executive director of research at Beacon Economics, noted that the unemployment rate is at its lowest in nearly two decades. Nationally, the unemployment rate was 3.8% in May. It was 4.2% at the state level and in L.A. County, and 4.1% in the City of Long Beach. California's unemployment rate is the lowest it has been since recordkeeping began in the 1970s, he pointed out. He projected that the unemployment rate would remain at the current level through the end of the year.
"January through May we have added jobs at about a 2.1% year-over-year rate, which is actually slightly faster than what we saw last year," Kleinhenz said. The labor force is growing slowly, and there are "more job openings than ever before," he added. Vitner pointed out that this means that businesses are scrambling to fill positions, and in some cases are unable to do so.
Wages are on the rise, according to Kleinhenz. "Personal income is looking good," he said. "The long-awaited wage gains that people have been talking about are finally materializing." According to the BEA, all states experienced increasing incomes in the first quarter of 2018 compared to the fourth quarter of 2017. California saw an increase of 2.7%.
"All of these signs are indicative of a national economy that is in good health and is likely to continue on that track for some time to come, despite increases in interest rates on the part of the Fed as part of its monetary policy," Kleinhenz said.
The Federal Reserve raised its federal funds rate – which dictates interest rates for lending – in June by a quarter of a percentage point, pushing the rate to 2%. The institution is expected to raise the rate twice more this year. "There seems to be a consensus that the Fed is targeting a rate of around 2.75% as being its neutral position for that policy tool," Kleinhenz said. "The danger with higher Fed funds rates is that the prime goes up and then in turn the rates on credit cards, and then consumer and business lending, goes up as well. I think that there is an open question as to whether or not these interest rate hikes are even warranted."
He continued, "If the argument is that the Fed wants to fend off inflation, and inflation has only recently popped up above the 2.5% mark, I think that this may be a bit of an overreaction."

Industry sectors driving job growth in California in 2018 include construction, health care and consumer or household-serving sectors, according to Kleinhenz. These and the leisure and hospitality industry should also drive growth in Los Angeles County, he noted. "Construction is probably going to be the biggest in terms of percentage gains in jobs. But health care, which has been a major contributor to job growth over the last several years, will also be among the top job creators among the industries," he explained.
There is "an awful lot of construction activity" in California, Vitner noted. "That's particularly evident in Long Beach where we have seen a lot of activity in downtown," he said. "It's also evident in places like Oakland. For a long time, San Francisco has been booming, and now Oakland is doing well. And it seems that it's also evident when you go into the state's interior. . . . The improvement in the economy seems to be reaching more parts of the state."
The manufacturing industry in California is also adding jobs. "An interesting thing that we noticed is that California's durable goods manufacturing has actually seen a nice bump in employment," Kleinhenz observed. "It added something like 11,000 jobs year over year."
In California, a lack of inventory of homes for sale and decreasing housing affordability remain constraints to economic growth, both Kleinhenz and Vitner pointed out. Even though residential construction is increasing, it is not at a rate necessary to meet demand, according to Kleinhenz. "The state really needs to have about 200,000 housing units built per year in order to meet the growth in population and households. Last year, we had about 112,000 building permits," he said. "This year we think we're going to be at 125,000 permitted units. . . . It is headed in the right direction, but it still falls way short of housing needs."
In May, the statewide median single-family home price surpassed the high of the last housing boom, reaching $600,860, according to the California Association of Realtors (CAR). Prices increased by 9.2% from April to May. The number of sales decreased by about 1.8% due to rising prices, short supply of homes for sale and an increase in interest rates, according to a CAR statement.
"It continues to be anything but a normal housing market, and we're not building enough to meet our needs, whether you are looking at the state, the county, or the City of Long Beach," Kleinhenz said.
The largest area of uncertainty for the mid-year economic outlook is the Trump administration's approach to trade policies, economists agreed.
"A real trade war is probably the greatest risk the economy faces going into the second half of the year," Vitner said. "Clearly, we hope that there is going to be some sort of settlement that comes about that avoids an outright trade war, but it just doesn't look that way right now."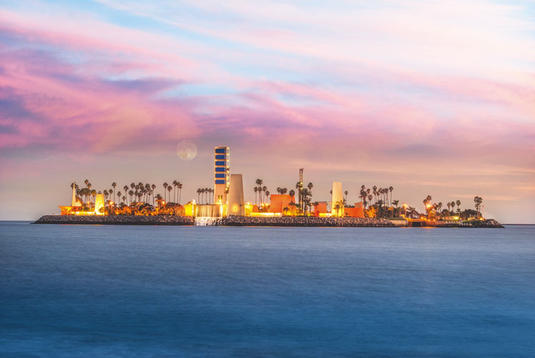 (Photograph courtesy of the Long Beach Convention & Visitors Bureau)
In June, the Trump administration announced tariffs on $50 billion worth of Chinese goods, and the Chinese government responded in kind by announcing tariffs on $50 billion in U.S. exports. President Trump then announced he would seek additional tariffs on $200 billion worth of Chinese goods, which have yet to be implemented. While other tariffs, such as on steel and aluminum, have been implemented on European countries and other allies, the escalating trade tensions with China weigh more heavily on the San Pedro Bay ports, which handle most of the country's maritime trade with China.
Vitner acknowledged that the imbalance of trade between the two countries should be addressed, but said that he is concerned about potential outcomes of the current situation. "There are two potential outcomes that trouble me. One would be that we come to some sort of agreement that looks good on the surface but doesn't address any of the fundamental issues," he said. "And the other outcome would be that we hit some sort of a protracted trade battle where we place successively higher tariffs on each other's goods and the volume of international trade contracts. That's probably the most damaging outcome."
Kleinhenz noted that the San Pedro Bay ports are expecting a combined record year for cargo volumes, barring negative impacts associated with the trade dispute with China. "We don't have a trade war. We are still in the scuffle stage," he said. "Despite all the uproar with regard to trade restrictions, the economy seems to be weathering this fairly well, and in the general sense, we're seeing that the trade numbers are holding up now. But all these announcements and all these actions certainly create an element of uncertainty and lead to hesitation on the part of businesses, whether it's to produce that next crop in the fields of California that they expect to export, or whether to make enough of manufactured goods in anticipation of selling abroad."
Kleinhenz added, "If these tariffs are actually implemented, and if retaliation occurs, then the pain is going to be borne by America's exporting companies, and also by America's consumers who are importing goods from abroad. It doesn't seem to be a winning outcome."
However, trade disputes are not going to derail the economy, Kleinhenz asserted. "Our internal economic growth dynamic is fundamentally driven by the domestic private sector of the economy, with 70% of the economy driven by the consumer sector and another 17% or so driven by the business sector," he explained. "We want to make it clear that it's not like we are any closer to having a recession because of the trade discussion and everything that's going on."
Editor's note: Click here to see industry-by-industry breakdowns of the Midyear Economic Outlook, featuring guest perspectives by local executives.