Staff at the Long Beach Convention & Entertainment Center and the Long Beach Area Convention & Visitors Bureau are always on the lookout for underutilized spaces to convert into fresh, hip event venues.
"Today's trend is to have events in spaces that are unique. People like and want something that is original to a destination," CVB President and CEO Steve Goodling said. "These spaces are very original, they do not exist in any other city and they are fulfilling that need to create that 'wow' or Instagram-able moment."
Examples of convention center space conversions over the last several years include the once-dreary street underpass on Seaside Way that has been transformed into The Cove, a vibrant urban event space, and the completely re-landscaped Terrace Theater Plaza, which includes a Bellagio-esque multi-spray fountain, palm trees and flower gardens, and can accommodate everything from sit-down dinners to rock concerts. In 2019, three more spaces have been reinvented to enhance and expand event offerings at the convention center.
Ocean View Club
The eastside lobby of the Terrace Theater balcony has been transformed into the Ocean View Club, one of the newest event venues at the Long Beach Convention & Entertainment Center. Overlooking the Long Beach coastline through floor-to-ceiling windows, the "one-of-a-kind" space is ideal for small receptions, food functions, such as dinners, or meetings with groups of 100 to 200 guests, according to the CVB. The Ocean View Club features a bar with a food service counter, allowing event planners beverage and dining options. The space includes an array of seating areas, including chairs, sofas and tables, all lit by chandeliers, floor and table lamps.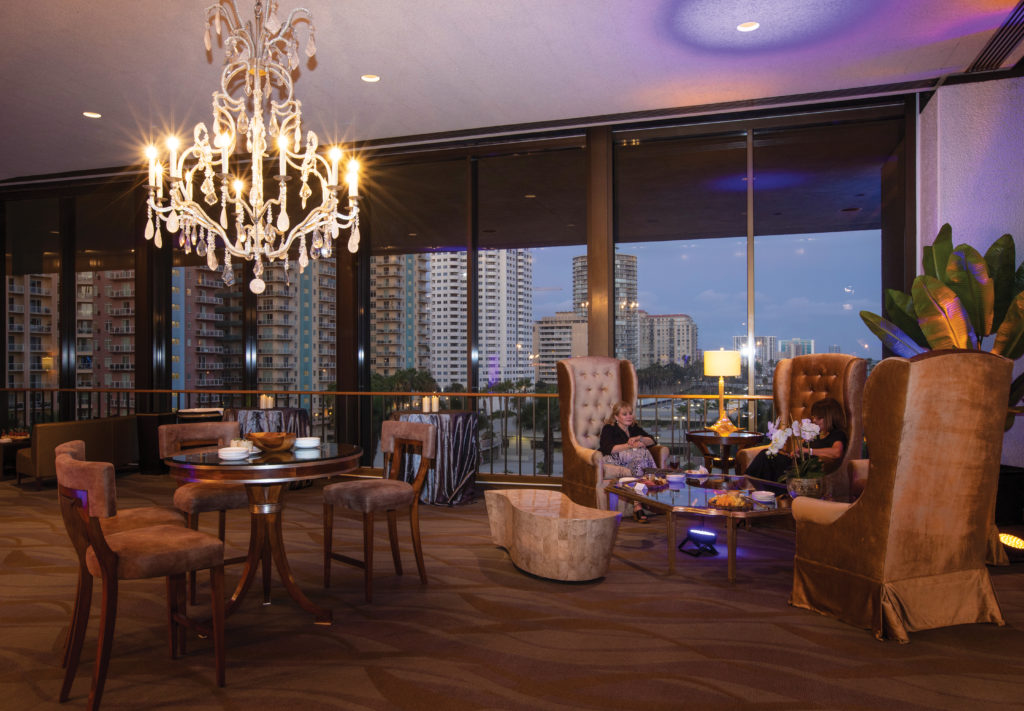 Seaside Ballroom Lounge
The entry area to the Seaside Ballroom, located at street level on Seaside Way east of Pine Avenue, was recently renovated, transforming it into a new pre-function space dubbed the Seaside Ballroom Lounge. The event space has been upgraded with new furniture and décor, including plush chairs, sofas and ottomans, as well as crystal chandeliers, table lamps and LED sconces. The space accommodates up to 400 guests for a reception and offers event planners a full range of food and beverage service.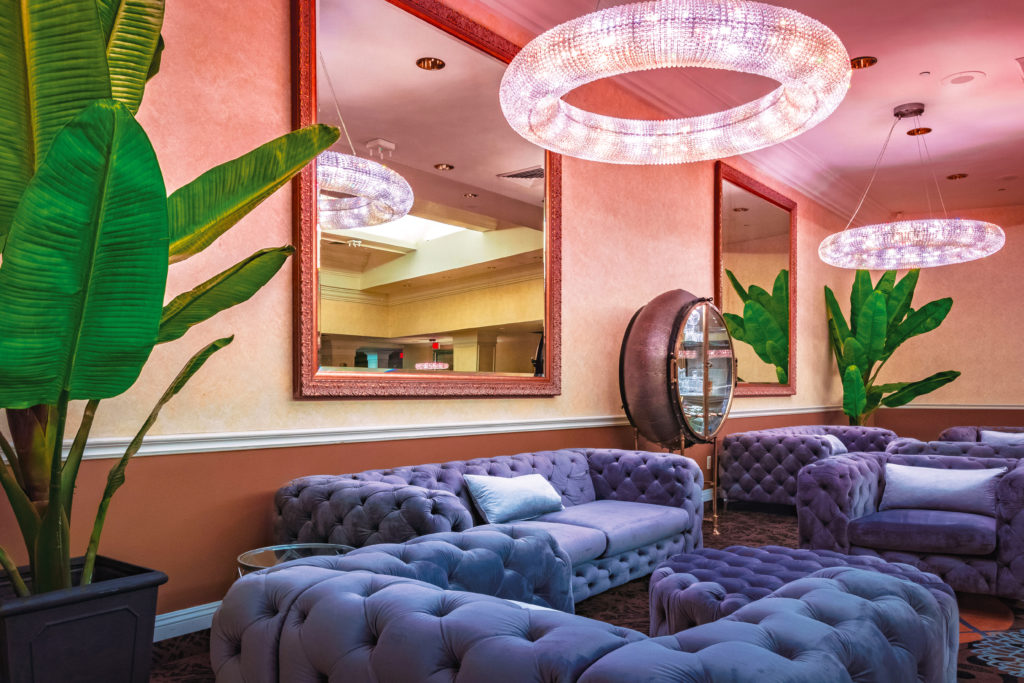 The Brickline Mural, Pacific Gallery
The Pacific Gallery, which encompasses the lobby area of the Long Beach Arena, was recently enhanced with a large mural by Esao Andrews, an American artist known for his surreal figurative and landscape painting, specializing in the gothic and grotesque. "The main subject – the butterfly – I spent the most time on," Andrews stated. "Painting branches that big is something I've never done before and it feels satisfying to come down and look at it from afar. It was a real pleasure . . . and now I just want to paint bigger all the time." The 30-foot-tall, 150-foot-long mural features a large butterfly and flowers hanging from a tree branch in a hallway area of the Pacific Gallery now referred to as "the brickline." The Pacific Gallery is used as a space for receptions, food functions and special events, separate from the Pacific Ballroom.