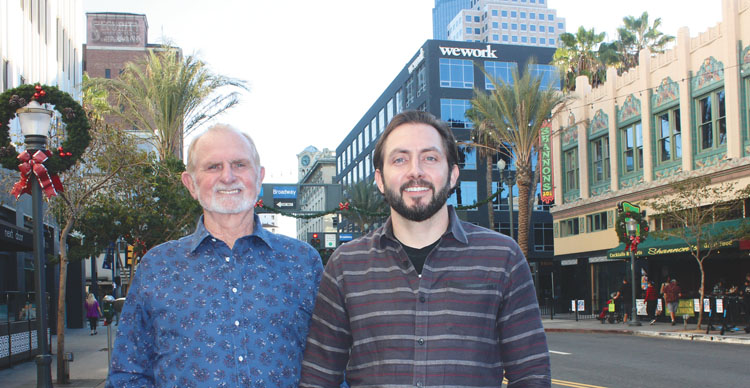 Although the City of Long Beach and the Downtown Long Beach Alliance have worked for many years to improve downtown and position it as a successful area to do business, employers are taking steps to do more. With Ron Hodges – owner of Shannon's On Pine and Shannon's At The Top – spearheading the effort, businesses along Pine and The Promenade North are teaming up to form a new organization: the Downtown Entertainment District Association.
Hodges has been kicking the idea around for years, he told the Business Journal while chowing down on "Irish nachos" (fries covered in meat, onions and some kind of enticing sauce) and a sandwich at Shannon's On Pine.
How long has Hodges been pondering this new association, exactly? "It was something I talked about for years. Originally we were thinking of calling it Pine Square Association. . . . Pine Square was the name of the movie theater here," Hodges said, referring to an AMC theater that closed its doors in 2010.
Hodges went so far as to have sketches drawn up illustrating how the downtown entertainment district – as he calls the stretch of Pine Avenue from Fourth Street to the Pike, plus the Promenade between 3rd Street and Broadway – could look if it were branded as such. He proposed an Art Nouveau theme for the area, with a wrought iron gateway and installations laced with bougainvillea spaced evenly along the streets. "It wouldn't be very expensive. I sent it out to all the e-mail addresses I had. I didn't get one single response from anybody. Although today people still say, 'oh, I remember you did that,'" he said.
But as Hodges ran the idea for a new association by various business owners over the years, it gained interest. The DLBA's cancelation of its annual New Year's Eve event on Pine Avenue last year ultimately signaled to Hodges that it was time to put his plan into action. The DLBA is the nonprofit association that oversees the business improvement districts in the area. Fees collected from district members go toward marketing, events, security and other efforts.
"Last year, with the cancelation of New Year's Eve, there were a lot of people complaining," Hodges said. "Not so much the big businesses, although they were dissatisfied too. But the cigar shop, the bagel shop – places that had stayed open either all night or late on New Year's Eve. [Last year] they shut down at 10 o'clock or something because there just wasn't anything going on," he explained.
"Finally, I couldn't put it off anymore. I wanted to start earlier this year, hoping to maybe get New Year's Eve kicked off again and re-established," Hodges said. "New Year's Eve was good. They had like 12,500 people here. That not only brought money into the space, but it also established us as an important place to be. . . . Partying in the streets is what people love."
The downtown entertainment district has lost other events, too, which Hodges sees a detriment to area businesses. "We're losing ground. We're losing a lot of the events we used to have downtown," Hodges said, noting that Thunder Thursday, a public precursor event to the Grand Prix of Long Beach, was relocated from Pine Avenue to the Pike Outlets last year. "What is the reason for anyone to come down and invest millions of dollars – these days at least $1 million – to open a restaurant or something? And if it is a big operation, it's going to be more than that. . . . You need to have something to say you're in the hot spot. Jump in here and take a chance, because things are moving ahead fast." The key to creating such an atmosphere, Hodges believes, is activating the area with events to create a brand around the idea of a downtown entertainment district.
Ultimately, Hodges didn't get the new group off the ground in time to plan New Year's Eve this year. At the moment, the DEDA has no structure – no elected officers, no official nonprofit or corporate status – just a once monthly meeting date that started with the first meetup in mid-October. Attendees have thus far included ownership and staff from area bars and restaurants, he noted. "We agreed on forming committees," he said. A volunteer has offered to create a website and social pages for the organization.
The intent is to file for nonprofit status, according to Hodges. Membership dues to fund activities would likely be voluntary. "We also have vendors that we do business with who might join as associate members," he said. Asking the DLBA to spend some of its dollars on specific endeavors in the area would be another potential way to help fund some initiatives, he suggested.
Asked why it was necessary to form a new business association when the DLBA is already serving the area, Hodges explained that the DLBA's obligations are far wider than just the entertainment corridor. There are multiple districts within the greater downtown area, each vying for attention and dollars. "I got to thinking that if we didn't make ourselves a voice, that we weren't going to get more attention," Hodges said.
"The question came up in both meetings, 'Well what about the DLBA, what's your relationship with them?' I said, I hope it's going to be cooperative and productive. We're certainly going to ask for help," Hodges said.
Hodges, who also owns Shannon's Bayshore in Belmont Shore, opened Shannon's On Pine in 2007 – just before the Great Recession. "I came downtown from Belmont Shore in 2007 thinking, it's going to get better downtown. Instead it got worse for a while," he said. "Even though I love Belmont Shore, I found it kind of invigorating or exciting to be downtown. I think people do. They like the urban environment, and everything happening."
Now, downtown businesses in the area are "doing better business now than they ever did before," Hodges said. But with the loss of major events such as New Year's Eve, some of the headway the entertainment-based restaurants and bars have made in recent years has been lost, he argued.
"We want to get street events. We want to get more activity down here," Hodges said. "It would be great if we had street events two and three times, or maybe four times a month. People on this particular street [Pine Avenue] are open to having it every weekend so that if people say, 'where should we go?' [then] they say, 'let's go downtown – there's always something going on.'"