Once a sleepy neighborhood of Long Beach, Bixby Knolls has seen rapid economic growth in recent years. In 2016 alone, more than 70 new business licenses have been issued for the Bixby area, according to Blair Cohn, executive director of the Bixby Knolls Business Improvement Association (BIA).
"It's my favorite part of the city," 8th District Councilmember Al Austin said.  "It's where I live. It's home. So I'm a little biased in that regard. I like to say that the [BIA] is the gift that keeps on giving. They do great work. Blair leads a strong team, and in many ways I see them as an extension of the council office. We work pretty closely together for the greater good of the Bixby Knolls community."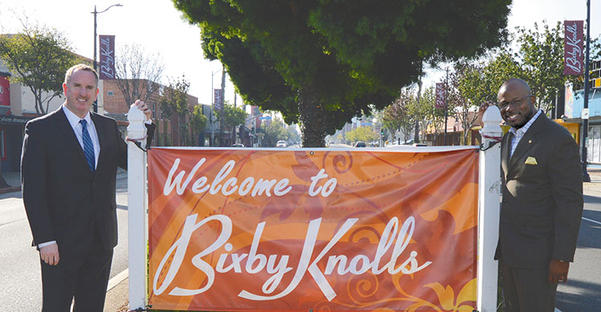 Councilman Al Austin, right, and Blair Cohn, executive director of the Bixby Knolls Business Improvement Association, encourage Long Beach residents and guests to visit Bixby Knolls and the nearly 800 shops, restaurants and professional services located between approximately the 405 Freeway to the south and 46th Street to the north, and Atlantic Avenue to the east and Long Beach Boulevard to the west. One of its signature events is the popular "First Fridays. Art Walk. Shop. Dine," held the first Friday of each month from 6:30-9:30 p.m. (Photograph by the Business Journal's Larry Duncan)
Austin said there is a lot of creativity going on in Bixby Knolls and considers the area's improvements as the starting point of the renaissance he says is occurring in all of North Long Beach. In the four years he has been in office, Austin said he has seen tremendous change and thinks the area is performing beyond expectations.
Including the 2016 additions, Cohn said the Bixby area is approaching 800 total businesses, including shops, restaurants and professional services. Cohn explained that vacancy rates have dropped to near 1% in some sections of the neighborhood and noted the Bixby Business Center is now at zero vacancy.
"We also see expansion. Lola's – when they moved up here, that was their third location in the city. Twig & Willow – that's their second location in the city," Cohn said. "We have some other folks looking, trying to find any spot to fit in because they like what they hear about Bixby Knolls. So this has been a good year. I call it the year of fruition."
The Long Beach Boulevard corridor of Bixby Knolls will soon welcome SteelCraft, an outdoor, urban eatery center. Located on the southeast corner of Bixby Road and Long Beach Boulevard, Cohn said SteelCraft will be a game changer for the corridor. According to the SteelCraft website, vendors will include Smog City Brewing Co., Working Class Kitchen, Tajima, Steelhead Coffee, Waffle Love, Long Beach Farms and Blooms by Brooke.
Low vacancy and SteelCraft are not the only indicators of the Bixby area's continued improvement. Cohn noted the sale of the Bixby Knolls Shopping Center, where Trader Joe's is now located, by Red Mountain Retail Group for an "ungodly amount of money." The company first purchased the rundown property for $8.6 million in January 2015. Last month, Red Mountain announced its sale of the property to an undisclosed buyer for $29.2 million.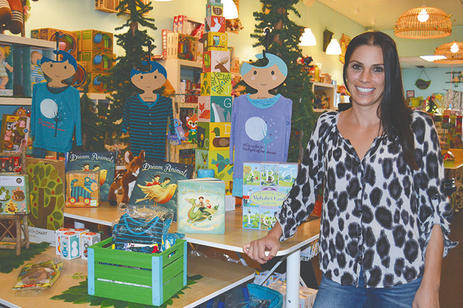 Pixie Toys And Pixie Baby: Heather Rasmussen opened Pixie Toys at 3930 Atlantic Ave. about seven years ago, and recently opened a second store nearby, Pixie Baby at 3920 Atlantic Ave. Pixie Toys is open from 10 a.m. to 5 p.m. Tuesday through Saturday. For more information on either store, call Rasmussen at 562/490-0702. (Photograph by the Business Journal's Larry Duncan)
With small business booming in the area, Cohn said he would still like to see a men's clothing store, a hardware store, a sporting goods store and an art supply store move into Bixby Knolls. He thinks these businesses would not only be good for Bixby residents but would also pull shoppers from surrounding areas in Long Beach, as well as the City of Lakewood and the South Bay.
Along with the many small businesses seeking space in Bixby Knolls, Cohn noted that new, larger tenants will soon enter the area. Most notably, Cohn said Smart & Final will be opening near Marshall's at the former Orchard Supply Hardware location at 4480 Atlantic Ave., and there are still talks of Chick-fil-A moving into an empty lot on the southeast corner of Atlantic Avenue and 33rd Street.
"We're thrilled to death every time we hear that someone wants to come. We have another cool restaurant that I'd love to have come, kind of a fun concept, they're just trying to look for that space," Cohn said. "It's a good problem to have. Instead of us begging and pleading and seeing everybody leave, we're seeing people open their doors."
Building A Sense Of Community
Cohn said the area's success did not happen overnight and did not happen without hard work. He explained that the BIA staff is extremely small – himself, two other full-timers and one part-time employee – and have stretched themselves very thin by taking on as much work as they have. However, Cohn said that in order to accomplish what has been done and to continue growing the area, the BIA has to continue to take on as much as it can.
"Blair's impact on the entire area cannot be overstated. He has been one of the key figures at getting that whole Bixby area activated," 7th District Councilmember Roberto Uranga said. "He's always been looked to and consulted to share his ideas on other parts of the city. I went to him when I first got elected to see if there was an opportunity for him to help me with the business corridors in my district."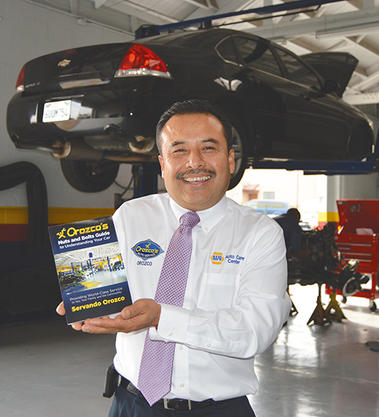 Servando Orozco, CEO and founder of Orozco's Auto Service in Bixby Knolls and Bellflower, shows off his 100-page-plus book, "Orozco's Nuts and Bolts Guide to Understanding Your Car." Orozco opened his first repair shop in 1990 on Long Beach Boulevard and soon expanded with a second location at 3619 Atlantic Ave. His first Bellflower shop opened in 2013. In addition to complete auto repair and maintenance services, he sells a variety of tires. The shops are open Monday through Saturday. For more information, visit www.orozcosautoservice.com. Orozco also serves as president of the Bixby Knolls Business  Improvement Association. (Photograph by the Business Journal's Larry Duncan)
The BIA is not alone in building a better Bixby Knolls. Cohn said the community as a whole, from businesses to residents, has really come together to care for the area and take pride in what has been accomplished. One of the best examples of the sense of community is First Fridays, an event held on the first Friday of every month (get it?) where businesses along the Atlantic corridor between San Antonio Avenue and Bixby Road remain open later and often offer discounts. The event includes musical performances, DJs and art installations.
Heather Rasmussen, owner of Pixie Toys, which has been located in Bixby Knolls for about seven years, enjoys the atmosphere and sense of community so much that she recently leased another space to open a second store called Pixie Baby. Rasmussen said the First Fridays event has been a big driver for her business.
"I can totally tell that First Fridays has been the leader as to why businesses have been doing so well," Rasmussen said. "It's not necessarily about the customers coming here and purchasing, even though obviously it's a nice thing, but it's good for them to come and see what businesses are here and to know that when they do need whatever it is, [it's here]."
First Fridays was started 10 years ago when a couple of businesses decided to stay open later once a month and offer promotions to increase foot traffic, Cohn explained. Over time, the number of businesses grew. And eventually, the BIA took over the event to help facilitate entertainment and artists. Now, Cohn said between 25 and 30 businesses participate in the monthly event.
"We're just continuing our outreach to our neighbors," Cohn said. "Not just the neighborhood, but we have all of our monthly programs – book club, walking club, supper club, good spirits club, our monthly kids' bike ride – so there's something going on all the time. There's two other running clubs that we didn't create that are out there getting people involved. That's just what's happening. We try to build a real sense of community here."
Monthly BIA events all have social components because the association wants to continue to reconnect residents to the businesses, a relationship that Cohn said had been weak in the past. He explained the walking club gets people out into the neighborhood noticing the businesses. The Good Spirits Club and Supper Club are hosted by different businesses each meeting to bring sales and hopefully build a customer base. The book club, now on its 106th book, is meant for residents to create friendships amongst themselves. All of this, Cohn said, is to build a better sense of community among residents and businesses.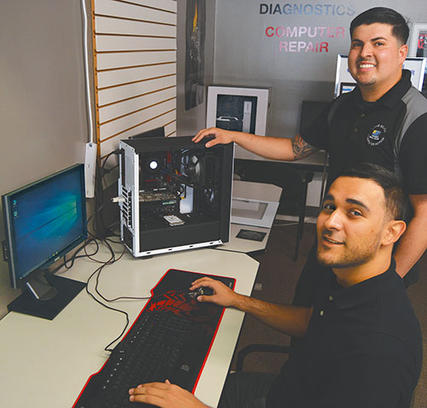 Long Beach Computer Repair opened in Bixby Knolls three years ago at 4378 Atlantic Ave. Owner Escar Hernandez, standing, is pictured with Ivan Arias, lead technician. The company, open Monday through Saturday, provides onsite service, PC and Apple repair, data recovery and much more. For more information, visit www.longbeachpcfix.com or call 562/449-7558. (Photograph by the Business Journal's Larry Duncan)
To keep businesses engaged, Cohn said the BIA created a members-only Facebook page to bring them all together and simplify communication. Along with the Facebook page, Cohn explained that he still mails letters to businesses regularly regarding programs and events. Cohn noted that it is important to him to include businesses along the Long Beach Boulevard corridor to make sure the entire business community feels welcome and supported.
"We have an 11-member board that are all small-business owners, and then we have four community liaisons," Cohn said. "The good thing for me is that the board is so supportive. In the beginning, there [were] a couple boardmembers that were kind of old school who didn't understand the new direction we were going. But the board is great because we're always in communication on what's happening."
Servando Orozco, who is in his 4th year as board president and is the owner of Orozco's Auto Repair with two locations in Bixby Knolls, said he is proud of the community for coming together and making the area what it is today. Orozco explained that much of the board's success in improving business in the area is its relationship with residents.
"I feel it's our responsibility to take care of and give back to the community," Orozco said, adding that the community is the reason the business corridor is where it is today. "It's a way to pay back."
As a business owner, Orozco said he feels fortunate to be a part of Bixby Knolls. He said it is unique and supportive of businesses, with residents doing a lot of local shopping and spending their money in the area. Orozco said he hopes the success of Bixby Knolls will raise the bar for other areas of the city and inspire them to make improvements citywide.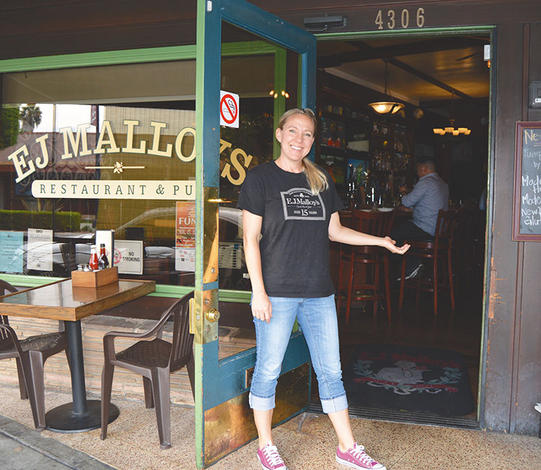 EJ Malloy's – Bixby Knolls: Corrie Matthews is manager of EJ Malloy's Restaurant & Pub at 4306 Atlantic Ave. – one of three EJ Malloy's locations in Long Beach. The neighborhood sports bar offers familiar American dishes, draft microbrews and patio seating. It's open daily for lunch and dinner, and breakfast is served Saturdays and Sundays from 9 a.m. to 1 p.m. For more information, call 562/424-5000 or visit www.ejmalloyspub.com. (Photograph by the Business Journal's Larry Duncan)
"I think Bixby Knolls has really carved out a niche for great food, quality beer and wine, but also boutique shopping that is unique to Bixby Knolls," Councilmember Austin said. "More importantly, the community is behind them – the community has wholly bought into what is happening here, and I think that is really the secret to success for Bixby Knolls."
Derek Twells, an insurance agent at Farmers Insurance who's been part of the community for 15 years, said his office really enjoys Bixby's Brooklyn Deli. "I had a friend in from New York, and I took him there. And he was just, like, wow, this is good. The quality of the food there is just spectacular," Twells said.
The community vibe is different than other parts of the city, explained Luis Navarro, owner of Lola's Mexican Cuisine. Navarro's Bixby location opened in March and is his third in the city, the first two being on Retro Row on 4th Street. He explained that on 4th Street the crowd is very eclectic, whereas the Bixby Knolls crowd is more "put together." He also noted that people are on different schedules.
"On 4th at 8 p.m., we're barely starting to get our rush, and we power through it until about 10 p.m.," Navarro said. "Then down here, the dinner rush starts at around 4:30 or 5 p.m., and it's pretty much done by 8 or 8:30 p.m. And the neighborhood's quiet. You can tell people are on a different schedule down here – the school schedule, [and] they're on their work schedules."
One of the keys to remaining competitive in an area with ever-expanding community is to keep your business relevant by introducing something new or by offering services most others do not, according to Corrie Matthews, manager of E.J. Malloy's in Bixby Knolls. One of three locations in the city, E.J.'s has been in Bixby for 15 years and has managed to keep business up by providing the only sports bar atmosphere in the area.
"Being a Long Beach institution and having three locations, we are always excited to see businesses expanding," Matthews said. "We are always happy to work with the neighborhood to make sure they're happy. We're just proud of the business association for being so supportive to the businesses."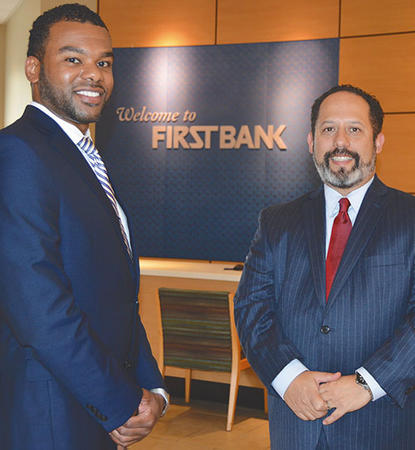 First Bank Bixby Knolls Branch: Kris Allen, left, vice president and senior bank manager for First Bank in Bixby Knolls, is joined by Robert Renteria, vice president and regional manager for the bank's Los Angeles and Riverside region. Located at 4040 Atlantic Ave., the bank's normal business hours are 9 a.m. to 5 p.m., Monday to Friday. To reach the Bixby Knolls Branch, call 562/595-8775. (Photograph by the Business Journal's Larry Duncan)
Kris Allen, branch manager at First Bank in Bixby Knolls, who started at the branch in May, said he appreciates the sense of community because, as a bank manager who has worked from Northern California all the way down to San Diego, he has never felt more welcomed into a neighborhood from day one as he did when he came to the Bixby area. He said this is the most diverse, friendly and helpful neighborhood he has ever worked in, and that he is impressed by everything happening in the community.
"It's probably one of the better decisions I've made, coming here, because it's a breath of fresh air coming into a community where people still know you by first name and are very welcoming. I never felt like an outsider from the first day I stepped here. It's very appreciated, and I don't know if that's something that's talked about. I try to be as close to the community and involved with the community as possible."
During the holiday season, Allen's branch is working closely with the Kiwanis Club to gather Adopt-A-Family donations from the community. Residents can make cash or gift donations from specified lists at the branch located at 4040 Atlantic Ave.
Area Improvements
Prior to the dissolution of the Long Beach Redevelopment Agency, Bixby Knolls area improvements began with the agency investing in the street medians. Improvements continue to this day, with the BIA and businesses focusing heavily on façades, which Cohn said are nearly completed. One recent achievement for the BIA was the addition of piano-key crosswalks at the intersection of Bixby Road and Long Beach Boulevard, courtesy of Craig Beck at the Long Beach Public Works Department.
"I said, 'Wouldn't it be great if, in this intersection, we did something cool and funky?' So I sent him some pictures of the ideas we had," Cohn said. "He said, 'I may have something for you.' And he said, 'I think I can get you some piano keys. They'll look phenomenal, and they'd go right next to SteelCraft.' So they surprised us. A guy showed up, and someone called us and said, 'They're putting piano keys down!' And we loved it, and we want to do more of that."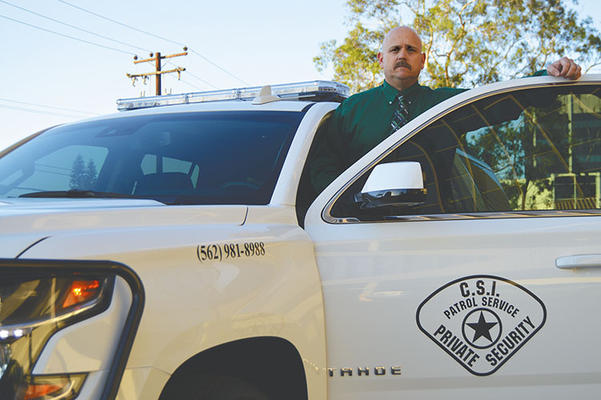 Keeping A Watchful Eye On Bixby Knolls: Dennis Cook, president and CEO of C.S.I. Patrol Services, has a contract with the Bixby Knolls Business Improvement Association to patrol the neighborhood five days a week, for 12 hours per day. However, as a way of giving back to the community, the company patrols seven days a­­­­ week and hopes to increase to 16 hours per day in December, according to Cook. (Photograph by the Business Journal's Larry Duncan)
Additionally, Cohn said the BIA has commissioned murals in the area, painted utility boxes, and turned an alley located at Atlantic Avenue and Burlinghall Drive (across the street from the Expo Arts Center) into The Allery, an art space where four frames have been mounted on the wall and every three months a different artist will paint the panels. Cohn said he also hopes to eliminate irrelevant green and yellow zones to maximize parking along Long Beach Boulevard.
Crime and safety are another major focus area of the BIA and the community in general. To increase security, the association is offering its members a deal on security lighting where the business only needs to pay 20% of the installation cost, while the BIA will cover the other 80%. Security cameras are also being installed throughout the area, as well as an increased presence of security through the BIA's contract with C.S.I. Patrol Service Inc.
Dennis Cook, owner of C.S.I., said that even though his company has had a contract with the BIA since 2012 to patrol five days per week, his officers actually patrol seven days per week, because he understands funds are limited. Every day, C.S.I. has three officers in the Bixby area, according to Cook – one patrol car, one mountain bike and one three-wheeled Segway. The company patrols the area 12 hours per day but hopes to increase to 16 hours per day by December 1, Cook explained.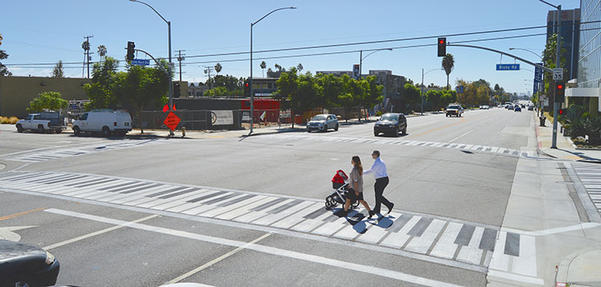 "A lot of my staff lives local, so they know we want to do what's in the best interest for our community," Cook said. "So they're willing to help out and do their part. I'd love for 24 [hours-per-day patrols] one day. Just as soon as my budget would allow it, I'll make it happen."
The company recently celebrated its 25th year in business and has been located in Bixby Knolls all those years. Aside from patrolling Bixby Knolls, the company and its fleet of 22 marked cars, two unmarked cars, five mountain bikes and one Segway are contracted by property management companies to patrol sites such as warehouses, retail centers and even several residential properties. For these residents, C.S.I. patrols will even pick up the mail and bring their trash cans out so it looks like homes are occupied when residents are on vacation.
"A lot of times, security officers, law enforcement, anybody who wears a uniform automatically is hated for some reason," Cook said. "But we are so welcomed within this community. It's nice to actually interact with people, and they thank you for being here. That's why we do it – it's worth it, it's home."
Cook said that since they began patrolling the Bixby area, crime has fallen. He said that when police get a low-priority call, his patrols are able to get to the scene and de-escalate the situation, often without needing Long Beach police assistance.
"We have a good relationship with the police. And we're also not unrealistic," Cohn said. "We're realistic in that they're short of resources themselves, so we do as much as we can to protect ourselves."
The Future Of Bixby Knolls
Councilmember Uranga commends Austin and Cohn for the work they continue to do to improve the neighborhood. However, Uranga would like to see the outreach spread to his district, which begins at Bixby Road. Uranga pointed out that First Fridays festivities are only north of Bixby Road, which means several businesses in his district are excluded.
"Being more inclusive – it has an opportunity for growth. And perhaps including some of those businesses south of Bixby would be one way of being more inclusive and getting the 7th District much more involved and engaged in those activities as well," Uranga said. Nonetheless, he is proud of the Bixby Knolls community's accomplishments.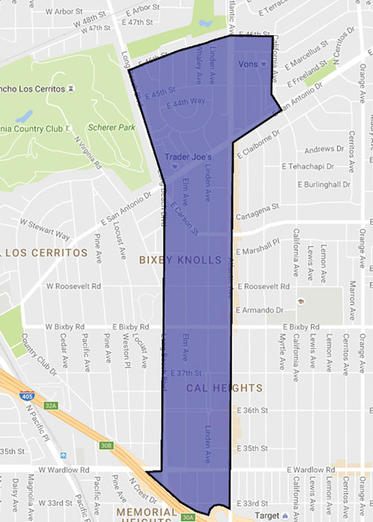 The highlighted area indicates the boundaries of the Bixby Knolls Business Improvement District. The approximately 800 businesses within the district pay an assessment that is used by the Bixby Knolls Business Improvement Association (BKBIA) to market and promote the area, fund improvements within the district, provide cleaner streets, sidewalks and alleys, etc. For more information, contact the BKBIA at 562/595-0081, or visit: www.bixbyknollsinfo.com.
Cohn noted that more and more families and young professionals are moving into the area, and he expects to see that trend continue. He said his staff jokes about people thinking Bixby Knolls is so far away, while being willing to drive downtown or to Belmont Shore and deal with the hassle of parking.
If he had more money at his disposal, Cohn said the first thing he would do is build up the BIA staff in order to have an even greater impact on the city. Additionally, he would use funds to complete the façade work, particularly on the 3400 block of Long Beach Boulevard, and initiate incentive programs to bring more businesses.
"We're still climbing a mountain. We're not there, but we're getting there," Cohn said. "I jokingly call it the Promised Land up here. There's still so much potential, and there are great people. And I just think it's really a force to be reckoned with."