After 10 years of discussion and planning, city officials broke ground on the $533 million Long Beach Civic Center on July 8, in what Mayor Robert Garcia called a "historic" day for Long Beach.
Speaking about initial talks for a new civic center 10 years ago, former Mayor Bob Foster said, "I knew we needed one, and we didn't have the funds for it. I knew all about public-private partnerships, so I was interested to see if we could put this together."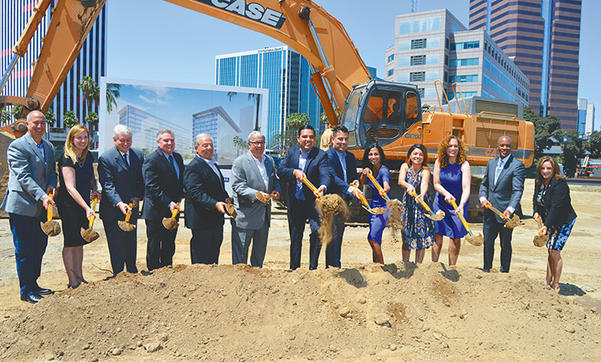 Current and past city officials gathered July 8 at the site of the now-razed county courthouse at Ocean Boulevard and Magnolia Avenue to celebrate the groundbreaking of the $520 million Long Beach Civic Center complex. Former mayors Beverly O'Neill and Bob Foster joined Mayor Robert Garcia, Los Angeles County Supervisor Don Knabe, State Sen. Ricardo Lara, city councilmembers, harbor commissioners, city staff and the development team to mark the occasion. The project includes the 270,000-square-foot city hall, the 237,000-square-foot Port of Long Beach headquarters, a 92,000-square-foot main library, a 73,000-square-foot civic plaza, a revitalized 4.9-acre Lincoln Park and underground parking for 469 cars. The mix of uses will eventually include residential, retail and hotel facilities. Under the public-private partnership (known as P3) agreement, the City of Long Beach will not have to finance or take risk on the project. Once construction is completed – estimated to be 2019 – the city will begin making payments to the developer over a 40-year period. Pictured with shovels are, from left: Craig Beck, director, Long Beach Public Works; Amy Bodek, director, Long Beach Development Services; Jon Slangerup, CEO, Port of Long Beach; Pat West, Long Beach city manager; Foster; Knabe; Garcia; Lara; Vice Mayor/Councilmember Suja Lowenthal; Councilmember Lena Gonzalez; Harbor Commission President Lori Ann Guzmán; Dale Bonner of the developer, Plenary Edgemoor Civic Partners; and Lou Anne Bynum, vice president of the harbor commission. (Photograph by the Business Journal's Larry Duncan)
Located at the site of the old courthouse on Ocean Boulevard in Downtown Long Beach, the new center is being financed through a public-private partnership with Plenary Edgemoor Civic Partners and will house the new city hall, Port of Long Beach headquarters and a main library. Combined, the three main structures totally nearly 600,000 square feet.
Also included in the project are $400 million in residential units, a hotel, retail space and Lincoln Park restoration and expansion.
According to Foster, one of the problems of public buildings is "when it's being taken care of by a public entity. As soon as there are budget problems, the first thing to go is maintenance. It starts eating buildings alive."
He went on to say that through the design-build-finance-operate-maintain agreement, Plenary Edgemoor would be in charge of maintaining the properties for the duration of the 40-year contract.
Along with Foster, Vice Mayor Suja Lowenthal spearheaded the project and became emotional during her speech at the groundbreaking ceremony. "A development of this magnitude provides tremendous opportunity that speaks to human interaction and truly reflects the vision of an incredible city and its residents," she said. "A lot of chance and a lot of magic has to happen for this kind of project to take place."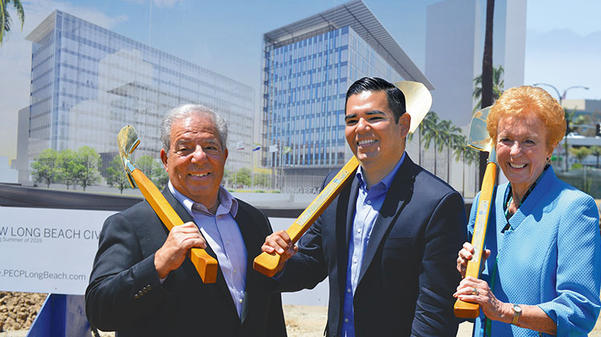 Mayors Dig The New Civic Center: With shovels in hand, Mayor Robert Garcia, center, is joined by former mayors Bob Foster (2006-2014) and Beverly O'Neill (1994-2006) to celebrate the groundbreaking of the Long Beach Civic Center complex. (Photograph by the Business Journal's Larry Duncan)
Clark Construction is overseeing construction of the development project, which, according to its website, is estimated to "bring 1,000 new residents to Downtown Long Beach and generate 8,000 direct, indirect and induced new jobs."
During the ceremony, Garcia presented Foster with a ceremonial gold shovel for his key role in seeing the project realized. Foster said that he did not know or expect that Garcia was going to call him up to the stage, as he initially was not going to be able to attend the event.
"He's a very gracious person, and I think he meant everything he said," Foster said. "I feel like I did have a significant role in this, and it's nice to see him acknowledge that."
Construction of the city hall, port headquarters and the main library is scheduled for completion in 2019.
"This is going to be just marvelous for the city," Foster said. "I don't think we yet understand how impactful it's going to be once this thing is open. I think it's going to change people's view of themselves and their view of this city. This city is in a renaissance, and this is one of the final touches. You're going to be proud to be a Long Beach person."