The Los Angeles County Board of Supervisors on Tuesday adopted a motion establishing the LA County COVID-19 Relief Fund to assist small businesses and nonprofits countywide during the global pandemic. However, after only 25 minutes of it going live today, the application process was shut down due to overwhelming demand.
An online application portal for the county funding went live today at 1 p.m., receiving around 16,000 applications in less than 30 minutes, according to County Supervisor Janice Hahn's office. The website now states that no additional applications will be accepted until further notice.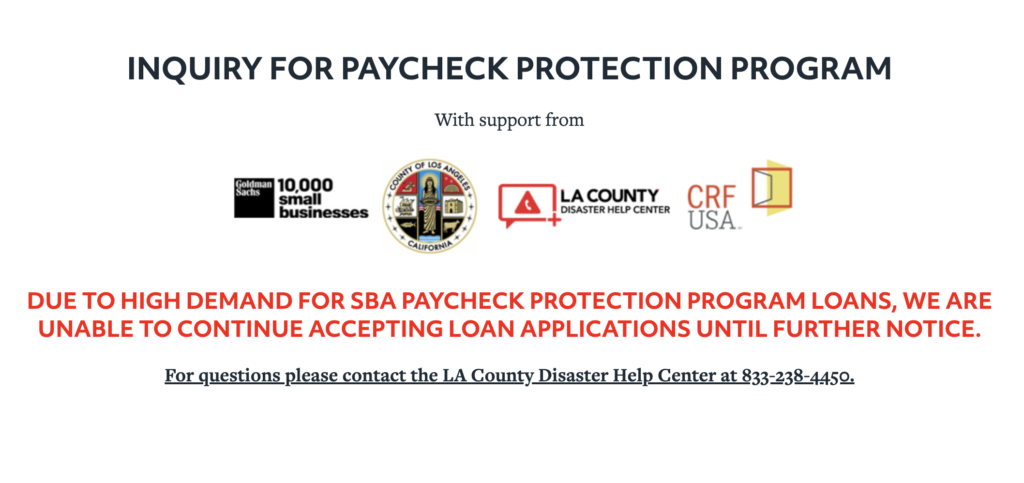 "We have made tens of millions of dollars available to small businesses and nonprofits, but it isn't enough," Hahn said. "We are working hard to find more funding sources so that we can help as many small businesses as possible survive this crisis."
The Goldman Sachs 10,000 Small Businesses initiative ponied up $15 million for the county fund, which will be distributed by the Community Reinvestment Fund, USA, as part of the federal Paycheck Protection Program.
According to the county, early reports indicate that the federal loan program, which consists of $349 billion as part of the CARES Act, may be exhausted as early as April 17 nationwide. The motion directed the Department of Consumer and Business Affairs to develop and implement the countywide fund by April 21.
Like the federal program, the county's business relief fund is providing businesses urgent cash flow for payroll, rent and utilities to offset the impacts of COVID-19. Also like the federal stimulus, the county loans can be partially or wholly forgiven for organizations that maintain or rehire their workforce.
The relief fund was seeded by the county with an initial $12 million investment. Other contributions to the fund include $1 million from the Wells Fargo Foundation contributed $1 million, $100,000 from Citi Community Development and $25,000 from the Union Bank Foundation.
According to Hahn's office, today's applications were specifically for the Goldman Sachs' funds. The remaining $13.1 million will be released at a future time.