A development team in charge of rebuilding the Long Beach Civic Center has released new designs of the project set to transform the downtown landscape.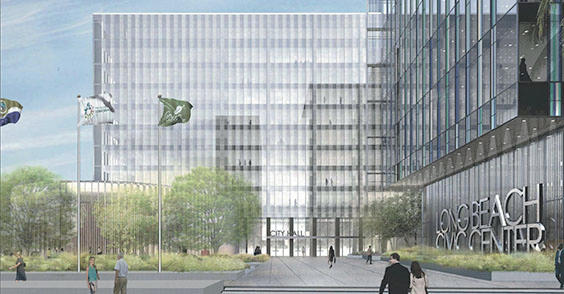 This new rendering of the proposed Long Beach Civic Center rebuild project by development team Plenary Edgemoor Civic Partners (PECP) shows enhanced exterior architecture of the envisioned city hall (front) and Port of Long Beach headquarters (right) buildings. (Rendering provided by PECP)
The new designs, which were released to the public at two study sessions on August 20, include modernized exterior architecture of a new city hall and Port of Long Beach headquarters and plans to turn Lincoln Park into an outside art and concert venue. If all goes smoothly, the Long Beach City Council could green light the project before year's end.
Jeffrey Fullerton of Plenary Edgemoor Civic Partners (PECP) told the Business Journal that the latest designs were completed following 75 community outreach meetings over the past several months. Subtle but noticeable differences from previous designs came out of discussions with hundreds of community members and stakeholders.
Still, the designs had to take into account land use restrictions in addition to considerations of public safety and whether civic amenities would appeal to the community as a whole rather than to just a specific demographic, he said.
As shown in previous designs, the 11-story city hall and port headquarters will be nearly identical in size. However, new renderings show enhanced outside architecture with sleek glass walls and flat overhanging roofs, mirroring the nearby George Deukmejian Courthouse, which was designed by the same team under the name Plenary Edgemoor Justice Partners.
Design changes to the buildings were made after public input called for more "iconic" structures that identify Long Beach and give more of an "architectural statement" rather than a typical look of office buildings, Fullerton said.
"We've heard certainly from the community that this is probably one of the last city halls [the city] will ever have to build . . . so let's make a little bit more of an architectural statement," he said. "Obviously, it was hard to do with a limited budget, but we did make some upgrades."
Another design change to city hall includes moving the council chambers from the second to the first floor with a rectangular shape rather than an elliptical form as previously proposed. He said city council offices would remain on the top floors.
Placement of the two buildings was made on purpose, Fullerton noted, adding that setting the port headquarters closest to Ocean Boulevard, a main thoroughfare, gives the port more "prominence" while a civic plaza and steps provide easy access to city hall.
"It will be very easy to find the front door of city hall," he assured. "One of the reasons to put the port building there was to give it a little more presence. It's an important asset not just to the city but to the nation . . . and it gets views down Magnolia so [harbor] commissioners can sit on the balcony and show the port."
While the outside of both buildings will look similar, the new port headquarters will be more expensive than the new city hall building, Fullerton confirmed, although he said final costs are still being negotiated.
Fullerton said the port requires a 500-stall underground parking structure that for security purposes will be used only by port staff. In addition, the port requires larger offices and more meeting space while city hall requires fewer square feet per employee and more of an "open workplace environment," following federal government trends.
Other design changes involve Lincoln Park, Fullerton said, noting that the new design drew inspiration from Chicago's Millennium Park, which the development team's park designer worked on, and Bryant Park in New York.
Though the team received considerable input on potential park uses, he said the design was confined to a strict land use ordinance. The Bixby family granted 4.8 acres of park space to the city in 1988, with a deed that prohibits commercial uses and allows exceptions only with special permits and licenses. The only regular use permitted other than a park is the main library, he said.
While requests for a roller rink and skate park were considered, such an active use would have catered too much to a specific demographic, Fullerton said. The solution was to make the park more "flexible," accommodating arts, musical concerts and festivals with "event lawns" and pathways incorporating temporary sports uses.
A commercial strip with outside dining areas and trees will be located between residential structures, including a 30-story residential tower. The residential component will include a 200-room hotel and permanent residential units.
A civic plaza will allow the public to host craft fairs and farmers markets on a three-city-block area if a portion of 1st Street is closed off to vehicles and opened up to pedestrians, creating nearly nine acres of open space, Fullerton said.
The new two-story main library would open up to the park with reading areas. However, it won't include a "green roof" like the current library, he said, adding that such architectural features are more of a public safety hazard than a public amenity.
City officials confirmed that the planning commission is tentatively scheduled to vote on final designs in October after which the project and interior designs will be up for approval by the city council and harbor commission in November or early December.
The project, set to break ground next summer and take nearly five years to complete, is being financed through a "lease-leaseback" public-private partnership. Senate Bill 562, recently signed by Gov. Jerry Brown, is expected to clarify state and case law governing the procurement process.
The city has agreed to pay no more than $12.6 million a year for the duration of construction while the rest of the cost is being covered through various other means of financing via a proposed contract yet to be finalized by the city council.
As part of the deal, PECP is being given a portion of city-owned property worth about $30 million for commercial development and has agreed to provide maintenance to the city structures in the project, other than the port building, for the next 40 years.
The civic center rebuild comes nearly eight years after reports deemed the current city hall building and main library "seismically deficient" while city staff has called the 15-story city hall building functionally obsolete and energy inefficient.