While Long Beach's rate of new HIV infections surpasses new infection rates for both Los Angeles County and the state, the citywide rate has plateaued in recent years, according to Kelly Colopy, director Long Beach Health & Human Services.
The health department's annual HIV/STD (sexually transmitted diseases) Surveillance Report for 2017, released last month, revealed that there were 101 new HIV infections reported in Long Beach – a 33% decline from the number of new cases reported in 2016. In 2017, 37 deaths associated with HIV were reported in Long Beach. According to Belinda Prado, HIV/STD surveillance supervisor for the health department, health care providers and community organizers that diagnose HIV are required to report new cases to Los Angeles County. The city generates its annual report based in part upon this county data.
Health care professionals believe that advancements in HIV treatments are behind the reduction in new cases. The development of Truvada, a pre-exposure prophylaxis (PrEP) medication given to individuals most at risk for contracting HIV, has prevented many new cases, according to HIV care professionals.
"We have much better treatments now," Dr. Anissa Davis, health officer for the City of Long Beach, said. "Because we can manage HIV as a chronic disease, not only does it help the person who has HIV, it is known to decrease transmission. If your viral load is suppressed, it is virtually impossible for you to transmit HIV to others." The term "viral load" refers to the quantity of the HIV virus present in an infected individual's bloodstream.
"The other thing is PrEP, pre-exposure prophylaxis, which is a pill that you can take," Davis continued. "If you're HIV negative you can take a pill once a day called Truvada, and if you're taking it consistently it can decrease your risk of contracting HIV by up to 93%."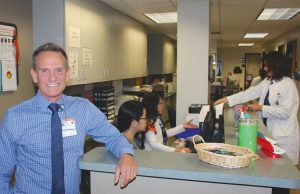 The CARE Center at Dignity Health – St. Mary Medical Center is the largest provider of HIV services in the South Bay, assisting about 1,900 patients annually, according to Paul Lovely, the center's executive director. After Truvada was approved for HIV prevention by the U.S. Food and Drug Administration in 2012, the center has seen an increasing number of patients who do not have HIV but who are at high risk for contracting it, he noted.
"Our PrEP [program] started in about 2015. . . . It has been growing quite dramatically in the past three years," Lovely said. "About 70% of our PrEP patients are under the age of 30, between 18 and 30," he noted, adding that most of these patients are men who sleep with other men. A small share of these patients are women with male partners who are infected, he added.
The treatment of expectant mothers who are HIV-positive to prevent perinatal (in the womb) contraction of the virus has also reduced the number of new cases. At MemorialCare Miller Children's & Women's Hospital in Long Beach, no HIV-positive expectant mothers in care at the Bickerstaff Pediatric Family Center have transferred the virus to their babies in 20 years, according to Dr. Audra Deveikis, medical director of the center. Asked how this feat was accomplished, Deveikis said matter-of-factly, "By working very aggressively with the staff trying to make sure the patients are taken care of, take their medications, come for visits, that blood is drawn and they are followed very closely."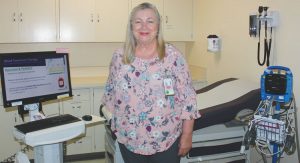 Deveikis noted that the greatest challenge to overcome in treating HIV-positive patients is getting them to take their medications. "Our patients can access any medication that will work for them regardless of the price. It is just putting the pill in the mouth and swallowing is the problem," she said. Some patients have "pill aversion," she said, because taking medication reminds them of their illness.
However, Deveikis and her staff do everything they can to ensure their patients take their meds. This could mean calling patients' pharmacies for them, and even taking them to pick up their prescriptions, she noted. "In the HIV field there has been tremendous advancement. We went from lethal disease 100% of the time to a chronic disease where patients can live for a long time if they take the medications," she said.
Making sure HIV-positive mothers do not transmit their virus to their children is important not only to reduce the spread of the disease, but also because the virus is more resistant to medication when it is contracted in the womb, Deveikis explained.
While the rates of perinatally-contracted HIV are declining in the United States, Deveikis pointed out that in other countries, particularly those in Africa, they are not.
Based upon the Long Beach Health & Human Services Department's report, Long Beach residents most at risk for contracting HIV are men who have sex with men (MSM). And, among those, "young men of color are at higher risk," according to Davis.
The Centers for Disease Control estimate that one in six among MSM will be diagnosed with HIV in their lifetime. The rate is one in 11 for white MSM, one in four for Latino MSM and one in two for black MSM.
The rate of new HIV infections among men in Long Beach was 13 times higher than that of women in 2017, according to the report. African Americans had the highest rate of new infection – 34 cases per 100,000 people. By comparison, white residents had an infection rate of 17 per 100,000, and Latino residents had a rate of 21 per 100,000.
While African American women represent 14% of all female residents in Long Beach, 36% of all HIV-infected Long Beach women are African American, according to the health department. In 2016, African Americans who were newly diagnosed with the virus had the lowest rate of HIV care retention and viral suppression.
According to a 2017 fact sheet released by the CDC, African Americans are most at risk for HIV because they are more likely to have sexual encounters with others that are HIV positive. This is because the rate of HIV is higher in African American communities, and because "African Americans are likely to have sexual relations with other African Americans," according to the CDC. Socioeconomic factors in some African American communities, including poverty, less access to health care and higher rates of incarceration, may also contribute to the high risk factor among this demographic, according to the CDC. Additionally, the agency noted, "Fear of disclosing risk behavior or sexual orientation may prevent African Americans from seeking testing, prevention and treatment services, and support from friends and family."
Near-identical reasonings were cited by the CDC in respect to higher rates among Hispanics and Latinos. On a webpage dedicated to details about HIV in these communities, the CDC also notes that undocumented Hispanics and Latinos may be fearful of seeking out HIV prevention and care services due to fear of arrest or deportation.
The 90802 zip code in Downtown Long Beach represents the highest concentration of persons living with HIV, according to Davis. "That goes to the fact that Long Beach is a very gay-friendly city, and within Long Beach there are certain neighborhoods where more gay and bisexual men tend to reside. 90802 is one of those zip codes," she explained.
Both the health department and the CARE Center offer HIV and STD testing, as well as prevention services, at low or no cost. Both also help HIV and STD-positive individuals connect their partners to services and medical treatment. "We will see you, the patient, we'll diagnose your STD, and we'll also give you medicine to take to your partner to treat them," Colopy said.
While "HIV medicines are crazy expensive," as Lovely put it, they are typically accessible at low or no cost to individuals with low incomes. "Most HIV regimens are well over $2,000 or around $3,000 a month. The PrEP, Truvada, is about $1400 a month give or take, but it is covered by most insurers, including Medi-Cal," he said.
Gilead, the maker of Truvada, provides the drug for free to individuals with incomes that are 500% above the federal poverty line or less, Lovely said. "Some people, especially with PrEP, think, 'I don't have insurance, so I can't get PrEP. Or, 'I don't make much money, so I can't afford it.' But the truth is, we're able to get virtually everybody on PrEP regardless of any of those factors," he explained.
Deveikis, Lovely and city health department staff all pointed out that the advent of Truvada may have led to some riskier sexual behavior. Those at risk for contracting HIV are able to prevent it with a pill – however, that pill does not prevent against other sexually transmitted diseases.
"It does concern me that if people don't perceive themselves to be at risk of a really dangerous STD, meaning HIV, that they may be less likely to use condoms to prevent other less serious STDs," Lovely said.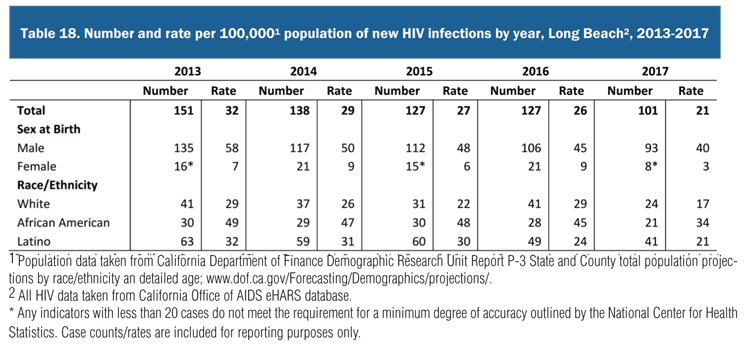 The health department is focusing on tackling a citywide increase in STDs including syphilis, chlamydia and gonorrhea that may in part be due to this concept of "condom fatigue," according to Colopy and Davis.
From 2013 to 2017, chlamydia rates in Long Beach increased 88%, according to the health department's HIV/STD Surveillance Report. Over the same time period, the rate of gonorrhea infections increased 267%, while syphilis rates increased 143%. Long Beach has the second highest rates of chlamydia and gonorrhea in the state, and the third highest rate of syphilis. The health department has launched an educational campaign to combat these increasing STD rates.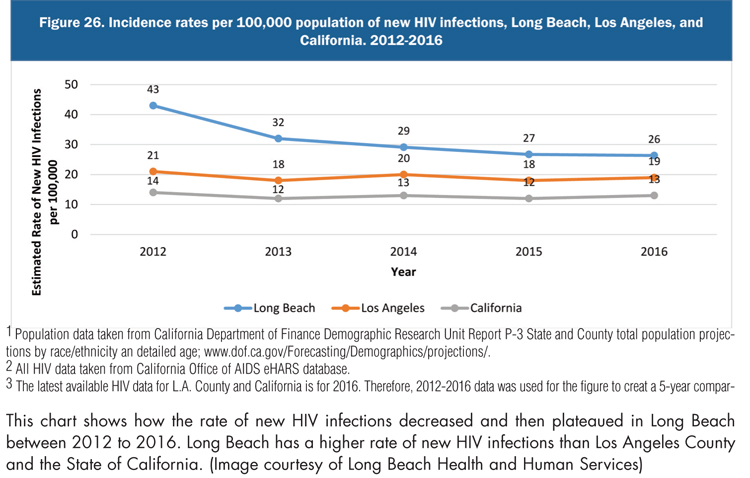 In addition to condom fatigue and riskier behavior brought on by the availability of PrEP, factors influencing these rates likely include a reduction in federal funding for STD education and services, as well as issues related to low socio-economic status such as unstable housing and a lack of education, Davis noted.
"With HIV, once you have it, it's a long-term lifetime treatment," Colopy said. "Whereas with things like gonorrhea and syphilis are antibiotic related [treatments]. So they are things where people feel like, 'Well, if I get it I'll just get treated,'" she explained. The health department has launched an educational campaign to combat these increasing STD rates.
When it comes to eradicating HIV, Lovely said the tools are all at hand. "We really are at a place where it's in our grasp to get to the end of HIV, but we're in the most crucial time where we need the whole community to work together," he said. "HIV negative and HIV positive [individuals] must work together, get tested, get on treatment, increase awareness, encourage other people who might be at risk to get tested – because that's how we're going to end the epidemic," he said. "We have the tools to end the epidemic. We just need the will and the commitment of the community to do that. And we're here to do that."