For Marie Knight, who stepped into the role of director of the Long Beach Parks, Recreation and Marine (PRM) Department in March, transitioning to Long Beach from a similar position in the City of Orange has been "like drinking through a fire hose." In an interview at her office at El Dorado Park, she told the Business Journal, "It's been fast, busy, exciting and crazy all wrapped into one."
While the City of Orange has a population of about 140,000 people, Long Beach is closer to the 500,000 mark. In Knight's new role, she oversees 162 parks comprising more than 3,000 acres, 26 community centers, three marinas, two historic sites, five golf courses, two tennis centers and six miles of beaches. Plus, the Long Beach Animal Care Services Bureau is also within her purview. "It's a big city and a large department, so there is a lot to get my arms around and understand," Knight said.
Knight has 27 years of experience in both the municipal government and community services sectors. She left her most recent position as the City of Orange's director of community services after nine years to come work for Long Beach – a move she said wasn't planned.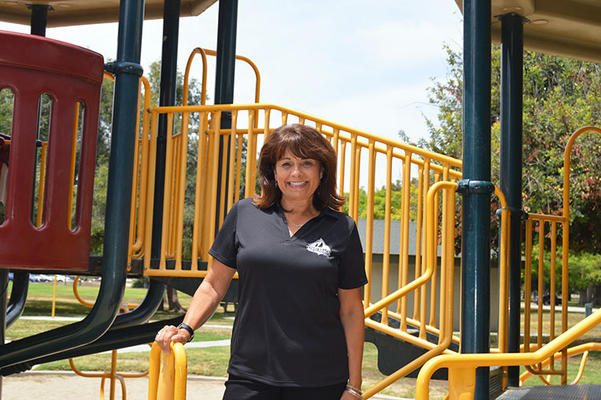 Marie Knight took over as director of the Long Beach Department of Parks, Recreation and Marine in mid-March. She has been meeting one-on-one with staff ever since to listen to their priorities and ideas for the department. (Photograph by the Business Journal's Larry Duncan)
"I actually wasn't looking, so it wasn't that I was ready to leave where I was," Knight recalled. Although she loved her job, she said she always kept an eye out for a new challenge. Opportunity arose when her predecessor, George Chapjian, left Long Beach for a position with the City of Santa Barbara.
"The [parks] department here for the City of Long Beach in our profession has an excellent reputation. It is a gold medal winner for programs on a national level, but it [also] has been a leader in our profession for many years," Knight said. "So the opportunity to be a part of this team was very appealing."
Prior to her work in Orange, Knight was director of recreation and senior services for the City of Newport Beach. Previous experience also includes serving as director of the Boys & Girls Clubs Orange County Alliance and managing leisure services for the City of Garden Grove.
Before Knight made the move into the field of recreation, she worked for years in the hotel industry after earning a bachelor's degree in business communications from the University of Wisconsin, Madison.
Knight was attracted to apply for her new position in Long Beach because of opportunities to create new recreational spaces. "There are a lot of cities that are built out – they're not creating anything new," she said. "But here, we're putting a shovel in the ground or cutting a ribbon just about every week on something. So there is a lot of opportunity to do new things and to create new places and spaces for the community."
Knight has been regularly having one-on-one meetings with department management staff to identify what they think should be prioritized moving forward and to listen to their ideas. "I'm halfway through the management staff, and I've sent a confidential survey out to [the rest of] the staff," Knight said.
"I have an amazing staff. Many of them have been here for years," she said. "When you start asking some of the team members, this is the only place they've ever worked," she noted. "That's a testament to the city and . . . the community. So many people have made this their forever work home. They're very dedicated."
PRM's total employee count varies based on the time of year, reaching a peak of around 1,000 people during the summer months, according to Knight. In this way, not only is the department a community resource for its services, but it is also employs many people within the community.
"When we hire in the summertime, for a lot of individuals this is their first job," Knight said. "They come to us with no other experience. . . . And some never leave. They continue to work their way up."
Many of these individuals start their work in the community recreation services bureau, a "robust" division of PRM that runs the gamut of pretty much any activity you can think of, Knight said. The department provides family entertainment and recreation via its 100 Days of Summer, a program that includes various activities and classes for all ages, she noted. There is also the ongoing program that extends hours at certain local parks so kids can have a safe place to play. The program's purpose is also to keep the parks activated to discourage any negative elements from creeping in.
"Health and wellness is a big piece of who we are – promoting a healthy community," Knight said. The department has been installing workout equipment at parks throughout the city, she noted. "That's providing free access to people who might not have the ability to go to a health club. They shouldn't have to pay to be healthy," she explained.
Senior programs are also a big component of the department's programming, Knight pointed out. "We love our seniors. We've got several senior centers where we're providing the care that they need, socialization, access to services [and] meals," she said.
In the future, Knight hopes to make the community more aware of everything the department has to offer. "Every day there's so much awesome stuff happening," she said. "But we're not really good at stopping and telling that story."
The Infrastructure Challenge
The biggest challenge the department of parks, recreation and marine faces is its aging infrastructure, according to Knight. Many bathrooms need to be replaced or repaired, as do roofs on some buildings and community centers, she said. But the most glaring need is one exacerbated not only by time but also the drought: upgrading park irrigation systems that are 60 years old.
"They are inefficient," Knight said of the irrigation systems. "They are old piping, so they're not pumping the water out that needs to be pumped. Especially in a drought when we have water restrictions, that combination isn't working well for us."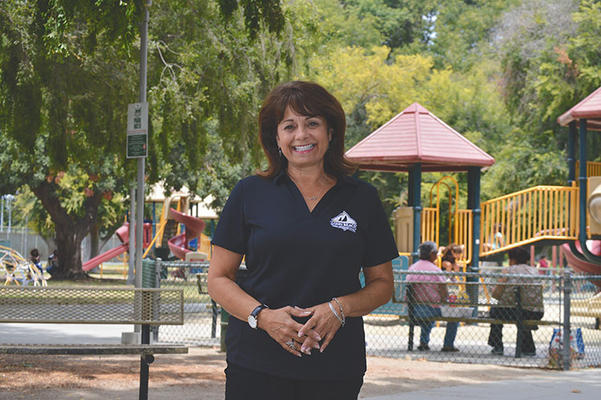 One of Marie Knight's top goals as director of Long Beach's parks, recreation and marine department is ensuring park infrastructure is updated and safe. She told the Business Journal she wants every city playground to be so well kept that kids can't wait to get out of the car and play on them. (Photograph by the Business Journal's Larry Duncan)
"To replace irrigation as a city in all of our parks – and this is a very rough estimate – it's probably in the $120 million range," Knight said.
Restrictions put in place by the Long Beach Board of Water Commissioners to allow landscape watering twice – and now three times – weekly might make sense for residential lawns, but the constraints have stressed the aging system of the parks department, Knight explained. Imagine 60-year-old pipes all pumping water at the same time to hydrate the equivalent of thousands of lawns.
Last week, Knight went before the board to request that watering at PRM facilities be spread out during the week to reduce stress on the irrigation systems, and her request was met. Despite watering more frequently, the same amount of water as allowed by the current drought restrictions will be used.
While the water board has increased the number of watering days per week to three, Knight said the department still only has enough funding in its budget to perform the equivalent of two days worth of watering. "I have the approval to water more. But I don't have the money to water more," she explained.
"We're also reprioritizing where we water," Knight said. "We're at a point where we may need to let some areas of the outlying perimeters go brown so I can keep sports fields green and safe."
The prospect of letting grass go brown isn't an easy one for people in her profession to accept, Knight admitted. "It's been tough. You know, as park professionals, we never want to see something not green," she said. "This industry-wide push to 'brown is the new green' is tough for us, because that's not what we want to put our name on."
Smaller parks that get a lot of use are often more difficult to keep green because the grass gets beat up more quickly, Knight said. That can be difficult for residents to understand, she noted.
Similarly, residents also might get upset when they see parks being watered after it rained earlier in the day – but that's something that can't be helped, at least not for now, according to Knight. "We would have to go to literally thousands of controllers to [manually] turn them off because it rained in the morning," she explained. To address this issue, she has a goal of acquiring smart controllers – technology that would allow department staff to accomplish this task from a computer.
While there is a lot more to be done to upgrade and maintain existing infrastructure, there is plenty of ongoing work underway. The city's marinas, for example, have been in the process of getting new slips and docks for the past few years, Knight noted. "The new docks look great. Everything is either on or ahead of schedule as they're rolling out all the construction projects," she said.
In general, cities often don't do the best job of building infrastructure maintenance and replacement costs into budgets, Knight observed. "The community continues to grow. As we add parks and we add things to maintain, you obviously then need to have . . . resources to do that," she observed. "I don't know that we have done a good job all these years of making sure we're doing that. So I think we're playing catch up a little bit."
Knight continued, "We could definitely use additional resources so we're not being as reactive, and we can go ahead and be proactive. But the reality of our budget is what it is." Due to budget cuts, the city first had to "cut a little of the flesh," then muscle, and now "we're at bone," Knight said.
"If we don't have additional resources, then we are forced to look at if there is a better way to do things," Knight said. For example, if there is insufficient staff to complete a task in a timely manner, and it's costing the department in other areas, Knight might advocate investing in equipment that could assist existing staff members rather than hiring more people.
For example, the department recently purchased a machine that helps clean docks and the pier faster. "We can barely keep up with that. So we thought, is there a machine that can help the limited staff we have do it faster and get more done?" she explained. "We're looking at those kinds of things."
Knight also said she would be open to contracting out for more services if it presented a cost benefit. "To me, as long as the end result is the same or better and the service doesn't suffer . . . I am all about it."
Despite challenges, which Knight noted all city departments are facing, "If there's anything to emphasize, it's that there's a lot of great stuff happening every day out of this department, and there are some awesome stories," she said. "We are there for the community, for any age group, any interest [and] any activities. . . . We have a place for everyone, whether they're four-legged or two-legged."