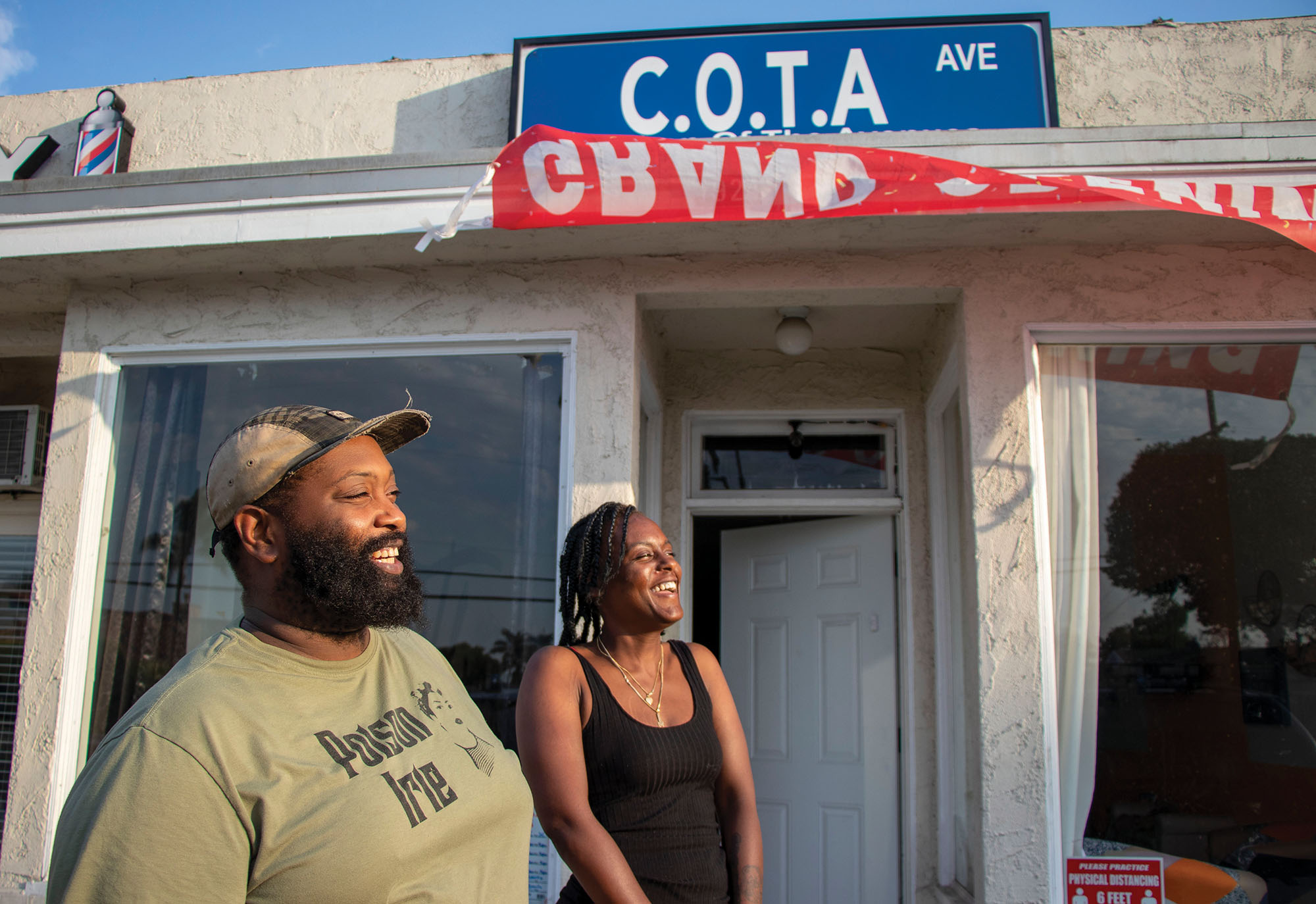 After several years of pressing designs on hundreds of sweaters and creating other goods for sale, Myesia Lowery, 31, and Noel Russell IV, 36, said their Los Angeles area homes began to look more like workshops than places to live.
Lowery then noticed a for-rent sign on a newly painted building on Willow Street in West Long Beach, and when the rent dropped to something she could afford, she urged her cousin, Russell, who lives in Watts, to come take a look.
After seeing the space, he agreed to take their business venture—which consists of a little bit of everything, from making soap to juice and clothing—to the next level, and the two opened their doors about a month ago.
Though they still make goods and provide services (they also cook and sell food, offer massages and organize events), the two added a new service to their business: renting space for small-business owners like them.
The space, called Children of the Avenues (or C.O.T.A. for short), provides space at $50 an hour for pop-ups such as food vendors and others to sell their goods and get the word out about their products.
They also rent shelf space ranging from $75 to $125 a month for local businesses to display their products to visitors.
"We like to call it a business hub kind of space," she said. "For people who don't have a space to do business, we're here for you."
Their mission is especially to serve Black-owned businesses and other people of color.
"We're seeing that our faces, Black and Brown, what have you, we're not really out there," Lowery said. And they play the role of consumers, sometimes they feel racially profiled in stores or don't have access to products best suited for them, she said.
"We're just making sure we're making a community of people of color so that we can recycle our dollars … and so we can feel comfortable going out shopping."
Earlier this month they hosted a mental health awareness event, Stress Free Experience, that highlighted coping with stress within the Black community. They also threw parties for Juneteenth and Father's Day.
For every event, they customize furniture to meet the needs of the event. For hookah nights on Fridays, for example, they move decorative chairs and tables near their two front, boutique-looking windows and create different hookah sections, clusters of a table and chairs, inside the venue.
When they're not hosting events, they sell Creole food (Russell is originally from New Orleans), selling plates on Tuesdays, Wednesdays and Fridays.
And they also still sell bath products, apparel, Russell's rap group apparel and juices. Lowery also gives massages.
"I do it all," she said.
Russell admits they were worried about not surviving the pandemic, especially given that their business involves in-person gatherings.
"This spot was totally different," referencing the street during the pandemic. "It was dead at first and now there's traffic."
Lowery and Russell hope the space becomes a place that both supports businesses and builds community in West Long Beach. Lowery allows people to come by and just to hang out, lighting sage, hoping to make the space more inviting.
"Let's get together, let's get the community out, and let's make some money," Lowery said.
Children of the Avenues is located at 1924 W. Willow St.