With a plan to replace the diesel and gasoline-hybrid buses in its fleet with compressed natural gas (CNG) and battery electric operated vehicles, Long Beach Transit (LBT) is on the road to further reduce its carbon footprint.
Natural gas vehicles produce 20% to 30% fewer greenhouse gases than those powered by gasoline or diesel, according to information from the Southern California Gas Company, a natural gas provider. Also, a CNG engine is 90% quieter than a diesel engine.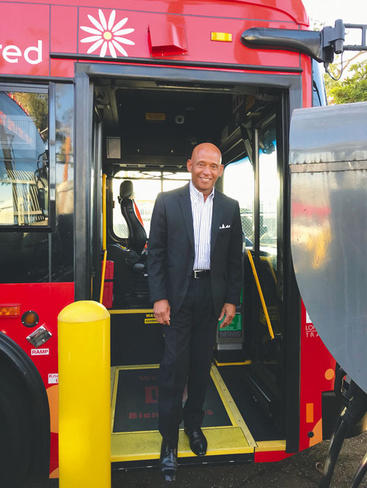 Kenneth McDonald is the president and CEO of Long Beach Transit. His agency is phasing out diesel and gasoline-hybrid buses to create a fleet run completely by alternative fuels. (Photograph by the Business Journal's Anne Artley)
The current LBT fleet comprises 69 diesel buses, 89 gasoline-hybrid vehicles, 85 CNG buses and 10 zero emission vehicles operated by battery. The hybrid vehicles, equipped with two engines, one powered by electricity and one by gasoline, are estimated to cut emissions by about 75% compared to standard diesel buses, according to information from the Environmental and Energy Study Institute, a national organization that supports environmental sustainability.
LBT's goal is to phase out the diesel and gas-hybrid vehicles to create a fleet run completely by alternative fuels. Kenneth McDonald, the president and CEO of LBT, said he would like to reach this objective by 2020. According to McDonald, the average bus is retired after 12 years of service, or 500,000 miles. Most of the diesel and gas-hybrid buses are already close to that limit, he said.
"We can improve the efficiency of our day-to-day operations and improve the quality of air in our community," he said. "We want to make sure we're good corporate citizens who are looking out for the health and welfare of the people we serve."
LBT purchased 40 new CNG buses in 2016. With the help of a grant, the agency is now able to equip them with upgraded engines that have "near zero" emissions. These were not available at the time of the bus purchase. The $600,000 grant used to purchase the engines is from the Mobile Source Air Pollution Reduction Review Committee (MSRC) of the South Coast Air Quality Management District Near Zero Incentive Program.
"We would like to head closer and closer to zero emissions," McDonald said. "It's an investment in the community we serve: to put zero noxious gases into the environment. In the community we live in, there are lots of trucks because of the port. We do what we can to reduce the smog and emissions in the air." McDonald predicted that in the next five to six years LBT will reduce about 80% of its emissions from 10 or so years ago, when it began to phase out diesel vehicles in favor of hybrid buses.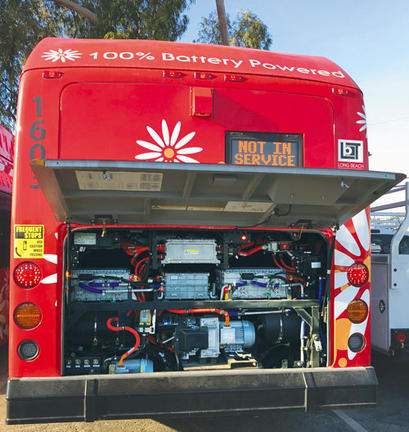 The inside of a zero-emission bus operated by battery. Long Beach Transit currently operates 10 battery-electric buses, with a goal to purchase as many as 89 more by 2021. White daisies distinguish these buses from the rest of the fleet. (Photograph by the Business Journal's Anne Artley)
The agency plans to purchase as many as 89 more zero-emission, battery-electric buses by 2021. While most of its buses are 40 feet long, these will be 30 or 35 feet to better navigate residential streets.
Federal grants cover about 80% of all bus costs, while LBT funds the remaining 20%, according to McDonald. The average battery-electric bus costs about $1 million.
LBT is also installing a wireless advanced vehicle electrification (WAVE) system to charge the bus batteries in front of the Long Beach Convention & Entertainment Center. This project is slated for completion in March.
"We will be able to bring the buses in and stop them over what looks like a manhole cover," McDonald explained. "The buses are charged wirelessly. You don't have to take them back into the garages to refuel like you have to with gasoline. We can charge a vehicle without plugging it in, and recharge it while it's in service. It helps us extend the range of the vehicle."
The agency is also considering extending its environmental program outside of transit.
"We have a lot of roof space on our buildings, so we're talking with power companies about how we can utilize more solar for power, so we can be less and less dependent on fossil fuel," McDonald said.