(Senior Writer Brandon Richardson contributed to this report)
If you've been downtown lately, you have likely noticed protests in front of the Westin Long Beach and Renaissance Long Beach hotels on Ocean Boulevard.
On one side are residents, arguing that their quality of life is being harmed by persistent, early morning noise from bullhorn use by protestors. On the other side are laborers and the union working to organize them, Unite Here Local 11, insisting upon their right to freedom of speech – bullhorns and all. In the middle are various arms of city government doing what they feel are their best efforts to appropriately respond to the concerns of all parties.
Imagine you live in a high-rise condo, surrounded by other high-rise buildings. Across the street are more towers. At 7 a.m., multiple times per week, the echoes of protestors chanting on a bullhorn reverberate between these buildings, preventing you from sleeping or, if you're already up, concentrating on your work. Imagine that this has been going on for two years.
This is the scenario that residents at the Aqua condominium towers at 388 E. Ocean Blvd. – directly across the street from the Westin – say they have been living with for some time now. They have been vocal about their frustrations, regularly calling the police department to complain.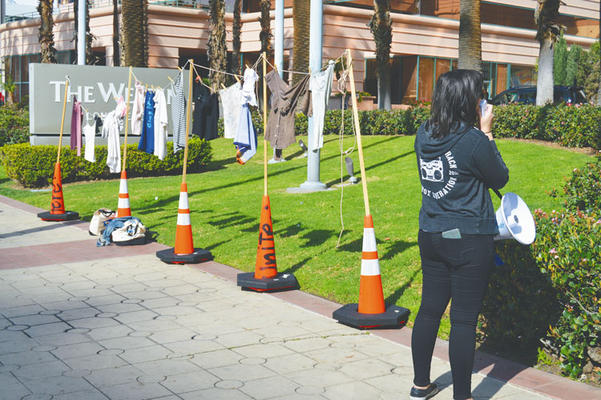 Protesting work conditions, a woman set up a clothesline and speaks into a bullhorn outside of The Westin Long Beach on Ocean Boulevard. Similar protests have been recurring since 2015 and have resulted in dozens of calls for service to the police. (Photograph by the Business Journal's Larry Duncan)
Some of these residents who have complained about noise were recently subpoenaed in a case concerning two protestors who had charges brought against them by the city prosecutor, but they never had to testify. That's because, on February 1, the two protestors ultimately entered a plea of "no contest" to charges that they "did willfully and unlawfully and maliciously disturb another person by loud and unreasonable noise, in violation of Section 415(2) of the Penal Code of State of California," according to court documents.
"I live on the 14th floor, and I'm pretty much directly across from it. And it's really loud and annoying," Vicki Cameron, an Aqua resident, told the Business Journal. "They're right outside here. But my bathroom is not connected to the window or the wall at all, and I can hear it in there when I'm in the bathroom getting ready and the door is shut. It's just very loud."
Debbie Lewis, another resident of the Aqua, said she wouldn't mind the protests if it weren't for the bullhorn use. "It's not all that bad without the bullhorns. But once they turn that on, it's just ungodly," she said. Both Lewis and Cameron noted that the bullhorn use typically starts at 7 a.m. on the dot.
"I share the same experience, and I have other neighbors that live next to me – it's the same thing," Katherine Kelton, another Aqua resident, said. "The one I was most concerned about is my neighbor who is a surgical nurse working graveyard. And she's trying to rest, and she can't sleep while this is going on. And she's got to get up, work the graveyard shift and take care of patients."
Kelton said she works for a Fortune 500 company with an office in Long Beach, but declined to identify the firm because she does not want to speak on its behalf. She did say, however, that the protests are affecting that business.
"I work for a large Fortune 500 company, and I host business meetings here on a regular basis. And I'm afraid to have them stay at the Westin," Kelton said. "I told my boss that I'm really concerned for having [them] stay at the Westin because I'm afraid that [they] might be attacked with bullhorns. I'm actually to the point of telling the company, 'Don't come to Long Beach,' because you pass them on the street and they have no respect for anybody."
Kelton has already diverted 10 room nights from the Westin that were scheduled for a July meeting. "I'm thinking of canceling the meeting altogether," she said.
The residents feel that existing noise laws in the area are not being enforced by the city in relation to these protests. Despite making calls to police and meeting with their district councilmember, Jeannine Pearce, they feel their concerns are not being addressed.
Police Department Response
Commander Robert Smith has been in charge of the police department's West Division, which includes downtown, during the course of these protests. Last week, he started a new position overseeing gang-related activity.
"There have been a number of calls for service at the Westin and the Renaissance, and ultimately those calls would come in a variety of different types. Probably the most common would be disturbing the peace," Smith said. "When we get calls . . . for those types of activity and they have somebody that's willing to press charges, our officers will go out there. And their role when they go out there is just as basically fact-finders."
In 2016, there were 136 calls for service to the Westin, according to Smith. Among these, 29 calls were labeled with the call type "disturbing the peace." Twenty-five were simply labeled "strike." Another 10 calls were referred to as "unwelcome" complaint types, which indicate that an uninvited individual or group is being disruptive and has refused to leave the premises when asked.
Smith noted that these are "a variety of different calls for service that may or may not have anything to do with what you're talking about – protest activity."
The police department received 195 calls for service to the Renaissance last year. "I'll tell you the top four," Smith said. "The call type 'unwelcome' – 46 calls for service. 'Strike' call type is 19 calls. 'Disturbing the peace,' which is a call type – 18 calls. And then 'group,' which is also a call type, 17 calls."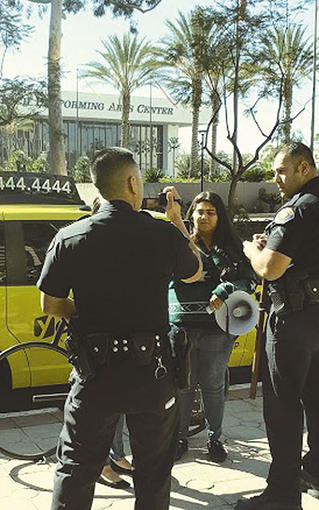 In essence, police arrive at the scene to collect evidence for potential prosecution, Smith explained. "That could include what you're talking about there with the megaphones and the loud speakers," he said. "All of that material and information would then be put into a police report. And that police report would then be packaged up and provided to the city prosecutor for any filing consideration."
When told about residents' complaints that officers are not making an effort to stop noisemaking, Smith explained how officers are able to respond to the situation. "There are and could be some first amendment free speech rights that those union members or protestors have out there," he said. "So ultimately our officers are there to collect all the evidence, take all the statements from both sides."
Smith called the situation "sensitive on all sides."
Long Beach police officers question a protestor outside the Westin Long Beach Hotel.
"Our officers have a very simple mission, and that is to collect all the facts to the best of their ability," he said. "When they interact with the protestors and the union members, it's probably basically to get their information, to identify the people who may be accused of a crime, but ultimately we're not making that decision at that time," he said.
The police department also responds to requests for service from protestors, Smith pointed out. "If a protestor or union member makes the call themselves and alleges a crime like they have in the past, we would do the same thing with whoever they are accusing of potential crimes," he said.
There is a city noise ordinance in place in the area, but the health department oversees that, according to Smith.
Union Weighs In
Unite Here Local 11 is the union involved in organizing the protests. Lorena Lopez, community organizer for the union in Long Beach, said that the organization got involved when hotel workers came forward with complaints of labor law abuses and sexual harassment. "As you know, it's within our constitutional rights to protest in an organized manner," Lopez said.
Hotel workers typically arrive for work between 7 and 8 a.m. and leave at 5 p.m., Lopez noted. "We want to be able to communicate to the guests and to the workers of the hotels," she said. "And our goal in no way is to disturb the neighbors. That is not why we're there."
Asked if she and the protestors would consider a compromise to stop using bullhorns, Lopez instead responded by addressing concerns about police involvement. She pointed out that it is a waste of city resources to have multiple police officers in multiple vehicles respond to calls about the protests.
Instead, as many other cities do, Lopez would like the department to retain one labor relations officer to contend with these calls. "I think having labor detail deal with those issues is something that should have been addressed a long time ago," she said.
Asked again if the protestors would compromise by putting down the bullhorn, she said no.
"We're committed to defending our first amendment rights," she stressed. "And it's within our rights to use amplified noise. And in a city where we have seen police tactics that are just unacceptable, we are not going to be uncommitted to defending that." Lopez continued, "We don't want to in any way jeopardize their ability to protest with amplified noise in the City of Long Beach because we agreed to such a thing."
Asked if the protestors make efforts to abide by the city's noise ordinance, she said, "We believe we are within our rights."
Health Department: Protests Have Violated City's Noise Ordinance
Nelson Kerr, director of environmental health for the Long Beach Department of Health and Human Services, said the city's noise ordinance allows for louder noise levels in the 2nd District (which includes downtown) than in other parts of the city. The health department has decibel readers, technology that enables measurement of noise levels.
"There's a higher decibel allowance there because it's just louder down there," Kerr said of the noise restrictions. "It's actually 55 [decibels] at night after 10 p.m. and then during the day it's 60 [decibels] from 7 a.m."
The health department has taken nine readings of noise levels related to the protests since June 26, 2015. The last was on December 7, 2016.
"Each time we went out when we were able to get a reading, the noise levels were in fact exceeding the noise ordinance standard," Kerr said. "Levels were between 80 and 84 decibels."
Increases in noise by decibel are logarithmic – meaning, they increase more sharply between points than number readings that are on linear scale. This makes an increase of the acceptable noise level of 60 decibels to 80 decibels a drastic increase, Kerr confirmed.
"Understand that there are interior standards for measurements taken from the interior of somebody's home and then there's exterior measurements, and most of the ones we took were exterior," Kerr said.
"However, there were a couple [instances] where we actually went into somebody's home and took readings. Those were also found to be in violation," Kerr said. Another reading was taken inside a hotel room, he noted.
There is currently another case pertaining to three protestors – different individuals than those who recently pleaded no contest to charges – that is ongoing. In that case, the city prosecutor is also attempting to prosecute based on Section 415(2) of state penal code, relating to disturbing the peace.
"What I could say about that is it's a shame that the City of Long Beach is retaliating and treating protestors as criminals," Lopez said. "I think it's a shame. I think the Long Beach police and the mayor of that city should be ashamed to treat protestors as criminals."
Lopez said she has met with Police Chief Robert Luna. "I personally met with Robert Luna before this campaign went public and explained to him [to] expect this," Lopez said. "We don't want to waste city resources. We want to be able to communicate with you." She said that complaints related to protests are "just the nature of the business."
Lopez added, "People have the right to protest. People will complain. But if the Long Beach Police is structured in a way where they respond to calls, I mean, that's just silly."
Asked what the end goal of the protests is and how labor peace can be achieved, Lopez responded, "A fair process to organize a union."
Councilmember's Response
Residents from the area, including Lewis, have met with Pearce to discuss their concerns about noise. They continue to send her e-mails demanding she directly address the matter.
Pearce worked for The Los Angeles Alliance for a New Economy (LAANE) before her election last June to the city council. Through her work at that organization, she helped to establish a coalition of 40 Long Beach organizations that are dedicated to the wellbeing of workers. One of the organizations LAANE works with was (and still is) Unite Here Local 11. During her work with LAANE, she did participate in hotel picket lines.
Pearce is no longer employed with LAANE and devotes her time to her council work.
Describing her involvement with labor advocacy and protests at the Renaissance and Westin, Pearce told the Business Journal: "My role was to educate community members, to bring people to the table and to make sure they were hearing the stories from employees, to give them the opportunity to engage with management if they wanted it, to make sure that they were talking to their elected officials about what they heard. And that was my role as director."
Referring to current complaints about the protests, Pearce said, "I think what is important [to know] about this project and what is happening outside the Westin and the Renaissance is that you have a very small group of people that are very upset.
"I would be upset too if I was being woken up three times a week with a bullhorn. But it's a small group of people that is upset, and they're asking me to tell my union lackeys to step off."
Pearce said the same group of individuals has been bullying her online through e-mails and Facebook messages. "It's the hardest part of the job whenever you're trying to do your best and then people come up and make stabs at you or call you fun names," she said. "It's the same five people that have had the same conversation for two years with me."
Pearce argued that it would not be right for her to tell a hotel housekeeper who has come forward about sexual assault experiences in the workplace, as has occurred with workers at the Renaissance and Westin, to stop picketing. "I'm not going to tell her to be quiet about the injustices that she feels," she said.
Soon after being elected to the city council, Pearce traveled to Utah to meet with Utah Retirement Systems, the majority stakeholder in a limited liability corporation that owns the Westin Long Beach. "My purpose to go was to sit down with the union, have a conversation, have management sit down with workers, with labor, and figure something out," she said. "It wasn't to say, 'You have to go union.' It was to have a conversation."
In her role as councilmember, Pearce said she is able to make policy, advocate for constituents and provide a forum to bring people together. "So going to the Westin, that is me trying to be a good elected official," she said. "And when I was there, I said I have residents that are upset, I have businesses in downtown that are upset. This is not just about hotel workers. This is about the entirety of my district."
Attempts to meet with management of the hotels prior to this meeting in Utah were not successful, according to Pearce.
"I had reached out several times to the Westin and the Renaissance," she said, "and they would never meet with me. To not meet with the official that represents your district is frustrating." Since her trip to Utah, she has spoken with management at the Westin, and they are working on setting up a meeting, she noted.
Pamela Ryan, manager of the Renaissance, said she has never heard from Pearce.
Asked if she condones the use of bullhorns in early morning hours, Pearce did not say yes or no. "I think, being someone who has held a bullhorn on a picket line at 7 in the morning or 6 in the morning . . . we used to do it at 6. We moved it to 7. We worked with the city to move it to 7," she said.
"I have been monitoring the calls to service for PD because I know that when there's pickets out there we get multiple calls to service and that is a strain on our resources," Pearce said. "It's the same calls. Nothing is coming of it."
At mention of the case in which protestors pleaded no contest and the current, separate case against three other protests, Pearce said she was worried about where such legal pursuits might lead. "I worry that if we continue to prosecute people for exercising their first amendment right, that the city could be at risk for any kind of lawsuits. You know, it is a fine line to walk down," she said.
Residents at the Aqua interviewed by the Business Journal remain frustrated as, despite dialogue and ongoing litigation, bullhorn protests continue. "It's not very difficult to just drop the bullhorn, for starters. That's a very simple thing to do," Lewis said.
Kelton said she and her fellow Aqua residents are not anti-union. "We're pro-workers' rights, and we're pro-tourists' rights. We're not against unions or against anything," she said. She queried, "I think the question I have is: At what point do you draw the line?"
(The February 28 edition of the Business Journal will focus on the efforts to unionize these hotels, including interviews with hotel workers and all sides involved.)