Like any major urban downtown, Downtown Long Beach is a hub for arts and entertainment. Residents needn't get in their cars to catch a musical, opera, symphony or comedy performance in Los Angeles, but instead can enjoy a variety of performances in their own backyard. The area is also home to a number of arts institutions and galleries, many of which are concentrated in downtown's East Village Arts District.
The Long Beach Performing Arts Center at the Long Beach Convention & Entertainment Center includes the 825-seat Beverly O'Neill Theater and the 3,000-plus seat Terrace Theater, which boast year-round performances by local arts organizations, as well as touring acts.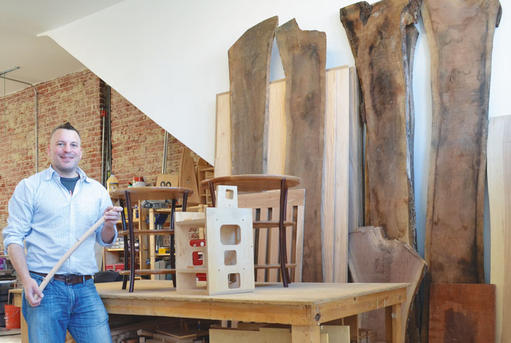 Joel Michalski is one of five resident artists at the ArtExchange in the East Village Arts District. He makes furniture form reclaimed wood. His works can be found online at www.joelthomasdesignworks.com/. (Photograph by the Business Journal's Pat Flynn)
The Terrace Theater is growing in population with comedians, according to John Braun, assistant manager of the convention center. "We are really getting a reputation in the Terrace Theater for comedians because they like the 3,000-seat venue, which is not common," Braun said. "Just this year we have had Louis C.K., we just had Joe Rogan, we have had Brian Regan, we had Kevin Hart. Coming up we have Sebastian Maniscalco on February 18."
The Terrace Theater hosts numerous cultural acts and events throughout the year, including the international phenomenon Shen Yun, a traditional Chinese performance group, and E Hula Mau, a celebration of Hawaiian culture. It is also home of the Long Beach Ballet's annual production of The Nutcracker, and hosts performances by the Long Beach Symphony.
The symphony is now in its 83rd year serving the Long Beach community, according to Executive Director Kelly Lucera. The symphony has a new music director, Eckart Preu, who is leading an era of artistic growth for the organization, Lucera noted. "We are seeing an extraordinary amount of community support not just for him but for the initiatives we are launching and for the vision of his that we share," she said.
"There are a lot of exciting things happening to the symphony right now," Lucera said. "We have increased our board from 23 members to 43. So we have a very active, thriving board that is incredibly diverse and visionary."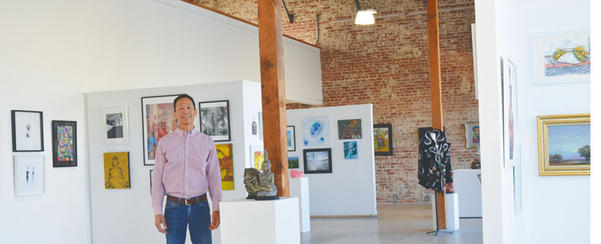 Jay Hong, executive director of the ArtExchange, said the nonprofit organization and arts venue is going to host six exhibits in 2018. He is pictured in the facility's main gallery, which is currently displaying the Holiday Salon exhibit, a showing of local artists' works for sale. (Photograph by the Business Journal's Pat Flynn)
An increasing number of employees and residents in downtown are helping to bolster the arts community, Lucera observed. "I see a lot of authentic musical performances popping up in the restaurants on Pine Avenue and in the coffee shops, as well as the 4th Street area. And it's really exciting to see those kinds of organic performances," she said.
Located in the same center, the Beverly O'Neill Theater offers a full season of performances by International City Theatre (ICT), Musical Theatre West, baroque orchestra Musica Angelica, the Long Beach Opera and the Long Beach Camerata Singers.
Near the convention center, The Pike Outlets offers two venues for a night on the town, including Sgt Pepper's Dueling Pianos and the Laugh Factory.
Further inland, The Streets also offers theatrical performances at The Found Theatre, a black box theater run by a long-time Long Beach organization dedicated to producing original works. The theater seats 66 people.
"We have always done original material," Found Theatre Executive Director Virginia DeMoss said. "This past year we worked with a group of graduates from Cal State Long Beach, a great bunch of kids who are trying to do the same thing we did when we started out – they want to work in theater, [and] they don't want to audition for things they won't get." The students put on a play festival in September, an event that will be repeated in 2018. "They solicited two plays from Long Beach residents and brought in actors and directors and things like that and did two weekends of short plays," DeMoss said.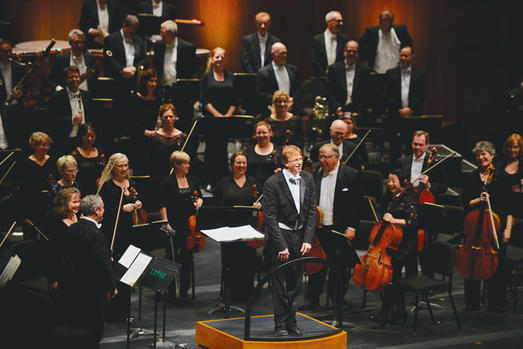 The Long Beach Symphony's new music director, Eckart Preu, faces the crowd at a performance. (Photograph provided by the Long Beach Symphony)
"Once again, we're going to try to start bringing back the downtown schools for daytime performances," DeMoss said of the theater's student outreach. "We did that for quite a few years. It's really a neat thing, because most of the kids have never been inside a live theater before, and so it's their first experience."
ICT, Musical Theater West, Long Beach Symphony and other arts organizations also have programs for students.
In the East Village Arts District, the nonprofit-run ArtExchange provides local students with an opportunity to learn about the visual arts. "We just concluded a fall program with Long Beach Unified School District," Executive Director Jay Hong said. "We had 800 kids come through the gallery for a private tour of the art on exhibit." After students viewed an exhibit, they engaged in an on-site class. Hong hopes to continue the program next year.
"Our objective is to work with the local art institutions and use the ArtExchange as a catalyst to exhibit the art of the faculty and students of Cal State Long Beach and Long Beach City College," Hong said. The ArtExchange gallery features rotating showings. Through December, the gallery is hosting a Holiday Salon, in which local artists are invited to show and sell their work.
The Found Theatre, located at 599 Long Beach Blvd., produces original plays, such as this production of a new take on "Cinderella." (Photograph provided by Found Theatre)
The ArtExchange is also home to a handful of resident artists, including Joel Michalski, a Wisconsin native who transforms salvaged wood into furniture. He moved in November 1, and has a studio that fronts the street so passersby can see his works. "I use mostly solid wood and I design and build my own. It has a modern, clean aesthetic," he said.
Michalski has lived in Long Beach for about a year, and said he loves it. "I feel like it's a vibrant, growing community," he said. "It's super diverse. It's still affordable. It has got all these qualities and energy that I feel make it the place to be right now."
Now celebrating the one-year anniversary of the debut of the ArtExchange's interior renovation, Hong is hoping a campaign to raise capital for exterior renovations will wrap up soon.
There are a number of arts-oriented businesses in the East Village, including Hellada Gallery and the Clay Pottery Studio. Several restaurants in the area also host live music. Two art museums mark the Northeast entrance to the East Village: the Museum of Latin American Art and the Pacific Island Ethnic Art Museum. The former is dedicated to modern and contemporary Latin American Art and, in addition, to its sizable galleries also features a 15,000-square foot sculpture garden. The latter, located just across the street, is a small museum with a permanent collection and rotating exhibits of Pacific Island art and cultural items.