Transparency, it seems, has taken a vacation.
More than a month ago we received a press release announcing that Mayor Robert Garcia, Congressman Alan Lowenthal and Assemblyman Patrick O'Donnell support Measure M – the Los Angeles County Traffic Improvement Plan – on the November 8 ballot.
Nowhere in the lengthy press release – including in the direct quotes from each of the above elected officials – did it mention that Measure M is a tax increase. A sales tax increase, to be specific. Sound familiar? Oh, and they forgot to mention that the tax goes on forever.
The September 7 release did include a list of "South Bay and Long Beach improvements Measure M would deliver," but failed to mention when these projects would become reality. We later found out from other sources that most projects in the greater Long Beach area tied to Measure M money are one to three decades away from being started. Some of the proposed projects include:
• Freeway and interchange improvements along the 710 from Long Beach to Commerce;
• New auxiliary lanes and other improvements to fix bottlenecks through the 405 South Bay Curve;
• Blue Line safety and infrastructure improvements, including the reconstruction of the Wardlow Station;
• Replacing the Shoemaker Bridge, which connects the Westside of Long Beach with downtown across the Los Angeles River.
We immediately shot off an e-mail asking campaign spokesperson Yusef Robb to provide us the construction start date for each of the above projects. He responded right away that he would get back to us with timelines. A week later we sent him a reminder e-mail. It's now October 7 and nary a word.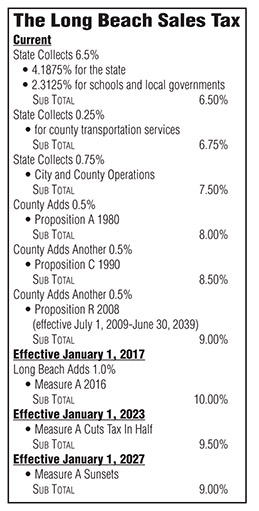 Excuse us for being suspicious, but we believe that when elected officials want voters to reach into their pockets for more of their hard-earned money, that all the facts should be presented so voters can make an intelligent decision.
Long Beach voters have been more than generous with their pocketbooks, especially property owners, supporting a tax increase and school bond measure in June, and most likely approving another school bond measure in November. Let's face it; it's easier to say yes when the money stays local. Additionally, Long Beach residents pay a 5% utility users tax (phone, electric, gas and water usage) when the average in the county is just 3.3%.
In June, Long Beach voters approved a 1 percentage point increase to the sales tax, taking it from the current 9% rate to 10% effective January 1. In six years, the increase is cut in half (with the tax rate going to 9.5%), then ceases four years later.
Here's a quick look at recent L.A. County tax increases related to "traffic improvement:" Voters approved permanent sales tax increases in 1980 (0.5%) and 1990 (0.5%). In November 2008, voters approved Measure R, another 0.5% increase, but this one ends June 30, 2039. In 2012, Measure J, which would have extended Measure R by 30 years, failed to receive the two-thirds votes necessary.
Measure M proposes a 0.5% increase to the sales tax that never ends. When Prop R expires in 2039, the Measure M increase goes to 1.0%, with no end date.
For Long Beach residents, that means if Measure M passes they will be paying a 10.5% sales tax through the end of 2022. From 2023 through 2026, locals will be paying 10%. Thereafter, the sales tax in Long Beach remains at 9.5% with no end date.
Voters need to remember that they have already approved sales tax increases for transportation improvements of 1.5% (Props A + C + R – see chart at right).
The Long Beach Business Journal is joining the Gateway Cities Council of Governments and the South Bay Cities Council of Governments in opposing Measure M. The Gateway group voted 21-1 to oppose the measure, with Long Beach abstaining. The second group voted 9-0, with five cities abstaining. Nearly half of the 88 cities in L.A. County oppose Measure M.
Transparency is an easy word for elected officials to toss about, but apparently too difficult to implement. Maybe we can support Measure M with the caveat that our taxes increase only when the projects break ground?