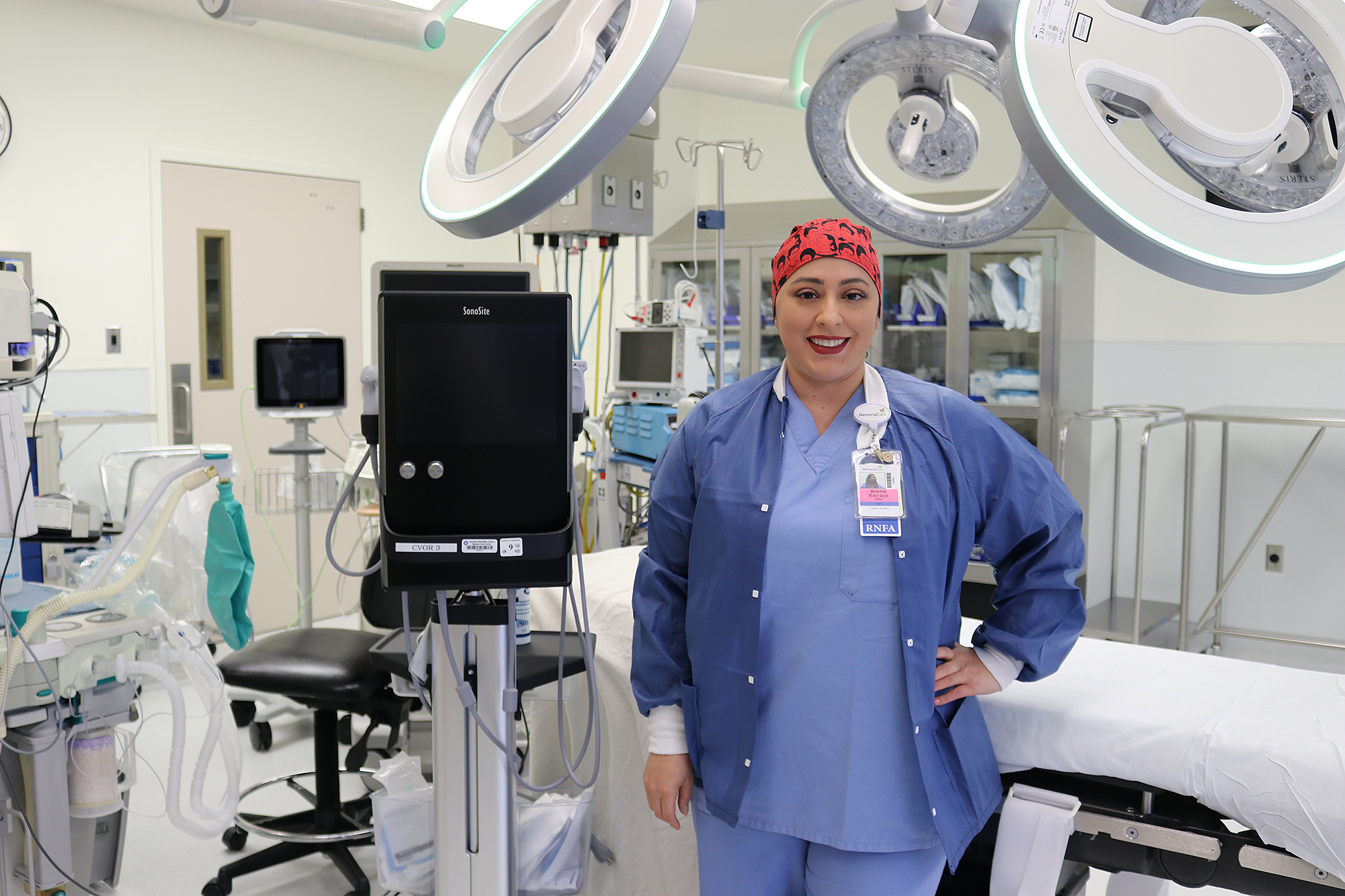 For 17 years, Bobbie Barraza has cared for patients through her position as a registered nurse. But for the last eight years, Barraza has operated in an expanded role as registered nurse first assistant, or RNFA, with additional training that gives her the ability to perform surgical procedures independently.
"It's beneficial because there are situations where we have emergencies and a patient is coming straight out of the emergency room and we have a very little amount of time to get ready before surgery," Barraza said. "I'm able to jump into three different roles at once and I'm only one person. It's really helpful for my team. "
The road to the operating table was a long one. Barraza first attended East LA College and then Mount St. Mary's University and Western Governors University. From the latter two, she earned bachelor's degrees in nursing and business, respectively.
Once a registered nurse, Barraza was accepted into a perioperative residency program at UCLA that included additional classroom education and hands-on training in a hospital. Her focus was on the OR, so she was educated in surgical service lines, including general, pediatric, orthopedic and neuro.
During the residency, Barraza learned to be a circulating nurse who manages the OR outside of the sterile field to maintain a safe, comfortable environment for the patient, as well as provide updates for the family. She also learned how to be a scrub nurse who assists within the sterile field, ensuring the patient and surgeon have everything they need during the procedure.
After graduating from the residency in about one year, Barraza completed another one-year residency in cardiothoracic surgery. Then she spent two years working in the operating room before she was able to take a certification test to become a certified perioperative nurse or CNOR. Once certified, Barraza applied to UCLA's RNFA program, one of only two such programs in California and 13 nationwide.
The one-year RNFA program included additional classroom and practical education where Barraza learned to assist surgeons in the OR beyond handing them instruments. Once she became an RNFA, Barraza took it one step further: one more year of education to specialize in and be able to perform certain aspects of cardiovascular surgery—heart, lungs, esophagus and other organs in the chest.
"Up until then you're still just assisting," Barraza said. "But now in cardiac surgery and in vascular surgery, if there's a need for bypass, I can harvest a saphenous vein independently."
Barraza's first nursing job was at UCLA, where she continues to work as a per diem nurse.
Having gone through the rigors of furthering her education, in a pinch, Barraza can serve in the scrub and circulating nurse positions as well as the first assistant role during the same procedure, she said.
"It's extremely stressful but if you have a passion for what you do, then the benefit outweighs the stress," Barraza said.
"I really love my team; we are in it together like a family," she added. "I want to give 100% every time because of them—they are giving that much, so I need to, too."
Long Beach Memorial, where Barraza has worked since 2010, has about a half dozen RNFAs but Barraza is the only one certified for cardiovascular surgery. In April, Barraza submitted her professional portfolio to become a certified registered nurse first assistant and in May she was credentialed.
Barraza said she wanted to become a nurse ever since she was a child. Her mother managed a medical office and also performed a lot of medical assistant responsibilities, which was her gateway into the profession, Barraza said.
At Memorial, Barraza has been integral in developing cardiac and thoracic robotic surgery programs.
"It's really cutting edge stuff and it's awesome to be a part of it," Barraza said. "Our programs just took off."
She has even been awarded as a distinguished employee by the institution.
But her goals and ambitions do not stop at the operating table. Barraza, 43, said she could continue in her current position for another 10-15 years but that she has her eye on a role as a nursing teacher or hospital administrator, which would allow her to groom the next generation of RNFAs, a position she advocates for hospitals to hire more of.
"Every time we get a new perioperative nurse, I advocate for them to see what my role entails to see if they like it," Barraza said. "I'm willing to mentor them. I can see the potential in [certain] people—the way they are in surgery, how they're able to manage everything under the pressure and stress of an intense surgery. I can see that."