Despite fluctuating commodity prices, the oil and gas industry in California continues to be a major player in the state and regional economies, supporting hundreds of thousands of jobs and generating billions of dollars in tax revenue, according to industry representatives.
From "upstream" companies, such as oil producers that exclusively bring crude oil up from the ground, to "downstream" companies, such as independent oil refineries that turn oil into gasoline, to integrated energy companies that do both, opportunities for existing and potential employment and tax revenue are vast.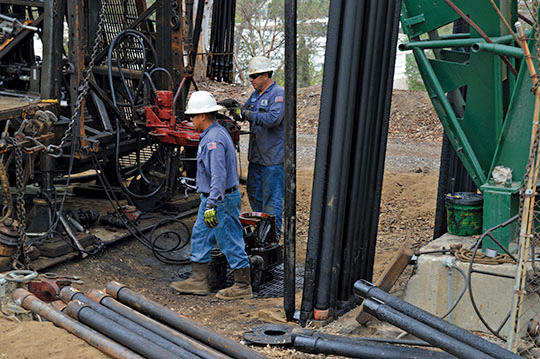 Workers maintain one of Signal Hill Petroleum's oil wells. The crude oil and natural gas production company and real estate developer operates about 450 wells in the Long Beach/Signal Hill Oil Field. (Photograph by the Business Journal's Larry Duncan)
While many of California's oil fields have slowly been depleted over the years and oil production companies have recently pulled back on new drilling projects because of the steep drop in crude oil prices, industry representatives said local companies familiar with the volatile nature of the business remain optimistic about the future.
Oil company representatives are hopeful that the industry will eventually rebound, adding that, when prices recover, firms will continue to harness new technology to further reach domestic reserves throughout the state, which still gets most of its oil from foreign and out-of-state sources and derives 92 percent of its transportation fuels from petroleum.
Highly skilled workers are still needed today throughout the state and the region to maintain existing wells and operate oil refineries that function under the strictest safety and environmental regulations in the world, industry representatives said.
"It's a highly technical field and there are high-paying jobs in this industry, so there are great job opportunities for the community," said Steve Faichney, spokesperson for Valero Energy Corp., which operates an oil refinery in Wilmington that today employs 400 people and works with 100 contractors.
The oil and gas industry, in fact, provided 184,000 direct jobs in California and generated $21.2 billion in state and local taxes in 2013, according to a report by the Los Angeles County Economic Development Corporation (LAEDC), released earlier this year.
When considering indirect and induced jobs (those jobs resulting from increased economic activity in a wide range of industry sectors such as mining, construction and manufacturing), the industry supported approximately 455,940 jobs, about 2.1 percent of the state total, in 2013, the report stated.
The report, commissioned by the Western States Petroleum Association (WSPA), a non-profit trade association representing oil producers and refiners in California and surrounding states, noted that California still ranks third in production out of the 31 oil producing states in the country.
While the report doesn't take into account the recent drop in oil prices because of a two-year lag in data, employment figures remain about the same today, said WSPA spokesperson Tupper Hull. She noted that the job market for the industry in the state remains relatively stable, adding that there typically "aren't large swings" in employment from year to year in California, even in downturns.
In addition, job loss reports indicate that most layoffs related to the oil price drop have occurred in Texas, where most hydraulic fracturing or "fracking" projects – which involve using highly-pressurized water, sand and chemicals to break up shale rock in well stimulations – have been concentrated.
In California, however, the job market has held fairly steady, aside from about 500 layoffs announced by Chevron earlier this year. With natural resources readily available through conventional technology, oil companies in California familiar with the unstable market have been able to weather the storm easier than those in other states, according to industry representatives.
On a regional basis, downstream activity of the industry is concentrated in Southern California, where more than half of the state's oil refining capacity is located, according to LAEDC's report, which adds that about 40 percent of the state's oil refining capacity is located in the Bay Area in Northern California.
Southern California also has the largest share of employment in industry segments related to trade (natural gas distribution and gasoline stations), which are sectors that depend on oil and gas delivery to residents and businesses, with economic activity related to the region's residential population, according to the report.
In Los Angeles County, which has some of the largest oil fields in the state, the oil and gas industry supported a total of 49,279 direct jobs and generated $5.4 billion in state and local taxes in 2013, according to the report.
Wages for occupations in the industry vary widely, the report noted, adding that the retail gas station industry, which is at the lowest of the spectrum, averages about $24,270 a year while chief executives at oil and gas companies average about $194,031 a year.
Providing 13 percent of the fuel supply in Southern California with a total throughput capacity of 135,000 barrels of oil per day, the Valero oil refinery employs electricians, technicians and human resource specialists along with chemical, safety, environmental and civil engineers, Faichney said.  In addition, the independent oil refinery hires labor contractors that provide jobs in pipefitting, welding, instrumentation, inspecting and meteorology, he said.
"We have people who operate the facility 24 hours a day, seven days a week and 365 days a year," Faichney said. "They make pretty good money too, along with maintenance employees who do repairs, and loss control reliability engineers and meteorologists . . . It's quite a spectrum of jobs and disciplines here."
The oil and gas industry is also a large contributor to the state's overall economic activity, according to LAEDC's report, which added that, "virtually all industry sectors receive a positive economic impact from the oil and gas industry, including utilities, health and social services, accommodation and food services, wholesale trade, manufacturing and construction."